ONLINE SLOT GAMES REVIEWS FOR CANADA
We review and rate all the latest slot games on release to slot sites in Canada. These games are available to play at all the recommended slot sites in our listings each with 100s of free spins and top bonuses with $1,000s in matches. Canadian Casinos offer a huge range of games with high payouts, fun features and lots of different themes. Your journey starts here! Read our reviews then find a top slot site to play at.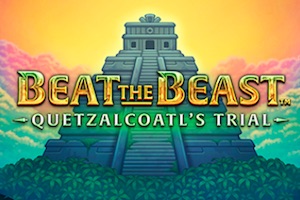 Beat the Beast: Quetzalcoatl's Trial
Another beastly slot from Thunderkick with free spins and sky high variance.
About Our Slot Game Reviews
If you are new to our site then you might be asking yourself, why should I read game reviews? Well, with 1,000s of new slots on the market each year it's hard to know where to start when you load up your favourite casino. These games all come in different shapes and sizes with myriad themes and pay models. Our job is to pick the best and show you how they work so you can get the most out of your slots experience.
Here are some important elements of our reviews:
Who Built The Game? 
Canada's online casino market is known for the high quality of its slots games. There are 30 or more top tier game developers each producing one or more games per month and it helps to know the different styles of games produced by each studio. Our reviews discuss who created the game and how it might be typical of their style. Big Time Gaming for example are well known for their high risk games with huge payout potential. Big names like NetEnt and Microgaming often work with blockbuster movie brands like Planet of the Apes or Terminator, whilst smaller studios like Push Gaming specialise in grid slots with a particular graphical style. If you regularly read our pages you'll get to know the studios and what they offer. It's a quick route to finding the kind of games that suit your preference
We do the maths!
When you get to know online slots games then you start to see that the maths models behind them are the key to enjoying your spins on the reels. The maths defines the level of payouts you get and how often they drop. And to understand this you'll need to understand RTP and variance.
You'll find the RTP of any slot on the game info screen when you load up the reels. Typically, it's around 96% which means that for every $100 you wager, around $96 will come back out as prizes! Of course, this number isn't exact because the outcome of each spin is completely random. Sometimes you will win more than 96% of your wagers and sometimes less. The degree to which that figure changes is known as variance or volatility. High variance games offer a very uneven win distribution and the payout will vary wildly from the advertised rate whereas low variance slots offer a much more even distribution, with smaller regular payouts.
Read our reviews and you will start to understand the differences and learn what kind of slots players you are – a high risk fanatic who craves the high volatility experience offered on games like Dead or Alive by NetEnt, or a low risk casual slots player who enjoys the more even pace of games like Starburst.
Themes and Artwork
Of course, we don't just look at the science behind your payouts in our reviews, we pay equal attention to what happens on the screen. Part of the fun of playing these games is experiencing the intense graphics, artwork, storylines and video clips. Online slots have come a long way since the 2000s as technology has evolved and at the same time the themes and narratives have widened too to include everything from science fiction to ancient history via punk rock and adult cartoons. And pretty much everything else you can think of. You might see Marvel comics featuring Batman, the Hulk or Spiderman, or vampiric legends in Immortal Romance or Bloodsuckers, or Greek Mythology in Age of Gods.
The themes behind these games are endless and our reviewers unpick them to show you the background behind each story and how the narratives interweave with the features.
Payouts Potential
Themes and pretty pictures are all well and good but what you really want to know is, how much can I win here?! Of course you do, which is why we pick out the paytables in each game to show you what each symbol can deliver and how much you can scoop if you are the luckiest of the spinners and all the stars align. These days it's not uncommon for a slot to offer a top payout of well over 100,000x but the odds are very, very long so don't get carried away. High risk games produce the biggest wins but at high risk. Our writers take you through the different scenarios so you know what to expect.
Slots Bonus Features
After the base game spins the place where a slot game really comes alive is in the features. These are the enhancements that make things happen and understanding them is key to enjoying slots play. Game developers will use events on the reels to trigger features and when two or more interact with each other, sparks often fly! Our reviews help you see what to look out for on each game. Typical features include:
Wilds – special icons that substitute for any other on a payline to trigger a win.  Look out for variations like Walking Wilds and Multiplier Wilds.
Multipliers – values that multiply against your win total to boost the payout. E.g. a 10x multiplier applied to a $10 win creates a $100 win!
Free Spins – free plays on the reels that are 'earned' by collecting special symbols like scatters. Free spins rounds often come with enhanced paytables to make them more alluring.
Expanding Symbols – when expanders land on the reels they expand up or down to fill the entire space and increase your chances of completing a winline.
These are just a few examples and every game uses these features in their own way. It can be confusing the first time you spin the reels and reading our reviews will help you to understand what to expect.
Our Verdict
Finally, we'll give you our verdict on each slot game – taking into account all aspects from style to maths, features and potential. We give an honest, fair and impartial appraisal with a mark out of 10 for good measure. Just remember, it's all subjective, so our opinion may differ from yours. But we have been doing this a long time so we like to think we know a thing or two about what makes a good game!
Good luck and have fun!
Slot game reviews are published by Canada's independent casino review websites and operators for fans of the games to read. They help any potential slots player to understand what the game is about and what kind of experience they can expect if they choose to spin the reels. You should always look for expert reviews like the ones on this page so that you can get an honest and in-depth view on the game.

No, licensing of online gambling sites means that all the games must be fully audited before anyone can place a bet on them. The auditing process ensures that the outcome of every spin is completely random. Of course, you must only play at licensed sites to be sure that the games you are playing have been through this process.

Which is the best online slot game?

There are literally thousands of online slot games on the market right now and which is best is a completely subjective assessment. It will depend on your own tastes and what style of play you like. The most popular right now are high risk games like the Megaways™ slots from Big Time Gaming. Amongst the most popular slot games of all time are Bonanza Megaways, Book of Dead and Starburst.

Can I play online slots for free?

Yes, all casinos offer this feature. Normally you will have to sign up first and verify your ID before you can start spinning for free. Just keep in mind that you are playing with demo money so you can't cash out! Playing for free is a great way to get to know a game before you start risking your own money on it.