Star Clusters Megaclusters™ Slot Review
Published On: 19th May 2020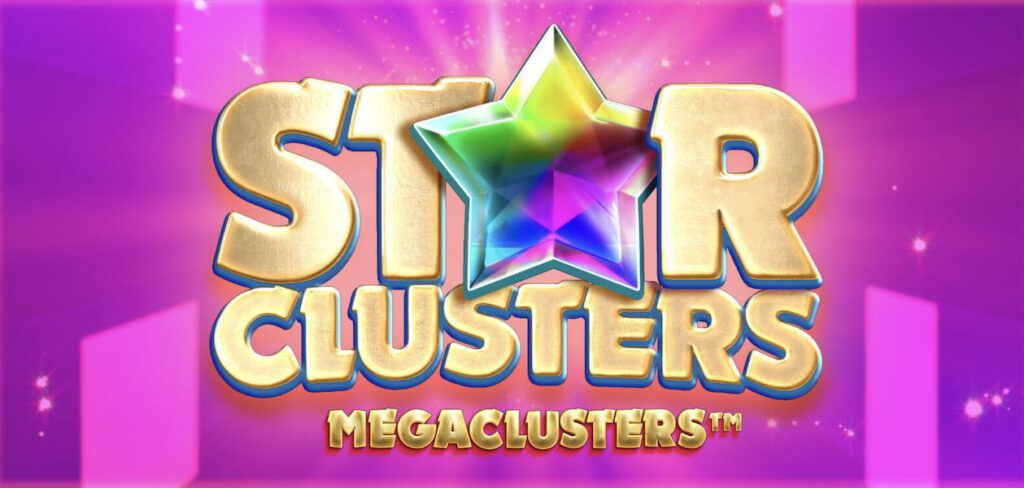 In June 2020 Australian slot game studio, Big Time Gaming, will unleash their latest creation into online casinos. Having built their stellar reputation on a unique blend of high variance, crazy win sequences and rock n roll soundtracks, most of us are expecting the new Star Clusters game to be something pretty special.
In fact, this will be a new departure for them because having revolutionised the standard reel format with their Megaways™ slots system, CEO Nik Robinson and his talented team have turned their attention to grid slots.
Star Clusters will be the first outing for their new game mechanic, Megaclusters™. But this being BTG of course, it doesn't look like a normal grid slot, and it doesn't play like one either.
This is how the game looks: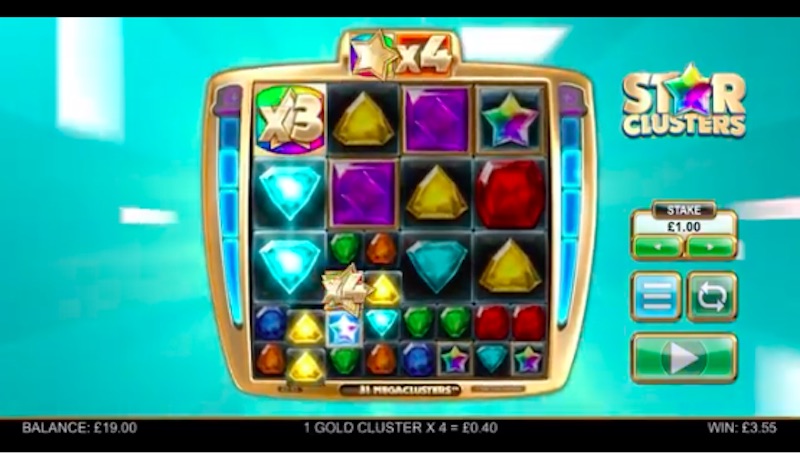 In this review our in-house experts pick apart this exciting new slot so you can understand what to expect when you first load up the new game when it goes on general release this summer.
Star Clusters Megaclusters™ By The Numbers
Supplier – Big Time Gaming
RTP – 96.54%
Variance – High
Payout Potential – 23,000x
Stakes – Min 20p
Grid Size: 4×4 to 8×8
Starting with the numbers, as you can see Star Clusters might be a grid slot, but it still bears all the maths hallmarks of a classic Big Time Gaming Megaways™ game. Check out that top potential of 23,000x for example, well in the region of some of their biggest paying games.
Meanwhile the RTP is a sound 96.54% which puts it a little higher than many titles in that series. For comparison, Extra Chilli has an RTP of 96.2% and Monopoly Megaways™ 96.39%. You'll notice that the grid size is expandable, from 4×4 up to 8×8 which is where things get interesting. Of course the variance is high, though it should be noted that it's perhaps not on the same scale as a Bonanza or White Rabbit game. So maybe a little less scary but still a real tough nut to crack.
How Does It Look?
It may take a little time to get used to this game and the new expanding grid, but let's work it through to get the basics right. Before we start, a word on colors and sound. Regular slots players will know that Big Time Gaming slots aren't just about high risk mechanics and big payouts. Their style of slot is unique because the themes, the artwork, and the well-sourced soundtracks all add to the entertainment value you get when you spin the reels.
Star Clusters itself is a primary colors slot with bold pinks, yellows and greens that are reminiscent of the Opal Fruits game, and a symbol that looks like it was taken direct from Starburst from NetEnt. Meanwhile, the soundtrack is a housey-tech beat which will might just split opinion! Whilst you play the background colors keep changing from pinks to blues and other colors as the action unfolds. Its kind of hypnotic … in a good way!
Here is Big Time Gaming's own preview video from You Tube:
What Is Megaclusters™?
So, just like a normal grid game, the objective here is to land clusters of identically colored symbols. You need 5 or more stuck together horizontally or vertically to create a win. They come in all different colors, and if you land 25 of the same highest paying symbol in one cluster you'll earn a 50x payout.
The key to the Megaclusters™ game though is what happens when after a winning 'spin'. Now, all the symbols that form part of the win cluster break up into four more symbols with the chance of creating more clusters. When new wins are formed, this time the winning symbols are removed and new ones drop in to replace them. This creates a really nice effect on screen and it's a neat twist on the standard cluster pays system that we see in games like Aloha! or Gonzo's Quest from NetEnt.
Special Features – Wilds and Free Spins
Ok, so all easy so far.
Now, in addition to the standard gemstones there are also two wilds. The standard and Gold Wilds both sub in for all other symbols to create win clusters. The Gold wild is enhanced though because it comes with a multiplier value of 1x. EVERY gold wild in a cluster will add its multiplier to the total win value.
Things get more interesting when the free spins kick in and we have some typically BTG-style potential madness.
First, you need to hit a winning run of FIVE consecutive cluster wins to trigger the free spins. You start with a minimum of 5 spins, plus an extra one for every reaction above the five that triggered the bonus round. Then, when the round starts, the grid expands from 4×4 to 8×8 AND the Gold Wilds are enhanced so that each time the multiplier value reaches 10x, a further 2 spins are added to your total. This is more likely than you might think because between runs of consecutive wins the multiplier DOES NOT re-set.
In short, this free spins round is where the magic can really happen. The fun of any great BTG game is watching the action unfold when free spins are in play and multipliers are stacking up. Ever watched those big win videos from games like Bonanza where extraordinary things are happening on screen as the wins stack up in short bursts? Well we could have the same thing here if the clusters stack up right and the multipliers keep progressing onwards and upwards to push towards that 23,000x jackpot.
Who Will Enjoy Star Clusters?
Cluster Pays has the looks of a fun low variance grid slot. But don't be fooled. Like almost all BTG games it should carry a warning. This is high variance action where a small bankroll can be eaten up in no time if you're not careful. So if you are a casual slots players looking to get on the Big Time Gaming 'Mega' band wagon by trying Star Cluster just treat it with caution. Meanwhile, high risk fanatics there will find that there is a lot to enjoy, although perhaps some may find the gameplay a little simplistic after a few sessions.  Ultimately though when the wins come this one will kick on like mad and provide some huge thrills that will be a joy ride for anyone who plays.
When Is the Official Release Date for Star Clusters Megaclusters™?
What we know right now is that Big Time Gaming have set the release date for this game across their network as June 2020. We will publish the exact date here as soon as we have more details.