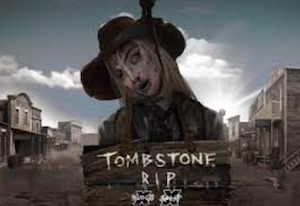 Tombstone RIP Slot Review
Slot Provider: Nolimit City
RTP: 96.08% | Variance: High | Maximum Win: 300,000x
Play at NY Spins
About Tombstone RIP
Reviewed by: Mark Wadie
Published Date: 9th February 2022
How We Review Slot Games
We test and rate all slot games across 5 criteria, assigning a score out of 10 for each and an overall score that is an average of the 5. To build an accurate assessment of each game we gather information from the supplier and play in real play or demo mode.
Find out more
.
Tombstone RIP is an infamous Western slot by Nolimit City with 5 reels, 108 paylines and an unrivalled top payout of 300,000x. It is set in the town of Tombstone, scene of one of NLC's first Wild West stories. It's a sequel. But darker. Much darker. And comes with an extreme volatility to make even the most hardened high variance fan think twice.
The game uses classic Nolimit City features including xNudge Wilds which are stacked and nudge until completely visible, progressing a win multiplier each time. There are also Splitting Wilds which cause all symbols on their reel to split in 2 to increase the win ways. But the main event is the two free spins rounds – Hang Em High and Boothill. These come with extra Wilds and Multipliers of up to 999x.
This is one of the most talked-about slots of recent memory and it more than lives up to the hype as we shall find out in this review.
Tombstone RIP Game Information
RTP: 96.08% | 94.08%
Variance: High
Maximum Win: 300,000x
Progressive Jackpot: No
Reels: 5
Rows: 3+
Paylines: 108+
Minimum Stake: £0.10
Theme: Wild West
Features: Wilds, Free Spins, xNudge Wilds, xWays, Splitting Cells, Multipliers
Tombstone RIP Review Scores
Gameplay and Features

9

Maximum Win

10

Theme and Design

9

Paytable

9

RTP and Variance

9
What Our Reviewer Says ...
"The perfect match of moody aesthetics, dark theme and super-high volatility that only true high risk fans will get to know and love!"
Tombstone RIP Pros and Cons
What We Liked
Uniquely dark and atmopsheric production
Unrivalled 300,000x stake top payout
Super high volatility and risk levels
999x multipliers in Boothill Spins
Splitting Wilds increase Win Ways
What We Didn't like
Volatility can be too intense
Adult theme too strong for some
Just as with every other aspect of Tombstone RIP, the visuals are on a different plane to what we are used to in an online slot, whilst also being totally in keeping with the developer's usual aggressive style. Load up this slot and you are immediately thrust into a monochrome world where the images of the Wild West are only from its most brutal moments.  This is no Sticky Bandits, or even Dead or Alive. There are no fun cartoons of tumbleweed and cheeky cowboys. Instead it's all very grim – the reels are framed in a bloody gallows, whilst hangings, amputations, arson and murder feature throughout.
And all its all interweaved with the usual array of high impact features.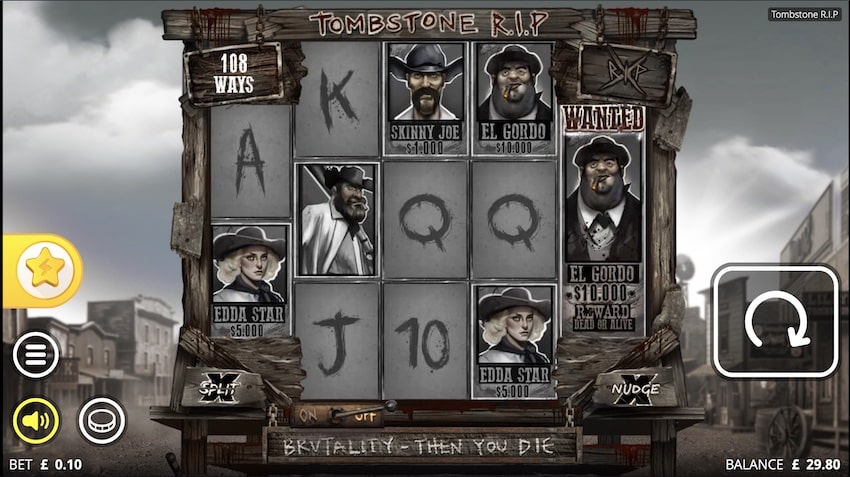 When the Splitting Wilds land it is with the crash of a bloody axe head through the reel set. When an xNudge Wild lands it depicts an outlaw swinging from a noose. And when 2 Hang Em High Scatters land, a flurry of bullets ricochets around the grid as the final reels spin to a hault to reveal your fate.
To be fair, Tombstone RIP isn't everyone's cup of tea. Personally, I love it. It has an atmosphere that sticks with you long after you close the game down, and that's a rare thing.
What is RTP?
RTP (Return to Player) refers to the amount a game will pay out in cash prizes expressed as a percentage of all the money wagered on that game. For example, a 96% RTP means a game will pay out £96 for every £100 wagered. This is an average number and will vary from one session to the next. 
Read more here
.
What is Variance?
Variance refers to how far a game will deviate from its RTP over time. High variance games deviate a lot and produce uneven win distributions and unexpected windfalls. Low variance games provide a more stable and even distribution of wins.
Read more here
.
Like most Nolimit City slots, Tombstone RIP has more than one RTP setting – 96.08% and 94.08% in this case. Which you play at will be at the discretion of your casino. Now, in truth there isn't much to pick between these two and playing at 94.08% wouldn't feel any different to playing at 96.08% for a few hundred spins. These numbers are calculated based on millions, if not billions, of spins. However, particularly when playing a slot where so much has been made of the extreme volatility and high-risk level, it always makes sense to find a site where the Return to Player is at the optimum setting to give yourself the very best chance of walking away with winnings in your pocket.
So, my advice would be … don't settle for that 94.08%. We have checked out the RTP at five top slot sites and this is what we found:
As you can see, not all sites will offer this games at the optimum level. I recommend Pub Casino, or any other L and L Europe site, or Betfred Games for the optimum 96.08% setting.
From the Nolimit City site we also know a bit about the breakdown of the RTP of this game. It says that 40.08% of the RTP is saved back for the free spins round which itself will only trigger once in 194 spins on average.
We also know the overall hit rate of this slot – how often a winning spin occurs – which is 9.08%. That, for the record, is extremely low!
So, what does this all mean? In short, Tombstone RIP is a classic high variance slot. It deals in infrequent wins in the base game and a free spins round that only triggers rarely. But, when it does, you might find a lot of that payout has been saved for just that event.
The good news is you can get involved from just 10p per spin though in the average session it is still likely you will get rinsed in super quick time! Welcome to Tombstone RIP!
What Is Maximum Win?
Maximum win refers to the maximum amount a player can win from one spin. It is expressed as a multiple of the stake. For example, where the maximum win is 100,000x, from a £1 stake, the maximum win would be £100,000.
And now to the headline – Tombstone RIP is the highest paying non-jackpot slot right now. It has a top payout of 300,000x. That means, with just a £1 bet you could bank £300,000!
That is a staggering number that dwarves the previous NLC record of 150,000x set by San Quentin xWays.
But make no mistake, this game has been built for those who like the action to be mean and nasty, a slog-fest and a 1 in 130,000,000 chance of scoring the biggest non-progressive jackpot on the market. So be ready and beware.
We thought we should tell it like it is!
Built to be different, Tombstone RIP's reel set is off-kilter as well. There are 5 reels but the row configuration is 2-3-3-3-1. It is also a Win Ways slot rather than a Paylines slot. That means, you trigger wins by landing 3 or more identical symbols on adjacent reels from left to right, regardless of the row they are on.
This creates 108 Win Ways per spin.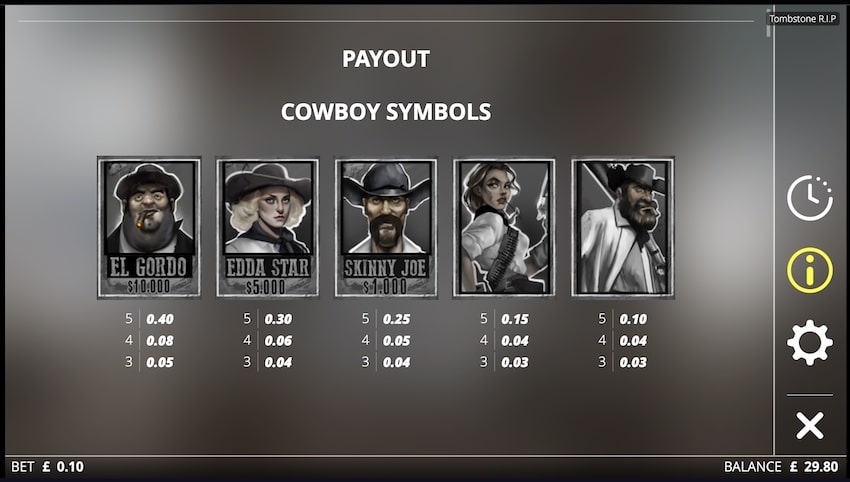 The values in the paytable are pitiful compared to most slots, maxing out at just 4x for 5 of the highest paying. However, let's remember this is no ordinary slot and if you're playing for basic wins then you are missing the point.
It's all about hitting the big, big pay offs in free spins instead.
So, with that in mind, this is what you get …
The low payer cards, 10 through to Ace, are worth from 0.01x for 3 10s up to 0.9x for 5 Aces. The premium characters – 3 outlaws named El Gordo, Edda Star and Skinny Joe, and a female gun slinger and a Sheriff, labelled a 'Bad Ass Killer' – pay from 0.03x for 3 Sheriffs up to 4x for 5 El Gordos.
Other symbols to help along the ways here include the Tombstone Wild, which substitute for other symbols to complete Win Ways. And there is also a Hang 'Em High Scatter and Boothill Scatter, which are required to trigger each of the Free Spins rounds.
There is no let-up in the features in Tombstone RIP. Most of these you will have seen in one form or another on other NLC slots if you've played them before. And if you have, you get used to the flow pretty quickly. If you have not, I recommend you load up in demo mode first for some free play before taking the brave step of showing your money.
Hanging xNudge Wilds Trigger Multipliers
These Wilds appear stacked on the reels and nudge to move fully in view. They attract an increased Multiplier for each new nudge. xNudge Wilds only appear on reels 2,3 and 4 and Multipliers are added together if more than one appears at the same time.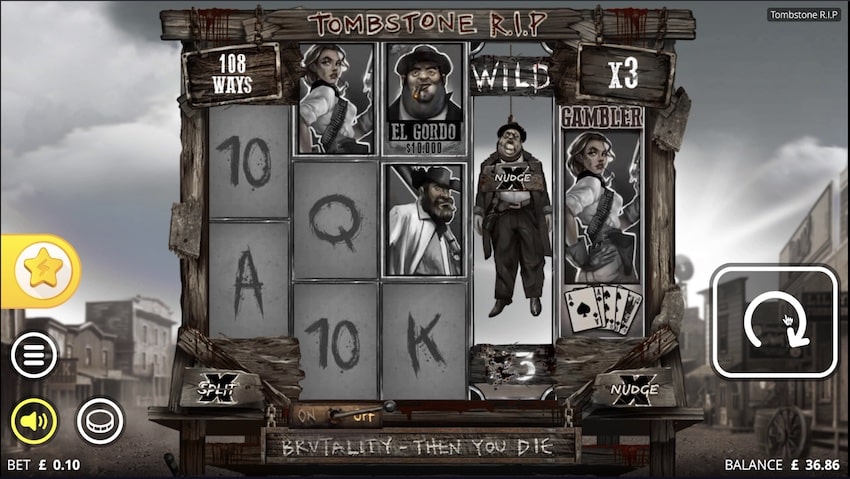 Wild Symbols Split To Increase Your Win Ways
There are regular Wilds and Splitting Wilds.
When the latter land, they split into 2 along with all other symbols on their reel, doubling the potential rewards. If a Splitting Wild affects an xNudge Wild, the Multiplier will also double.
There are also xSplit Wilds which land only on reel 5. Symbols in rows to the left will be split in four.
xRIP – Beware Of This One
This feature is one you don't want to trigger. If a winning combination lands that is worth less than your base bet, and the xRIP feature is triggered, you won't win anything that spin. Harsh.
Scatter Symbols Trigger The Free Spins Rounds
Landing 3 Hang 'Em High Scatters triggers 8 Free Spins, while landing 2 will transform them to Split Wilds. Landing 3 of these Scatters at the same time as 1 Boothill Scatter will trigger 10 Free Spins. If the Boothill Scatter lands on its own, it transforms into a cowboy symbol, which becomes Wild and awards a Multiplier from 5x up 999x.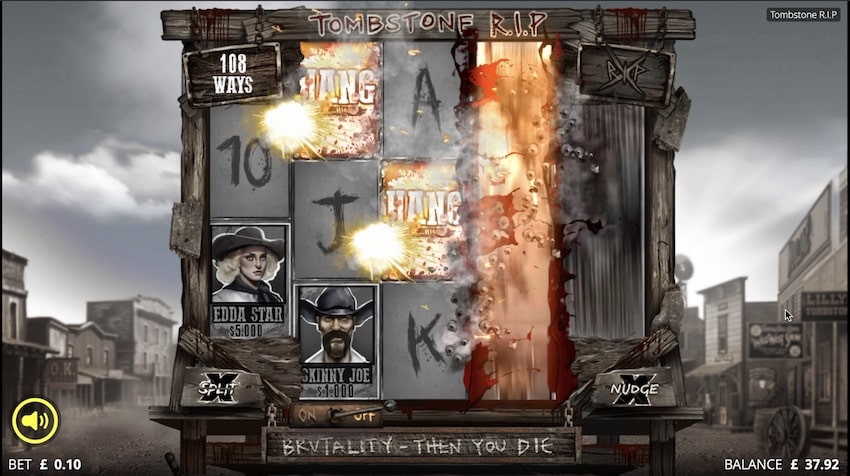 Hang 'Em High Free Spins
Hang 'Em High Free Spins awards a Multiplier at the start. It appears in the top right of the screen. It will increase each time any type of Wild symbol lands on the reels like this:
Regular Wilds – increases by 1x
Split Wilds – increases by 2x
xNudge Wilds – increases by 3x
Importantly, multipliers DO NOT re-set but instead remain throughout the round. So, if you keep landing wilds, it keeps growing.
During Hang Em High you also get 2 more Free Spins if a Boothill Scatter lands on the 5th reel, PUS you get an upgrade to the Boothill Free Spins round.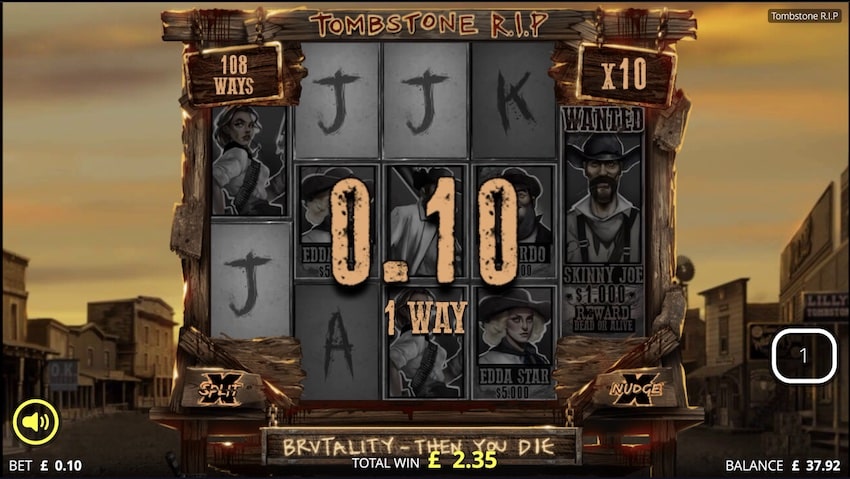 Boothill Free Spins
Without question this is where you want to be and it's what everyone is playing for.
During the Boothill Free Spins you also get the Multiplier that appears top right. But now, you need to watch the 5th reel to see which cowboy premium lands on every spin. It will transform ALL instance of that symbol on other reels into a wild.
And … one random cowboy symbol will have a random multiplier added to it. That multiplier is anywhere from 5x up to 999x. It impacts the chosen cowboy symbol as well as the global multiplier and the two are added together before the win calculation is made.
El Gordo's Revenge
The top payout of the game is capped at 300,000x. If (IF!!!) the total win on a spin exceeded this value, El Gordo's Revenge is enacted, the round ends and the 300,000x win is awarded.
Putting aside the maths of this game for just one moment Tombstone RIP is still a breathtaking game whose production style mirrors the no-prisoners gameplay. If you get that far, and let's be honest, most of us won't, when you trigger the final free spins round – Boothill Spins – you will see the town engulfed in blood-red flames and bodies swinging from the gallows with every win. These shocking scenes blow the cobwebs away and make you feel like any other slot is just going to feel lame in comparison.
That's all well and good. But what about those stats? How long will you want to be involved in a game that offers such little in the base game and makes it so tough to reach the free spins rounds?
Well, NLC have made no apologies, it is what it is – unplayable in many respects. But for the love of high-risk slots action we will continue to bang at the door and see if we can hit the big numbers. And we're sure many others will too. The interesting part is that the visuals are so compelling and unlike anything you've seen in a slot before that despite the frustration you'll keep going as those dark clouds reflect your mood. And of course, those numbers present something of a challenge to overcome, right?! And can you really hit a 999x multiplier in Boothill spins?!
You see, it seems that in this instance No Limit City just doesn't care about ridiculous things like winning, enjoyment or fun in the usual sense. The theme is bleak, the gameplay insanely volatile and the violence extreme. This is another out-there option in this contrary developer's catalogue that will delight fans, while perplexing all others. But that's what they are all about. How else do you shake things up?
Indeed, I wasn't sure if NLC could ever top the madness of Mental, but if you want more insanity, come to Tombstone once again!
Boom or Bust? 200 Spins On Tombstone RIP
To give you an accurate and honest assessment of the games we review our writers play 200 spins. Whilst this is a useful tool to help us review games and to give an example of what might happen when you play, keep in mind that 200 spins is only a very small sample and cannot be used to accurately predict what might happen over another 200 spins. The outcome of all slots play is always random.
I played 200 spins on Tombstone RIP for real money at Pub Casino to test the game and this is what happened.
Stake Size: £0.1
Start balance: £39.56
End balance: £30.30
Biggest Win: 24.5x
Free Spins rounds: 2
Session Time: 14 minutes and 14 seconds
As you can see from the session time – less than 15 minutes –Tombstone RIP can literally rip through you in no time. In fact, compared to other sessions I have endured on this game, this wasn't bad. I unlocked the Hang Em High spins twice and brought up a win of 24.5x on the first occasion. You can see that in the screen shot below. That was thanks in part to a 10x multiplier that you can see in the top right of the screen. Of course, that is exactly what Tombstone RIP is all about – building up multipliers that propel your wins into the stratosphere in either of those bonus rounds. But that's not to say that I didn't enjoy the base game spins as well. The atmosphere is superb, and the regular thud of axes and flurry of bullets keeps you on your toes throughout even when the wins are not forthcoming.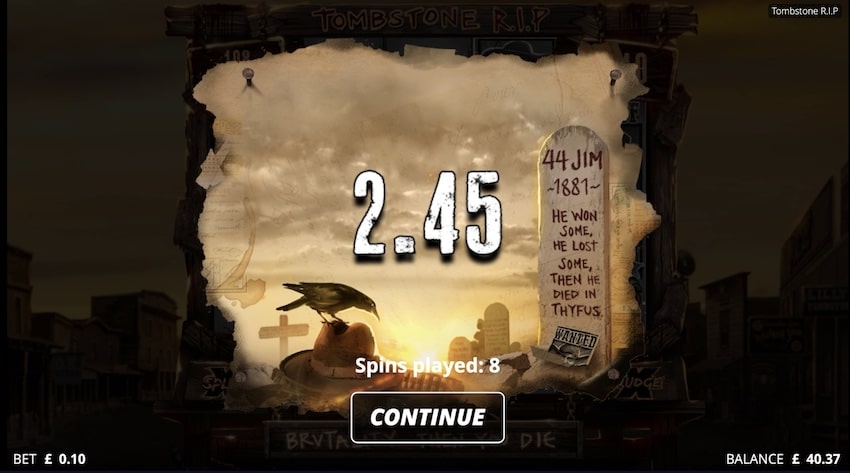 Compare Tombstone RIP With Similar Slots Picked By Us
Here are more games like Tombstone RIP compared on configuration and features. Click through to read a review of each one.
| Slot Game | Provider | Theme | Min. Stake | Max. RTP | Variance | Paylines | Top Payout | Jackpot |
| --- | --- | --- | --- | --- | --- | --- | --- | --- |
| | Nolimit City | Action and Adventure | £0.20 | 96.03% | High | 243 | 150,000x | No |
| | Nolimit City | Horror | £0.20 | 96.08% | High | 108+ | 66,666x | No |
| | Nolimit City | Horror | £0.20 | 96.09% | High | 243 Upwards | 23,237x | No |
| | Nolimit City | Wild West | £0.20 | 96.11% | High | 240 + | 20,200x | No |
| | Nolimit City | Ancient Greece | £0.20 | 96.04% | High | 72 + | 31,000x | No |
| | Nolimit City | Music | £0.20 | 96.09% | High | 81+ | 33,333x | No |
| | Nolimit City | Oriental | £0.20 | 96.1% | High | Up To 12,288 | 30,000x | No |
| | Nolimit City | Action and Adventure | £0.20 | 96.02% | High | Up To 110,592 | 55,555x | No |
Useful Tips When Playing Tombstone RIP
Remember, online slots are games of chance, there is NO strategy that can improve your odds of winning. However, reading our review and following these tips will help you get the most out of your time playing this slot game.
1. Be Safe!
The number one rule with a slot like this is, play safely. It will tear through your balance in no time if you don't set a sensible stake level. There is a reason its capped at 80p per spin. Most players go for a 10p wager on each spin.
2. The Cowboy Multiplier Is Essential
Any super big wins are almost always going to come from the Boothill Free Spins round. Keep your eye on that 5th reel that will tell you which symbols are transforming wild AND on the random multiplier of up to 999x on each spin! It's critical!
3. Enjoy The Production
It's not just about winning. This game is a work of art and you should sit back and enjoy every part of the production as you play to get maximum enjoyment from it.
4. Play At UK Slot Sites On This Page
Of course, we always say you should only play at licensed casinos like the ones recommended on this page. That is because they are regulated under UK law to ensure that they are fair, safe and secure.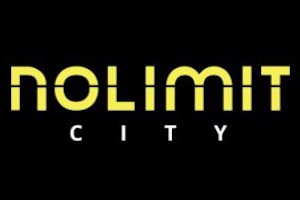 Name: Nolimit City
Established: 2016
UK License: Remote 052097-R-329532-005
Total Games: 50 +
Known For: Super high variance, super high maximum wins, adult themes, irreverent humour
Popular Slots: San Quentin xWays, Mental, Book of Shadows, Tombstone RIP
Find More Nolimit City
Like The Sound of Tombstone RIP? Here are 4 more games chosen for you...
Allslotsites.com - Trusted and Independent Online Slot Reviews
Allslotsites.com has been publishing online slot reviews since 2018. It's fair to say we know a thing or two about what makes a good game – that magic mix of theme, style, gameplay and payout potential. For each slot we review we take you on the full journey through its narrative and design, reel configuration, key numbers including RTP and max win, volatility level, gameplay, and finally an expert verdict. You can also check our comparison tables to see how each slot matches up against others handpicked by our reviewers and check our tips on hitting that winning streak.
We are not paid by the developers whose games we cover. We are independent and our views of each game are honest. That is why you can trust us!
Learn, explore and find your next slots adventure with us!!