Play Hand of Anubis At These Slot Sites
About This Slot
Every game studio has a slot that defines them. Whether it's Big Time Gaming's Bonanza, Nolimit City's Tombstone RIP, or Play n Go's Book of Dead. For Hacksaw Gaming it is Hand of Anubis. This manic multiplier-fest was released back in April 2022 and laid down a marker to say that Hacksaw are a high variance specialist who aren't just here to make up the numbers.
Thematically, Anubis draws on the dark side of the Ancient Egyptian story. It takes its inspiration from the character who decided the fate of the dead in the afterlife and represents him as a terrifying man-jackyl hybrid with laser red eyes standing beside a 5×6 grid of granite blocks. But it's the gameplay that really makes this slot stand out. The action is driven by an intense mix of wild multiplier orbs, multiplier skulls and multiplier blocks that can progress as high as a crazy 9,999x in the free spins round.
Hacksaw fans will load up with glee. For the uninitiated, take a deep breathe …
Boom or Bust? What Happened When We Played Hand of Anubis
Predictably, Anubis was not in a generous mood when we loaded up and spun the game at Casumo. Red and Blue Wild Orbs were a regular occurrence, but multiplier values were small and we never unlocked the free spins round. In demo mode I bought into the bonus round and Judgement free spins. This is where Anubis truly reveals its class. In the end the win was relatively small – 172x – but the process to get there is thrilling.  You can watch it in the video below.
Like all good high variance games the epic wins are all about the cumulative experience. In this case your aim is to build up the multipliers at the top of the reels by landing skulls, then collecting them via the Multiplier and Crusher blocks that land. The higher the reel values, the more value you get from each Multiplier or Crusher block.  The multipliers at the top of the reels were all in the 30s and 40s by the end of the round. They could become much, much higher.
A tough, tough play but it's easy to see from the bonus round why this slot is so, so popular amongst big win chasers.
RTP, Variance and Top Payout
There are four possible RTP settings for Hand of Anubis slot. They are 96.24%, 94.32%, 92.28% or 88.41%. UK slot sites will normally run at the 94.32% RTP. You can see this in the screenshot below which was taken from the game running at Casumo. 94.32% sounds low, right? Get used to it – it's standard for Hacksaw in the UK.
Hand of Anubis is a high, high variance slot, rated 5/5 by Hacksaw themselves. This puts it right up there with the meanest of this developer's output alongside games like Rotten and Itero. On the flipslide, it has a higher top payout than mid-variance slots from the same studio, at 10,000x.
Stakes start at 10p.
Symbols and Graphics
The game grid is five reels by six rows with wins formed by landing five or more identical symbols in a cluster where they are adjoined horizontally or vertically.
There are five low pay symbols represented by the cards 10 through to Ace. Unusually, these are ALL valued at 0.1x for five in a cluster up to 15x for eleven in a cluster. The premium symbols are represented by Egyptian icons with jewels, turquoise, purple, orange, green and red. These are valued at between 0.3x for five turquoise jewells, up to 60x for eleven of more red jewels.
We will also come across red and blue orbs, scatters and skulls as we spin the reels and chase down those wins.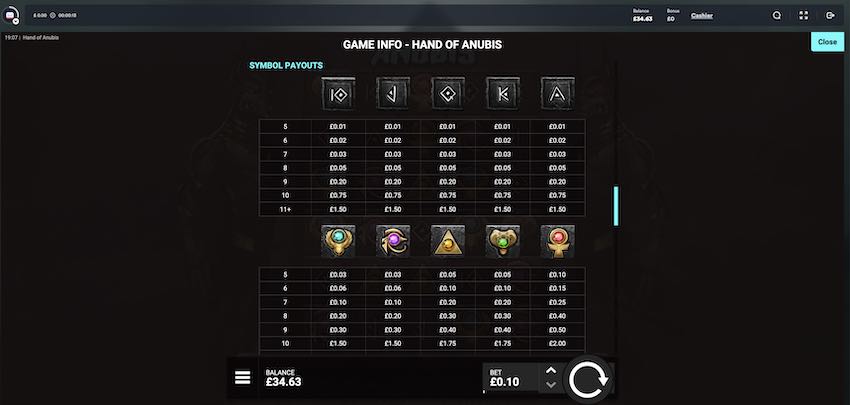 What We Like
Awesome multiplier potential up to 9,999
Incredible multiplier combinations
Dark and deadly graphics and style
Super high variance for Hacksaw fans

What We Don't Like
Very, very tough to unlock wins
Don't play if you don't like multipliers

Gameplay and Features
Hand of Anubis is one of Hacksaw's more complex slots but here we will break down the features to show you how to play.
Red and Blue Wild 'Soul Orbs' Absorb The Power of Clusters To Create Multipliers
A core component of the gameplay here is the Wild Soul Orbs. These are basically wild multiplier symbols – they substitute for other symbols to create winning clusters – whose value is determined by the size and number of clusters they form a part of.
Red orbs have a multiplier value equal to the TOTAL number of symbols in a cluster. Blue orbs have a multiplier value of the total number of winning clusters they are part of on the grid.
If there is a cluster that includes both red and blue orbs in it then the values of the multiplier are MULTIPLIED together.
 Two Bonus Rounds With Multiplier Mayhem!
In keeping with the format of most Hacksaw high risk games, Hand of Anubis has TWO bonus rounds where the multiplier action gets super-charged.
Underworld Bonus With New Green Orb
First up is the Underworld Bonus Round.
You'll need THREE free spins symbols to unlock this. The basics are simple – each reel has a multiplier value displayed underneath it. Every time a winning cluster covers part of a reel, the value of the total number of winning symbols on the reel is added to its multiplier. These multipliers can also increase when special skull symbols land. The have their own multiplier values of 2x, 3x, 4x, 5x or 10x. This number is multiplied by the reel multiplier value to create a new value.
When you land the special Green Orb symbol onto a reel you unlock its multiplier value which becomes global and now applies to ALL wins. And if you activate more than one reel multiplier then they are added together.
Every time a green orb lands and a reel multiplier is activated then 3 more spins are added to your total.
Judgement Bonus With Special Skulls
The second bonus round takes things in a different direction, though multipliers are still central to the format. You'll need FOUR free spins symbols to unlock this one.
Now you're on a new grid with multiplier values displayed at the top of the reel. The objective here is to increase the value of these multipliers with the aid of FOUR types of skull which either add to or multiply the value of the reel multipliers.
The standard skulls increase the value of the multiplier on the reel they land on by 1x, 2x, 3x, 4x, 5x, 10x, 25x, 50x or 100x. The Epic Skulls have the same values, but when they land they increase the value of ALL multipliers, not just the one on the reel they landed on.
The Anubis Skull multiplies the value of the multiplier on the reel it lands on by 2x, 3x, 4x, 5x or 10s. The Epic Anubis Skull multipliers the value of the multipliers on ALL reels by 2x, 3x, 4x, 5x or 10x.
So, you've picked up some nice multipliers? But how do they pay out?
During Judgement there are also Multiplier Blocks, Multiplier Modifier Blocks and Crusher Blocks falling onto the grid with each spin. The Multipliers take the value of the multiplier value at the top of their reel and they stack on top of one another as they land.  Meanwhile, the Crushers will drive a path through all the Multipliers beneath them, taking their cumulative values as they go until they hit the bottom row where they transform into a new Multiplier Block.
Each time one of these three symbols lands another 3 free spins are added to the total. And when at any time three spins passes without a Multiplier Block, Multiplier Modifier Block or Crusher Block landing, the round ends. Then, ALL multiplier values displayed are added together and multiplied by the bet value for the original spin to determine the total payout.
More Games Like Hand of Anubis Slot 
Itero by Hacksaw Gaming – There are probably no games that can quite match Hand of Anubis for sheer multiplier meltdown potential, but the closest you might get is the classically-themed Itero. This 5 reel game is also rated 5/5 by Hacksaw for volatility. It utilises an Echo Spins feature which replays the previous spin, including multipliers, to accumulate massive payouts of up to 10,000x. A tough play, but it has been known to deliver some epic win action.
Outlaws Inc by Hacksaw Gaming – For something a little less volatile but still a fine slot from the same developer you could try Outlaws Inc, a pacey biker gang game with a similar maths model, including 10,000x top win, and a re-spins feature triggered by landing special stars in the bonus round.
Where to Hand of Anubis Slot – Further Recommendations
Play OJO – We recommend OJO as a great place to try any Hacksaw Gaming slot. They offer regular free spins deals with no wagering requirements, a cool loyalty program with level-ups and free spins, and over 4,000 slots and live dealer tables to try your luck on. This is a first-class slot site licensed by the UK Gambling Commission. 
Temple Nile – If you prefer White Hat Gaming Casinos then you could try your luck at Temple Nile, an Egyptian-themed casino in keeping with the Hand of Anubis narrative. Temple Nile has over 2,500 games in its catalogue and run a good loyalty store for VIPs with non-cash gifts like watches and laptops. Deposits start from £20.
Our Verdict
Hand of Anubis is one of those slots that makes you sit up and take notice. From artwork to gameplay its a classic slot. The atmosphere is always intense, even in the dry spells, and the towering Anbuis characters with demonic voices either side of the grid are not easily forgotten.
As for features, the red and blue orbs make for an interesting variation on wild multipliers and the way they absorb values from their winning clusters is clever and interesting. Then, both bonus rounds can be hugely rewarding but it's the Judgement that creates the most tension. In particular you'll be looking for those Epic Anubis Skulls which add further value across ALL reels, and the Crusher symbols that pick up values from every block they crush as they fall down the grid.
Awesome stuff and one we recommend to any high variance fanatic.

9.0
Excellent
Hacksaw's best slot to date - an epic mix of dark narrative and crazy multiplier action that will be hard to beat!