Play Itero At These Slot Sites
About This Slot
Landing at UK casinos in May 2022, Itero was the first Hacksaw Gaming slot to feature their Echo Spins™ mechanic where winning spins are repeated with the same multipliers and symbols on the grid to push up massive progressive wins … when the game is in the right mood. We say that because this is one of Hacksaws' deadliest high variance games … 10,000x potential but many grindingly slow sessions which tease but don't deliver.
Itero has a classical theme – the name itself means 'to repeat' in ancient language – and utilises a 2-tone color palette of blacks and greys with splashes of neon color to break it up. You'll see this in other Hacksaw games like RIP City or Hand of Anubis. The backdrop is an ancient ruin, and a stylish techno soundtrack runs in the background. When things kick off on the reels then lighting strikes and the rain falls. Itero is an atmospheric slot and totally distinctive. Hacksaw fans will love it.
Itero Test Session Highlights Video
This is a highlights video showing what happened when we tested Itero slot for real money at Casumo Casino.
RTP, Variance and Top Payout
Hacksaw Gaming slots always have a variable RTP with the choice of setting down the casino you play at. In the case of Itero the settings are from 88.33% up to 96.18%. At Dream Vegas where I played the setting was 94.24%. That is common for UK sites – Casumo regularly set their Hacksaw slots to the 94% setting. It's under what we have come to expect and a drawback of playing Hacksaw games.
Itero is a high variance slot, no question. It is rated 5/5 by Hacksaw putting it in the same bracket as games like Rotten and Alpha Eagle. The top win is a standard 10,000x. Overall, this will be a tough slot to play.
Spins start at 10p.
Symbols and Graphics
Itero plays out on a 5 reel and 4 row reel set with 20 active paylines. You will need to land 3 matching symbols from left to right across a payline to trigger a win.
Itero's paytable is a classic Hacksaw too. There are 4 low payers, 4 premiums, a wild and several special symbols that unlock the features. Low payers are the cards, 10 through to Ace, valued at 1x for five 10s up to 2x for 5 Aces. The premiums are the five gods in stone, valued at from 4x up to 10x. The Wild substitutes in for all other symbols in the paytable and in this instance also pays out, but only when 5 drop on a payline to give you a 10x win.
You can see the full paytable in this screenshot.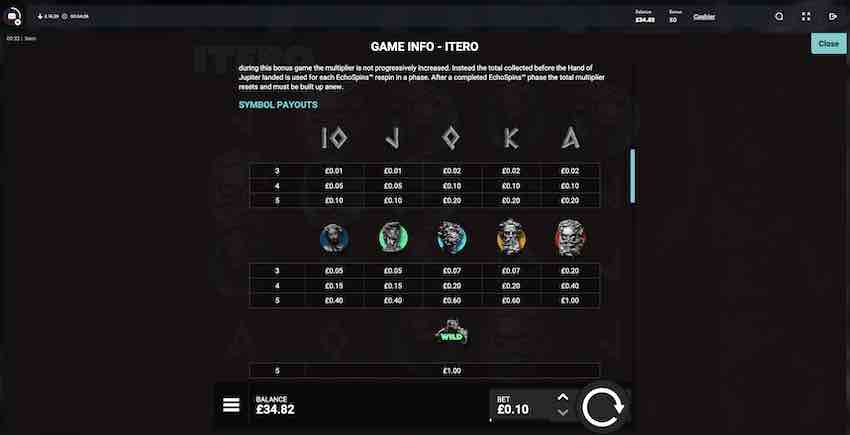 What We Like
Big multipliers possible with Echo Spins
Classy design and soundtrack
Each multiplier adds to global value

What We Don't Like
94.24% RTP is low for UK
Really tough to break into free spins

Gameplay and Features
Itero is all about Echo spins and building up your multipliers and wins progressively towards a huge, accumulated payout at the end of the sequence. This short guide will show you how to do that.
The Hand of Jupiter Triggers Re-Spins That Mirror the Triggering Spin
You should be looking out for the Hand of Jupiter on every spin. When it lands, IF a payline has been completed on the same spin then re-spins are awarded. The Hand of Jupiter will reveal the number of spins from 1 to 8.
Now, remember the echo? So, every win and multiplier from the previous spin is repeated and the multiplier values after each spin are added to a total multiplier value displayed at the top of the reels. This value is applied to all wins at the end of the spin.
Effectively, you are ALWAYS increasing your TOTAL multiplier value after each spin, so the wins get progressively bigger each time. The multipliers themselves come in two types – Additive (2x, 3x, 4x, 5x, 10x) or Multiplicative (2x or 3x). That determines whether they are added together before being applied, or multiplied together.
Two Bonus Rounds Come With Enhanced Odds of Trigger the Echos
Like in many Hacksaw games, Itero comes with TWO bonus rounds, each triggered by landing a scatter which in this case is a kind of Lion's head door knocker!
The first bonus round is the Wrath of Jupiter which requires 3 scatters. Now you get 10 spins with enhanced odds of hitting Echo Spins AND better odds of scoring high value multipliers.
The second bonus round is the Hand of the Gods, requiring 4 scatters and giving you 10 spins. All multipliers are saved in the total multiplier box to be applied to the next sequence of Echo spins. When the Echo Spins end, then the multiplier re-sets.
Boom or Bust? What Happened When We Played Itero
As expected, Itero proved to be a tough one to crack. In a 30-minute session I unlocked the free spins round just once and came up with a 54x win. You can see this in the highlights video at the top of this page. To be fair, Echo Spins are a fairly frequent occurrence, but most hits produced small wins in the 5x to 10x range, with one or two 30x wins and nothing more.
Whilst the payouts weren't great in my session, the overall feel of the game was good. The mix of classic imagery with a neon punk-stylings are cool and the lighting flash as the Hand of Jupiter lands is a neat trick. It's an unusual look for an online slot which is what we have come to expect from this provider.
Overall, the experience was similar to Outlaws Inc – much fuss and teasing, good style and atmosphere, but sadly little payoff. Nevertheless, it's one I would come back to as you can see how a good run of Echo Spins with high value multipliers could be huge
More Games Like Itero Slot
Break Bones by Hacksaw Gaming – A more recent game to feature the Echo Spins mechanic is Break Bones, a skater slot on a 3x 3 reel set with 17 paylines. Break Bones offers Echo Spins to a wider audience thanks to a more balanced pay model (3/5 variance), but a much lower top win of just 3,333x. Just like this game, when the Echo Spins occur, multipliers keep accumulating in a global multiplier box to be applied to each win. Multipliers can hit up to 100x in this game.
Rotten by Hacksaw Gaming – If you are simply looking for another high, high risk slot from Hacksaw then Rotten is a great choice. This zombie fest has a 5/5 volatility rating but plays on 6 reels and 5 rows. Wins are maxed at 10,000x. The best stuff happens in the Total Takedown bonus round where SwitchSpins replace low value symbols with Wilds or the highest paying clown symbol. A great game for horror slots fans.
Where to Play Itero Slot – Further Recommendations
Duelz Casino – You can play Itero at Duelz Casino, a SuprPlay slot site with over 2,000 games on it. Duelz offers a 1v1 tournament feature where you can duel it out with other players to win bonuses and free spins. The minimum deposit here is £20 with the option to deposit with Paypal too. 
Spin Rio – Alternatively, you could try playing at Spin Rio, an Aspire Global casino with 1,000 slots and table games. This one is relatively new – launched in 2021- and has a latin-samba feel. It has a lower minimum deposit of just £10 and features diverse game providers including WMS, Blueprint and Big Time Gaming.
Our Verdict
Itero could become a cult classic for high-risk fans thanks to its unusual style and trademark Echo Spins feature. It was a fun play but could be improved by more action in the base game to keep things interesting whilst waiting for the free spins or the next Echo Spins to trigger. Nevertheless, Hacksaw fans will definitely get a kick out of this one as it's very much one of their slots.

8.0
Good
Unique and classy, Itero shows once again that Hacksaw Gaming are a force to be reckoned with, adding new dimensions to the high variance slot category.