Play Dork Unit At These Slot Sites
About This Slot
With a clown-ish theme, Dork Unit was a summer 2022 release from the leftfield Hacksaw Gaming studio. These guys go one way or the other – dark and deadly with venomous variance like the recent Rotten, or light and fluffy with a medium pay model and cutesy designs like Fruit Duel or Pug Life. Dork Unit definitely falls into the latter category. And whilst Dorks are generally defined as the socially-inept outcast of the class, in this case they also appear like circus clowns with the setting a stage were Timmy, Lenny and Hector put on an amusing show.
Fans of Hacksaw will enjoy this one as it delivers features typical of the developer – sticky multipliers like Pug Life and Expander Multipliers like RIP City. Both of which can trigger sizable payouts as. the multiplier stretch as high as 200x. This is one of the highest paying mid-variance slots from Hacksaw with a 10,000x top win.
Dork Unit Highlights Video
RTP, Variance and Top Payout
Dork Unit has four possible RTP settings: 96.28%, 94.3%, 92.18% or 88.22%. UK casinos we have checked run this game at the 94.3% setting. You can see that in this screenshot taken from Dream Vegas. This is standard for Hacksaw Gaming slots. It is under average for UK slots (most run at around 96%).
Dork Unit is a medium variance (3/5) slot so it plays at the same level as games like Frank's Farm or Fruit Duel. However, it has a notably higher potential at 10,000x than those games.
You can spin Dork Unit from 10p.
Symbols and Graphics
This game runs on a typical 5 reel, 4 row game set with 16 paylines in play at all times. Wins are triggered by landing 3 or more identical symbols on a payline from left to right, starting with the left-most reel.
Low payers, shown in the paytable below, are represented by the cards, 10 through to Ace. Prizes range from 0.1x for three of the lowest value 10s up to 2x for five Aces at the top end.
Premiums are simple fruits – cherry, lemon, apple, carrot or Strawberry. These are valued at from 0.5x for three cherries up to 10x for five strawberries.
There are also Gift Boxes the three Dorks – Tiny Timmy, Hefty Hector or Long Lenny – which perform special functions as described in the next part of our review.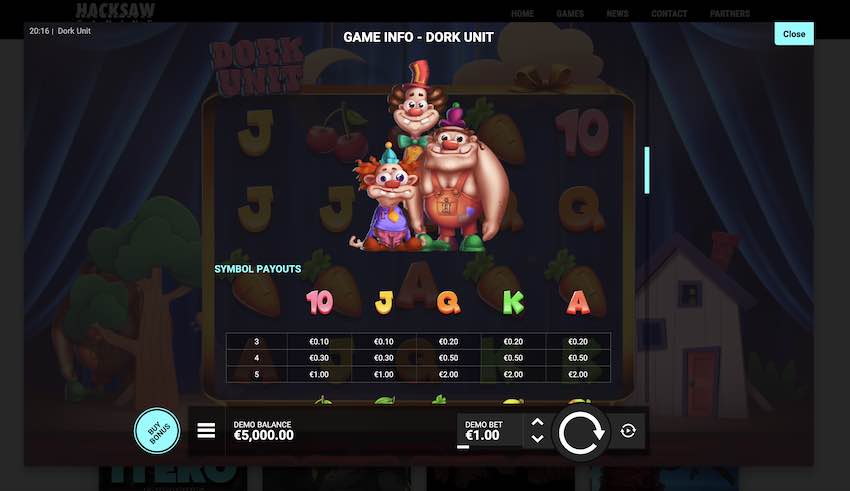 What We Like
Sticky multipliers in Bonanza feature
Guaranteed expanded Dorks in bonus
Good top win for mid-variance game
Less dark than other Hacksaw games

What We Don't Like
Won't appeal to high variance nuts

Gameplay and Features
The gameplay in Dork Unit is based entirely around many Multipliers and the Expanding Dorks that only appear in the bonus round.
Gift Boxes and Gift Bonanza With Sticky Wild Multipliers of up to 200x
First, throughout the game you should look out for Gift Boxes as these carry Multiplier Wilds. The three types – Common, Rare or Epic – offer progressively larger multipliers, with Epic boxes carrying the greatest value multipliers of 25x, 50x, 75x, 100x, 150x or 200x. Rare Boxes are valued at 5x, 10x, 15x or 20x and the much more regular Common Boxes are valued at 2x, 3x or 4x. Expect a relative deluge of these compared to the Epics which will drop once in a blue moon.
Any time more than one multiplier is used in a win then the two are added together before being applied to the win.
But the fun with Gift Boxes doesn't end there, because landing three or more on one spin will trigger a Gift Bonanza. Now this has big potential and anyone who has won big on games like Pug Life will know why that is. At the start of a Gift Bonanza you get three spins with your Gift Boxes sticking in place where they landed to trigger the round. Remember, they each have a multiplier value. Now, any new Box to land re-sets your spins to 3 and itself sticks in place with its own multiplier.
The trick here is to just keep landing more and more Boxes, preferably the high value Rare and Epics, but don't hold your breathe as these will be very occasional. Even so, with 4 or 5 active, sticky Common Boxes you could still rack up some big payouts from this bonus round.
Dork Spins With Fully Expanded Multiplier Dorks
Finally, the Dork's themselves reveal their skills in the Dork Spins round with 10 spins. It's Lenny, the bigger of the three, who unlocks this round if he lands three times on reels 2, 3 or 4, on one spin. Now, if Lenny then lands again on any free spins he transforms that reel into a Dork Reel which will ALWAYS show one of the three Dorks when a spin ends.
Dorks are full reel height and each has a multiplier – Tiny Timmy has a multiplier of 2x, 3x or 4x; Hefty Hector has a multiplier of 5x, 10x, 15x or 20x; Long Lenny has a multiplier of 25x, 50x, 75x, 100x, 150x or 200x. This also has the potential to drive some epic wins if you can turn 2 or 3 reels into Dorks with a high value multiplier.
Once again, multipliers are added together, not multiplied, when more than one completes a win.
Boom or Bust? What Happened When We Played Dork Unit
You can check out the highlights video at the top of this page from a 30 minute real money session at Casumo. Top wins were in the 60x to 80x range and we unlocked the Gift Bonanza round twice and the Dork Spins once. Gift Bonanza proved quite profitable as you may expect with its potential to land several sticky multipliers – we played with 5 at one point – 2x, 3x, 4x, 5x and 2x – though never saw a Rare or Epic prize box at any point in the game! Dork Spins were OK but nothing special despite having two Dork reels. We only ever saw 2x Tiny Timmys during our spins.
So, a taste of what Dork Unit could offer, but no big, big wins to speak of.
More Games Like Dork Unit Slot
Pug Life by Hacksaw Gaming – The closest thing to Dork Unit we could find on the Hacksaw label is Pug Life. This game features a bonus round with sticky Treat multiplier wilds that can be valued as high as 200x and trigger some big wins. It feels similar to Dork Unit's Gift Bonanza in that respect. However, Pug Life maxes out at a 7,500x top win which is lower. But if you prefer dogs to dorks, it could be worth a spin!
Frank's Farm by Hacksaw Gaming – Alternatively, you could spin on Hacksaw's January 2023 release, Frank's Farm, another medium variance game where multipliers take center stage. Market Multipliers are valued up to 10x and regularly landed during our test session. But you can boost their value in the Order Rush round where collecting symbol groups increases the Market Multplier minimum value. Keep in mind though that Frank's Farm has a lower top win value of 5,000x.
Where to Dork Unit Slot – Further Recommendations
Dream Vegas – We recommend this site to fans of White Hat Gaming casinos. Dream Vegas has over 2,500 slots to try and includes the full Hacksaw range. The minimum deposit level is higher than average at £20 but their 100% match up to £300 sign up offer is a useful one for those looking to start with a big deposit value.
Casumo – We always recommend Casumo because it is a slots players paradise. It is stacked with more than 2,900 games which you can search through with a sophisticated filter system. Regular slots tournaments, loyalty level-ups and free spins rewards on your favourite games make this a great destination to play Hacksaw slots too.
Our Verdict
Dork Unit sits firmly in the bright and breezy set of slots from Hacksaw, alongside games we've already referenced several times in this review like Pug Life, and even the cute 3-reeler, Fruit Duel. But it's no clone and there is enough differentiation here in style and features (though still a heavy reliance on multipliers) to make it worth your time. As far as payouts go, you don't have to break into the Dork Spins round to score big wins – the Bonanza feature will enable some hefty payouts itself thanks to the sticky multipliers. And with a 10,000x top win this game is potentially more lucrative than any other medium variance slot from Hacksaw, making it one we will return to again.

8.0
Good
A fun, humorous slot with the potential to bang out some serious wins when the high value multipliers come into play. More quality output from Hacksaw.