Play Gladiator Legends At These Slot Sites
About This Slot
NOTE: Screenshots on this page are taken whilst we played this game for real money at Casumo.
Gladiator Legends, released in April 2022, was the second slot from Hacksaw after Warrior Ways to feature their DuelReels mechanic where multipliers battle it out to become wild multiplier reels. The concept is a simple one but it works and particularly when applied to the Gladiatorial Arena setting here, creating the perfect format for a high variance game. Like many Hacksaw slots, this one is all about accumulating multipliers in the bonus rounds to unlock big wins.
It's a very tough play, but it can deliver big time.
Gladiator Legends (Hacksaw Gaming) Test Session Video Including 500x Win
RTP, Variance and Top Payout
Gladiator Legends has an RTP setting of 94.44% in the UK. We verified this at Casumo, a UK-licensed casino. Hacksaw slots have variable settings, usually between 88% and 96%. Most UK sites pick the 94% setting.
This is also one of Hacksaw's most volatile slots, on a par with games like Rotten and Hand of Anubis. It will not break easily, though the potential for epic win sequences is there in the two bonus rounds where multiplier mayhem can kick in at any time. The top win of 10,000x is standard for Hacksaw as well. You don't find many games by this operator with higher potential.
Symbols and Graphics
The game plays out on a 5 reel and 4 row grid with just 10 active paylines in play at all times. To trigger wins you'll need to land three more more identical symbols across the reels from left to right on a payline.
Low value symbols are the cards, 10 through to Ace. Three 10s will earn you a 0.1x win whilst five Aces gets you a 1x win. Everything else falls somewhere in between. The premiums are represented by the warrior weapons: hammer, two axes, a dagger and a sword and shield. The hammer is worth 0.5x for three on a line. The highest value sword and shield is worth 30x for five on a line.
There is also a Wild that completes paylines by substituting for other symbols AND pays out 30x for five on a line.
Special symbols include VS that activates Duel Reels,  and an Arena and Beast scatter, each of which triggers its respective bonus round.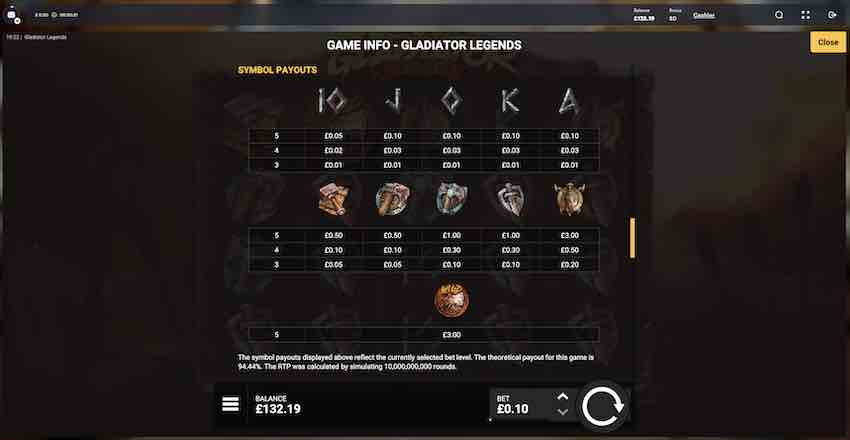 What We Like
DuelReels™ with 100x wild multipliers
Massive multiplier opporunities
Epic theme, fun soundtrack and design
Epic Coins produce big multpliers!

What We Don't Like
Very tough to break down
Reel multipliers can lose value

Gameplay and Features
Gladiator Legends is not short of feature-action.
Throughout the game the Duel feature takes centre stage. The VS symbol required to trigger it is a Wild. When it lands, IF by expanding to full reel height it would form part of a win, then it does so, creating a DuelReel™. Then, a Gladiator Multiplier appears at each end of the reel and they duel to decide which multiplier prevails. The higher value one always wins.
The winning multiplier is then applied to every row on the reel before wins are evaluated and paid out.
In the base game the multiplier values for DuelReels™ are from 1x up to 100x.
Free Spins Bonus Rounds Come With Epic and Multiplier Coins
The bonus rounds here are epic, so be ready for them when they drop! You have two possibilities – the Champions of the Arena round unlocked by 3 Arena scatters and the Unleash the Beast round triggered by 3 Beast scatters.
Champions of the Arena With Epic Coin Multipliers
In Champions of the Arena, the round starts with 3 spins and re-sets every time a VS symbol lands. You can only land VS, non-winning skulls and multiplier coins in this round.
Each reel has its own multiplier value. When a VS lands on a reel a duel ensues and when its complete, the prevailing multiplier value replaces that at the top of the reel. But beware, because this means that your reel multiplier may go down as well as up after a duel!
Additionally, two types of Coin Multiplier appear on the reels. When a Normal one lands, then the reel multiplier value of the reels it lands on is multiplied by its own value of 2x, 3x, 4x, 5x or 10x. But if an Epic Coin Multiplier lands, then it multiplies ALL reel multipliers.
The objective here is to keep building up your reel multiplier values as high as possible because at the end of the round the game will total them all up and apply them to the current stake level to calculate your win.
In Champions of the Arena the multiplier values for DuelReels™ are from 1x up to 1,000x.
Unleash the Beast With Special Beast Duel Reels
Things get heavier still in the second bonus round – land 3 Beast Scatters to Unleash the Beast!
Same rules apply here, but reel 3 is locked to start. It only comes to life when a VS has landed on each or reels 1, 2, 4 and 5. It can then become a Beast DuelReel whose multiplier is applied to ALL other reels multipliers before they are applied to the reel multipliers at the top of each reel.
In Unleash the Beast the multiplier values for DuelReels™ are from 1x up to 250x for reels 1, 2, 4 and 5 and 2x to 20x for reel 3.
Boom or Bust? What Happened When We Played Gladiator Legends
Gladiator Legends showed us what it's made of during a real money test session over 20 minutes at Casumo which you can see in the highlights video at the top of this page. Luck was on our side with a 500x win in the early stages thanks to a 100x wild multiplier DuelReel early on in the session.
We also unlocked the Champions of the Arena free spins round twice, and whilst the first time round the winnings were unspectacular, on the second occasion the payout was 206x built on reel multipliers of 50x, 30x, 80x and 45x. Re-spins re-triggered two or three times and a few Normal Coin Multipliers helped boost the payout although no Epic ones landed.
We didn't unlock the Unleash the Beast round at any point.
A lively session in all with some decent wins. Vs symbols were regular enough and the duels are predictably bloody. Epic indeed.
More Games Like Gladiator Legends Slot
Hand of Anubis by Hacksaw Gaming – Whenever we review a good Hacksaw slot we come back to this enigmatic Egyptian game for comparison. The reel multiplier set up in the bonus rounds is very similar to Gladiator Legends and it has an equally tough high variance engine.
Fruit Duel by Hacksaw Gaming – If the volatility is too much for you but you like DuelReels then try this medium variance game from Hacksaw with a classic fruity theme and wild reel multipliers. Plays out on a simpler 3×3 grid with a 3,333x top win.
Where to Play Gladiator Legends Slot – Further Recommendations
BacanaPlay – We always recommend this Skill on Net site for the best slots we review. It's epic catalogue of 5,000 or more games is hard to beat and the site has a nice laid-back vibe. Deposit from just £10 to get started.
Dream Vegas – Alternatively you could try this White Hat Gaming casino with more than 2,500 slots and a big Sin City theme. Dream Vegas start with deposits from £20 and offer some good bonuses to high depositing customers. Paypal accepted.
Our Verdict
Gladiator Legends and slots like it have helped cement Hacksaw's place as a great developer of high variance slots. Alongside the stylish design and sounds of battle and warriors being slain, the action on the reels is compelling. For a high risks slot, in our tests at least, it was a pacey game with plenty of small wins, including VS symbols, to keep us interested whilst waiting for something bigger.
The bonus rounds are strong but the added jeopardy of duels bringing up multipliers that can drop your reel value as well as increase it is a touch that will frustrate many. Still, that's all part of high-risk gaming and the just the flip side of the big win coin.

9.0
Excellent
A superb high variance slot with epic theme and epic, brutal gameplay!