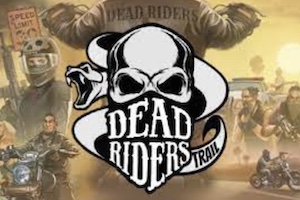 Dead Rider's Trail Slot Review
Slot Provider: Relax Gaming
RTP: 96.2% | Variance: High | Maximum Win: 50,000x
Play at Play OJO
About Dead Rider's Trail
Reviewed by: Mark Wadie
Published Date: 18th August 2022
How We Review Slot Games
We test and rate all slot games across 5 criteria, assigning a score out of 10 for each and an overall score that is an average of the 5. To build an accurate assessment of each game we gather information from the supplier and play in real play or demo mode.
Find out more
.
Dead Rider's Trail is a superb video slot from Relax Gaming, released in Summer 2022 as the follow up to the dark and moody pirate slot, Dead Man's Trail.  This time round Relax invoked the spirt of TV show, Sons of Anarchy, in a biker odyssey that takes in a 46,656 win-way slot grid with cascading wins, a grimy Bonus Wheel with machine gun pointer and two free spins options, and finally the infamous Trail itself. If you make it that far you'll have the chance to collect stake multipliers of up to 1,000x and boost your wins as you journey round helped by no less than 10 different modifiers including Snipers, Payers and Two Knifes. The purpose of which will become clear in this review!
Let's be clear from the outset. Coming from the studio who brought us the Money Train series it is no surprise that Dead Rider's Trail takes no prisoners. It is a death or glory game that will either take you on a thrill ride or leave you rolling in the dirt, eating dust and cursing your bad luck.
Let's get ourselves acquainted.
Dead Rider's Trail Game Information
RTP: 96.2%
Variance: High
Maximum Win: 50,000x
Progressive Jackpot: No
Reels: 6
Rows: 6
Paylines: 46,656
Minimum Stake: £0.10
Theme: Action and Adventure
Features: Free Spins, Feature Wheel, Bonus Trail, Super Bonus Trail, Multipliers, Avalanche Wins
Dead Rider's Trail Review Scores
Gameplay and Features

9

Maximum Win

9

Theme and Design

9

Paytable

9

RTP and Variance

8
What Our Reviewer Says ...
"Crazy biker-themed high risk slots action from a game developer at the top of their game. Play it now!"
Dead Rider's Trail Pros and Cons
What We Liked
Potential big progressive win sequences
Persistent Payers and Collectors
Re-fuels keep the Trail feature going
Up to 1,000x multipliers
Enhanced Super Bonus Trail feature
What We Didn't like
Maybe too risky for some players
Hard to unlock the big wins
Dead Rider's Trail, much like other Relax classics, doesn't really feel like a normal slot game. Instead it feels more like a video game – cinematic, violent and explosive. And that's just the intro! Once the dust clears, the action takes place on a 6×6 grid with symbols and granite blocks interspersed. The backdrop is like a scene from a biker heist gone wrong – money fluttering down, bikers and cops with guns stalking one another and a dust cloud blowing through. This is the atmosphere throughout the game and it feels electric, enhanced by a whip smart breakbeat soundtrack that really keeps you in the mood.
Meanwhile, on the reels a cast of nefarious characters animate when they form part of a win, inevitably throwing knives or firing guns. It seems like there isn't a single person in Dead Man's Trail who isn't looking for a fight!
That is how the game looks and sounds throughout and its all the better for it!
What is RTP?
RTP (Return to Player) refers to the amount a game will pay out in cash prizes expressed as a percentage of all the money wagered on that game. For example, a 96% RTP means a game will pay out £96 for every £100 wagered. This is an average number and will vary from one session to the next. 
Read more here
.
What is Variance?
Variance refers to how far a game will deviate from its RTP over time. High variance games deviate a lot and produce uneven win distributions and unexpected windfalls. Low variance games provide a more stable and even distribution of wins.
Read more here
.
Dead Rider's Trail has an RTP of 96.2% which is just about average for a UK slot and for Relax Gaming products too. If you are looking for a higher RTP from the same supplier then you can find it in games like Book of 99 (99% RTP) and Marching Legions (98.12% RTP).
And of course, it is worth repeating that this is a highly volatile slot characterised by unpredictable payouts, potentially slow periods followed by short bursts of high value wins. It is high risk for high reward, and if that's your thing, then you are in the right place. You can find more games like that in our list of top 20 best high variance slots.
Relax Gaming are one of a few studios who also publish the hit frequency of their games – that is the number of times you are likely to land a winning spin – is 24.61%.
What Is Maximum Win?
Maximum win refers to the maximum amount a player can win from one spin. It is expressed as a multiple of the stake. For example, where the maximum win is 100,000x, from a £1 stake, the maximum win would be £100,000.
The top payout in Dead Rider's Trail is 50,000x. The best of the winning action undoubtedly comes on the Bonus Trail where hitting persistent modifiers can really boost your payouts. That potential puts it right up there with some of Relax Gaming's highest paying slots, though both Money Train 3 (100,000x) and Hellcatraz (51,840x) come in higher.
We also recommend that you read our article on all slots with the highest max wins where we list games with payouts of 100,000x or more.
Explore Games With Similar RTP, Variance and Maximum Win
Like the numbers? Here are some more games you might want to try.
Like Temple Tumble and other Relax slots, this one plays out on a 6×6 grid, this time with each space taken up by a pay symbol, a wild or a valueless stone block. Interestingly, even the number of stone blocks on the reel set is randomised, with between 3 and 24 appearing at the start of a game round.
This is not a payline slot.
Instead, all you need to do (!) is land 3 or more identical symbols on adjacent reels from left to right, regardless of their vertical position.  This is what creates 46,656 win ways on every spin (6x6x6x6x6x6).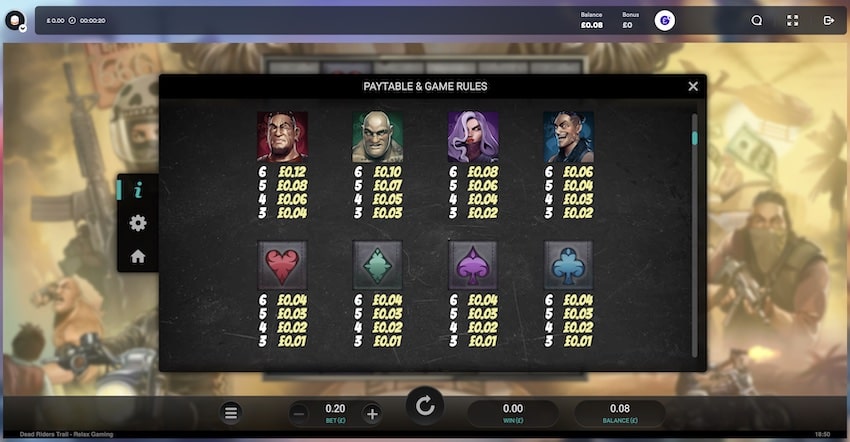 When it comes to the paytable you will see that Dead Rider's Trail does not offer particularly high values even for the premium symbols. That means that you won't win much in the base game in my opinion. But do we care? Not really, because we are here to unlock that trail and chase something much bigger.
So, low payers are the card suits – spades, clubs, diamonds and hearts. They max out at 0.8x for five on a line. And premiums are the four characters – Two Knife, Sniper, Payer and Leader – and the Dead Rider's Trail logo. The max out at 2x for five logos on a line.
We also have a Route 666 Wild that subs in for all other symbols to create wins, and a BOMB that is active only in free spins and helps produce more wins …. more on that in the gameplay and features section.
For me, what is cool about this game is that Dead Rider's Trail really comes in 3 parts. The first part is all about demolishing ALL the stone blocks from the reel set. This is done with the help of Cascading Wins. Then you have a Bonus Wheel spin that can unlock parts 2 and 3 which are the Free Spins and the Trail itself.
With all that in mind, let's have a look at how the game unfolds at each stage.
Cascading Wins Remove Winning Symbols AND Stone Blocks
This is the Cascading Wins part of the game. Your objective at the start of each spin is to blast ALL the stone blocks away to trigger the Bonus Wheel.
How does it work? By now, we all know the drill – winning symbols explode off the grid after a winning spin to be replaced by new ones.
But in this case, there is more …
In Dead Rider's Trail any stone block ADJACENT to a winning symbol – above, below, left, right- is also removed. This creates a lot more movement than in a standard Cascade and more new symbols on the grid and a greater potential for another payout.
The process repeats until no more wins are formed, or better still … ALL stone blocks are removed.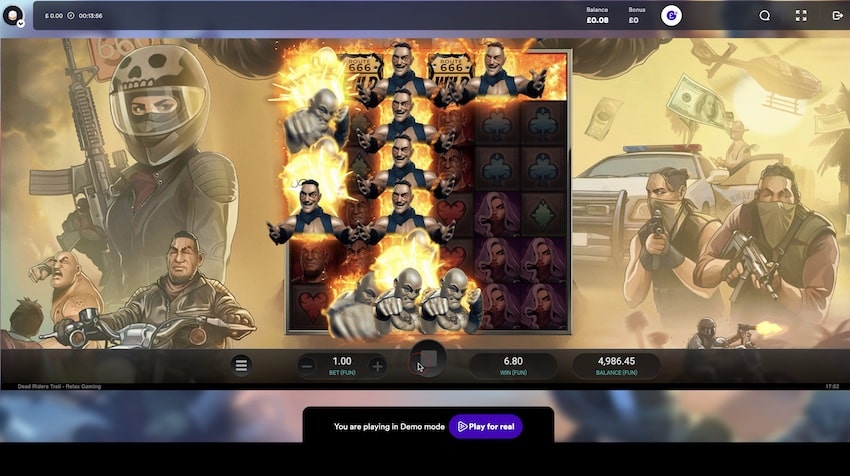 The Bonus Wheel Is Your Entry Point To Free Spins and the Trail
Removing ALL stone blocks from the grid automatically triggers the bonus wheel, a giant outlaw Wheel of Fortune if you like, with segments in black, gun metal grey and faded yellow. Note the gun that acts as the pointer which will decide which segment you land on!
Potential wins are:
4 Free Spins + the chance to gamble for the bonus trail
7 Free Spins + the chance to gamble for the bonus trail
Bonus Trail
Super Bonus Trail
Should you gamble on free spins?
The odds of landing the bonus trail are 33% at 4 spins and 52% at 7 spins. Personally, I would always bank your spins and hope to unleash the wheel again for another chance at landing on the Bonus Trail or Super Bonus trail segment.
Free Spins Can Re-Trigger an Unlimited Number of Times
For once, free spins are not the main event. But they are still an interesting feature with the potential to cause dramatic changes on the grid.
During free spins, bombs are placed on some of the stone blocks. If a symbol in a winning line appears adjacent to a bomb, then the bomb explodes. ALL symbols on the bombs reel now transform to identical ones chosen as the highest payer on the reel before the bomb was detonated.
And … if you can clear ALL stone blocks during the free spins round, 3 more are added. There are no limits to how many times this can happen.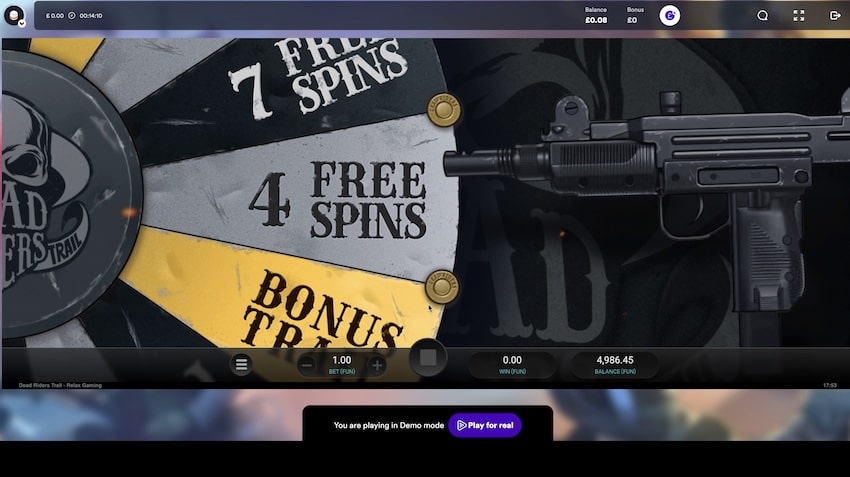 Your Final Destination Is The Bonus Trail With 1,000x Multipliers and TEN Modifiers
No question where we all want to get with this game though … the Bonus Trail and enhanced Super Bonus Trail are the headline acts. And far from being a copy cat of the original Dead Man's Trail, this version strikes out on its own.
First, let's look at the trail itself.
It looks like a winding path made up of positions with multipliers and special modifiers that can be collected along the way. The view is birds-eye, looking down over a dusty landscape as the path winds between the Rider encampment, crashed planes, trucks and cases of money.
Now, once you are on the trail each move takes you between 1 and 6 places further along. How far you get will depend on your fuel meter which starts at 3 and drops 1 with every move. But it's not an absolute situation – you can re-fuel by landing on fuel cans which are dotted along the trail and set you back up to 3 when you land on one.
So, as long as you don't run out of fuel, you will just keep going and winning more prizes. And every position you land on that isn't a fuel can is going to be a win multiplier of up to 1,000x or a feature, represented by Golden or Silver Trucks of which there are SIX on the trail.
And finally .. if you make it around the full trail ALL multiplier positions increase by 3x AND an EXTRA FUEL CAN is added to your meter for the next round!
The bonus trail features work as follows:
CASH – 25x to 50x prize
SNIPER – Between 3 and 6 standard positions on the trail have their values doubled
PAYER – A value of between 3x and 10x is added to standard positions on the trail
TWO-KNIFE – Value of 50x to 200x is added to between 2 and 4 standard positions on the trail
RE-FUEL – 2, 3 or 4 Fuel Cans are added to the trail
SHOOT BACK – Total current win value is added to 1, 2 or 3 standard positions on the trail
COLLECT – Current values of the FOUR nearest positions on the trail are collected
COLLECT ALL – Current values of ALL positions on the trail are collected
PERSISTENT SNIPER – Same as the Sniper, but triggered on EVERY turn
PERSISTENT PAYER – Same as Payer, but triggered on EVERY turn
PERSISTENT TWO-KNIFE – Same as Two-Knife, but triggered on EVERY turn
NOTE: Silver Trucks will award ANY modifier. Gold Trucks will ONLY award Persistent modifiers or Collect All modifiers.
And … in the Super Bonus Trail feature the first truck on the trail has been changed from Silver to Gold to increase your chances of triggering the highest paying features.
Dead Rider's Trail is another monster high risk slot from Relax Gaming that shows a game developer at creative peak, taking the very best bits of their catalogue to date – namely a mix of Money Train and Dead Man's Trail – and enhancing them still further to produce something even better.
The theme itself lends itself perfectly to high-risk gameplay. It's a wonder No Limit City haven't produced a biker slot yet because this is right in their area. The lawless lifestyle and middle finger to the mainstream are what high variance slots fans love and we get it all here.
So how does Dead Rider's compare to Dead Man's Trail that came before it?
In terms of the key numbers, it reads the same – 50,000x top win, 96.2% RTP and 5/5 variance. But it's in the features that Relax have done their extra work. Dead Riders has more going for it thanks to the addition of Avalanche Wins, the colossal Feature Wheel which looks so cool, and the free spins with bomb symbols.
And whilst many of the Bonus Trail Features are the same, there are some other excellent additions here too. For example, the Fuel Cans add jeopardy as you feel yourself getting low on lives, whilst the Golden Truck offers the chance of a guaranteed high paying run if you land it early on the Trail.
Comparisons aside, standing on its own Dead Riders clearly has the potential to land you some huge, huge wins based on progressive sequences where combos of Snipers and Two Knifes and any other modifiers can go stratospheric, particularly if persistent symbols are involved too.
What more can we say? It might be a brutal ride at time but Dead Riders is without doubt one of Relax's all time best slots. But don't just take our word for it … now go find out for yourself!
Compare Dead Rider's Trail With Similar Slots Picked By Us
Here are more games like Dead Rider's Trail compared on configuration and features. Click through to read a review of each one.
| Slot Game | Provider | Theme | Min. Stake | Max. RTP | Variance | Paylines | Top Payout | Jackpot |
| --- | --- | --- | --- | --- | --- | --- | --- | --- |
| | Relax Gaming | Nature | £0.10 | 96.12% | High | 259 | 50,000x | No |
| | Relax Gaming | Space | £0.10 | 96.47% | High | 729 to 1,000,000 | 50,000x | No |
| | Relax Gaming | Pirates | £0.10 | 96.29% | High | 40 | 50,000x | No |
| | Relax Gaming | Wild West | £0.20 | 96.2% | High | 40 | 20,000x | No |
| | Relax Gaming | Wild West | £0.10 | 98% | High | 40 | 5,000x | No |
| | Nolimit City | Wild West | £0.10 | 96.08% | High | 108+ | 300,000x | No |
| | Nolimit City | Action and Adventure | £0.20 | 96.03% | High | 243 | 150,000x | No |
| | Nolimit City | Horror | £0.20 | 96.08% | High | 108+ | 66,666x | No |
Who Made Dead Rider's Trail?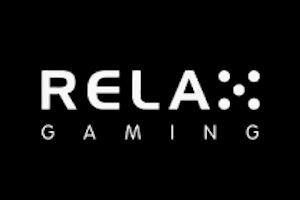 Name: Relax Gaming
Established: 2010
UK License: Remote 037462-R-319357-014
Total Games: 100 +
Known For: High variance, high max win, progressive jackpots, innovative game mechanics
Popular Slots: Money Train, Temple Tumble, Dream Drop Jackpots, Hellcatraz
Find More Relax Gaming
Like The Sound of Dead Rider's Trail? Here are 4 more games chosen for you...
Allslotsites.com - Trusted and Independent Online Slot Reviews
Allslotsites.com has been publishing online slot reviews since 2018. It's fair to say we know a thing or two about what makes a good game – that magic mix of theme, style, gameplay and payout potential. For each slot we review we take you on the full journey through its narrative and design, reel configuration, key numbers including RTP and max win, volatility level, gameplay, and finally an expert verdict. You can also check our comparison tables to see how each slot matches up against others handpicked by our reviewers and check our tips on hitting that winning streak.
We are not paid by the developers whose games we cover. We are independent and our views of each game are honest. That is why you can trust us!
Learn, explore and find your next slots adventure with us!!