Play Punk Toilet At These Slot Sites
About This Slot
Recently we broke the news of three insane new slot games arriving in the first quarter of 2022 by adult-themed slots studio, No Limit City. Well, we didn't have to wait long for the first to drop because Punk Toilet, the raucous and filthy follow up to Punk Rocker has dropped in the second week of February … and it's everything NLC promised us it would be. The original Punk Rocker game now looks tame in comparison and you can see the journey that our favourite high-risk studio have been on since that release back in 2020. The 'x-' features we now know and love are slick, refined and compelling whilst the creative team is seemingly on a mission to push taste to its outer limits to see what they can get away with.
The game appears to be set in the lavs of the 100 Club circa 1976 when the Pistols were in their prime, though rumour has it the inspiration came from a trip to a pub in East London's Shadwell. To be honest, it could be either, or any late night park or public transport toilet scene. The walls are crumbling, plaster peeling away, and your favourite characters from Punk Rocker have made a return including the punk-Winston Churchill, Haw-King, Mona Lisa and Einstein. And there are Expanding Reels, Glory Doors, Urinals, P!$$ Spins and $h!t Spins to keep you entertained!
The game plays out on a 5-reel set with 3,3,3,3,1 rows displayed initially. That gives 81 paylines, but this can all change with one spin as an array of splitting symbols come into play and Glory Doors and Urinals give way to over-sized characters.
It won't be to everyone's tastes that is for sure, but Punk Toilet is a game that is going to stand on its own in the 2022 crop of slots. Now let's hold our noses and crash through the doors to find out what makes it tick …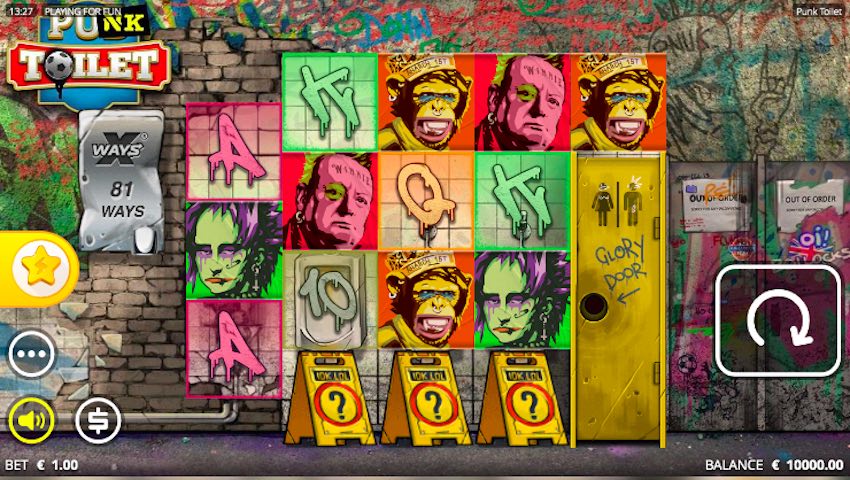 RTP, Variance and Top Payout
Those who have followed our reviews of other NLC slots will be getting used to this bit by now. This is a studio who hold back no punches when it comes to the maths side of their products. Punk Toilet is a super-high variance game with a 10/10 rating by their own standards. The RTP is set at a standard 96.09%, increasing to 96.71% when the bonus buys are triggered (outside the UK only).
The minimum stake for Punk Toilet is 20p which is further evidence that the game won't appeal to casual players, whilst the maximum win is a pretty tasty 33,333x. Hot, though nowhere near the epic proportions of other NLC games like San Quentin xWays.
Symbols and Graphics
We've come to know and love the out-there themes and graphics in No Limit slots and this is no exception. The styling is very much classic 1970s punk with low value symbols represented as graffiti painted cards 9 through to Ace worth 1.25x to 2x stake or iconoclastic representations of historical figures including Churchill and Steven Hawking worth 2.5x to 5x stake each.
To trigger a win you'll need to land three or more identical symbols on a payline from left to right. There is also a basic Wild that drops at any time and subs in for all other symbols to complete a winline and trigger a payout.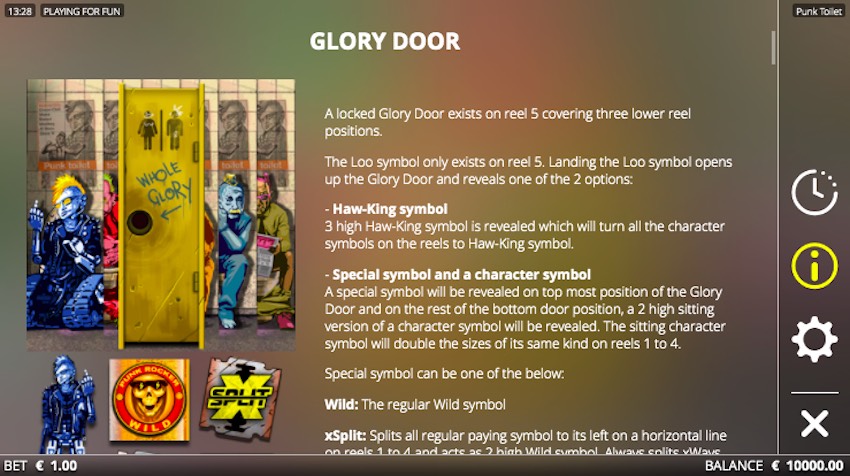 What We Like
Unique and sick theme
Super high variance
xWays and Splitting Cells boost winlines
Two free spins rounds and extra features
NIce artwork
What We Don't Like
Humour may not appeal to some
Variance too high for some

Gameplay and Features
No Limit City's slots are never boring that is for sure and once again we are confronted by an array of bewildering features in this one. It may appear confusing but if you've played an NLC game before you'll be used to some of them, and a few spins on demo mode can help your understanding before parting with any cash.
Ready to get your hands dirty? Here's how to unlock the big wins:
Use one or more scatters to open up the URINALS which appear on reels 2 to 4. They reveal super-sized premium characters wielding Wild Beers in their hands to help complete win lines.
The GLORY DOOR is better still – it's closed for business on reel 5 until the toilet symbol lands above it. The door flies open to show either HAW-KING who transforms all other visible characters into HAW-KINGS or a SPECIAL* and TWO ROW HIGH CHARACTERS which double the size of all other instances of the same character elsewhere on the reels.
We're in classic NLC territory now as xWAYS enter proceedings – land an xWays symbol and it will transform between 2 and 6 symbols into one identical one. Hope it's a wild to give you more chance of winning.
And … if more than one xWays is in play at the same time then they both transform produce the same symbols.
That set of features will trigger randomly throughout the base game regularly enhancing activity on the reels. But the best bit is still to come … Free Spins are divided into two formats.
P!$$ Spins
Triggered by 1 in 1,210 base game spins, this is P!$$ Spins …
You'll need to land three scatters on reels 2 to 4 to unlock SIX P!$$ Spins. Now the opportunities to score more wins are enhanced because the urinals with the character symbols are ALWAYS unlocked. There is also a Urinal multiplier on each of reels 2 to 4. Landing a scatter here will give another spin PLUS an 1x increase to your multiplier. This does not re-set between spins.
You can also unlock the Glory Door as usual. But this time two more free spins are added AND you get an upgrade to ….
$h!t Spins
Triggered by 1 in 13,000 base game spins, this is $h!t Spins …
You'll get EIGHT of these through landing the Loo symbol on reel 5 during the P!$$ spins. Now the Glory Door is permanently open because the loo symbol that triggered the round is sticky. That means more chances to land xSplits and Mega Splits which can open up more paylines on reels 1 to 4 plus two high wilds to increase your chances of hitting winlines.
*Specials are Wilds, xSplits or Mega Splits. xSplits will split all symbols to their left on the same row into two and turn itself into a wild. Mega Splits turns all regular symbols on reels 1 to 4 into two high symbols and turns itself into a two-high wild.
Our Verdict
So, there you have it … a slot game like no other, Punk Toilet will stand out a mile in the game listings of any slot site thanks to its base level snotty humour-theme and icon-bashing imagery.
But is it actually any good? Well, if you are into the NLC-type game then yes, it probably is. All the usual elements are here – super-charged volatility and potential that a few years back would have seemed epic in size (but now, thanks to NLC themselves, seems a little under-stated). And of course, those features. They seem complex at first but in fact they are relatively straight forward – the Urinal is just a reveal of a symbol stack, whilst the Glory Door is a symbol transform where splitting cells and two-high wilds are thrown into the mix. A few spins and you'll have the hang of this one! And big payouts are a real possibility too – those seeking them out will have to rely on triggering those tough P!$$ and $h!t Spins but we have no doubt that soon enough we will be seeing big win videos around this one all over social media.
So yes, another good release from the NLC stable. Now we just have to wait and see what Kenneth Must Die will be all about???!!

8.5
Excellent
It won't be to everyone's tastes but Punk Toilet is sure to enjoy a cult following in years to come and proves you can still find new ways to be creative!