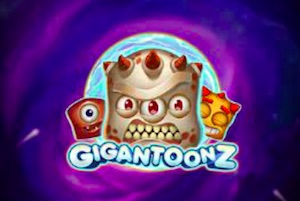 Gigantoonz Slot Review
Slot Provider: Play n Go
RTP: 96.25% | Variance: High | Maximum Win: 4,000x
Play at Play OJO
About Gigantoonz
Reviewed by: Editor, All Slot Sites
Published Date: 8th February 2022
How We Review Slot Games
We test and rate all slot games across 5 criteria, assigning a score out of 10 for each and an overall score that is an average of the 5. To build an accurate assessment of each game we gather information from the supplier and play in real play or demo mode.
Find out more
.
Gigantoonz is the fourth in the Reactoonz series from Play n Go, following on from Reactoonz 1 and 2 and Dr Toonz. This is a Cluster Pays game that plays on a 7×7 grid where Cascading Wins are at the heart of the action. After each win, the collective value of the symbols in each Cluster are added to a charge meter, triggering 4 new features when the charge reaches 25, 50, 75 and then 100. These include transforming symbols, adding Mega symbols and extra Wilds and then dropping Mega Gigantoon Wilds onto the grid in the final phase. There is also a random Quantum Wild feature that adds up to 10 new Wilds to the grid at random.
This superbly entertaining slot has a top payout of 4,000x and spins start at 20p.
Gigantoonz Game Information
RTP: 96.25% | 94.25% | 91.25% | 87.25% | 84.25%
Variance: High
Maximum Win: 4,000x
Progressive Jackpot: No
Reels: 8
Rows: 8
Paylines: Cluster Pays
Minimum Stake: £0.20
Theme: Cartoon
Features: Quantum Wilds, Free Spins, Quantumeter, Mega Symbols, Symbol Transforms
Gameplay and Features

10

Maximum Win

7

Theme and Design

10

Paytable

9

RTP and Variance

8
What Our Reviewer Says ...
"A worthy addition to the Toonz series. Highly volatile but maybe a bit too light on features for fans of the original Reactoonzz games."
What We Liked
Exciting and relentless gameplay
Mega Symbols can be as big as 7x7
Quantum Wild feature drops regularly
Progressive gameplay is fun to follow
Simpler than earlier Toonz games
What We Didn't like
Can be very volatile and tough to break
Only for Toonz fans!
A Super Production Fizzing With Fun Animations and Clever Features
As you would expect from a game from a headline act like the Toonz series, Gigantoonz is a first-class production from start to finish. As well as being super-fun to play it is absolutely stacked with relentlessly eye-catching and amusing animations with lots of attention to detail. If you enjoyed the Reactoonz games, you'll love the sound and visuals in this one. The Toonz are as cute as ever, regularly squelching, grinning, laughing and rolling their eye as events unfold.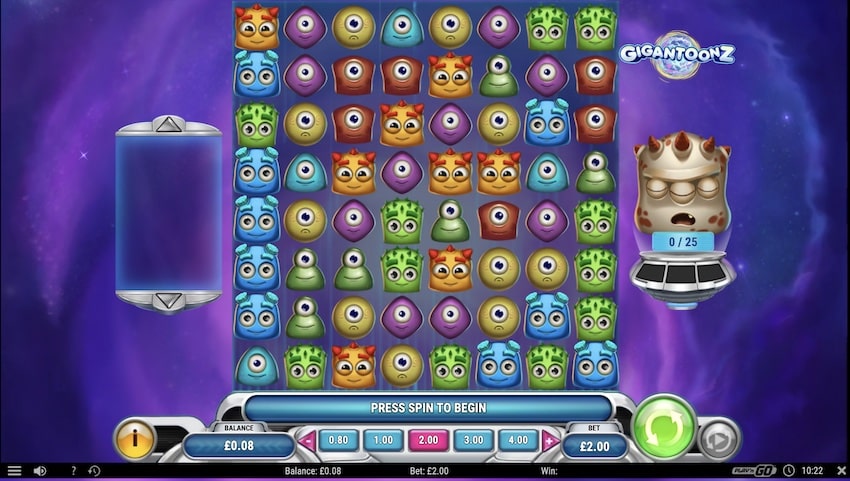 Meanwhile, what could be quite a complex gameplay is made easy to understand by the animations that lead your eyes to the right place on the grid or the charge meter to see what's coming up next at all times. Winning clusters are framed when they form, latest cluster values are displayed to the left of the grid so you can keep track, and the latest charge value is clearly shown on the meter to the right so you can see how far off the next feature you are.
This is a hugely entertaining game that matches gameplay with great sounds and visuals throughout and fully deserves a 10/10 for that!
What is RTP?
RTP (Return to Player) refers to the amount a game will pay out in cash prizes expressed as a percentage of all the money wagered on that game. For example, a 96% RTP means a game will pay out £96 for every £100 wagered. This is an average number and will vary from one session to the next. 
Read more here
.
What is Variance?
Variance refers to how far a game will deviate from its RTP over time. High variance games deviate a lot and produce uneven win distributions and unexpected windfalls. Low variance games provide a more stable and even distribution of wins.
Read more here
.
Here's an important thing to know – Play n Go slots have multiple RTP settings. Which you play at is at the discretion of your casino. So, it's worth checking the game info screen first before you spin to be sure you are playing at the optimum setting. The settings for Gigantoonz are 96.25%, 94.25%, 91.25%, 87.25% or 84.25%.  I verified the RTP at five popular UK slot sites and this is what I found:
I would recommend playing Gigantoonz at MrQ, Barz or Casumo where the RTP settings are at the top 2 levels. The other sites are trimming the return back quite significantly and this will affect your chances of walking away with winnings in your pocket.
Gigatoonz is also a high variance slot so it will be unpredictable and can be a tough one to break down as well. But equally, it holds back because it can unleash some thrilling win sequences in which Mega Symbols and Cascades combine to exciting affect as we shall find out.
What Is Maximum Win?
Maximum win refers to the maximum amount a player can win from one spin. It is expressed as a multiple of the stake. For example, where the maximum win is 100,000x, from a £1 stake, the maximum win would be £100,000.
One of the less exciting features of this game is the maximum payout which is capped at 4,000x. For a high variance game that is unimpressive these days when you can win prizes of 100,000x or more on some slots. We've put together a list of the highest paying Play n Go slots for comparison.
Explore Games With Similar RTP, Variance and Maximum Win
Like the numbers? Here are some more games you might want to try.
What I love about this game is the constant movements and drops that come from the basic Cluster Pays and Avalanches mechanic. The grid is big – 9×9– and wins are formed by landing 6 or more identical symbols in a horizontal or vertical line.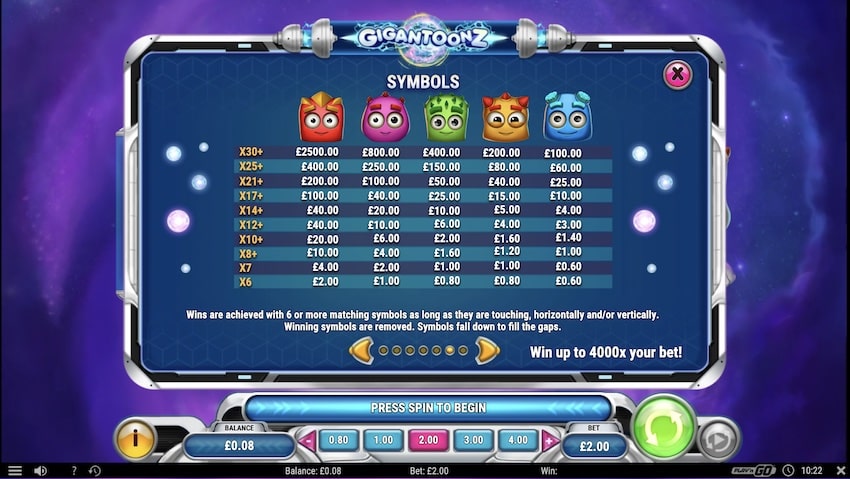 There is a wide range of values in the paytable maxing out at huge 1,250x for clusters of 30 or more of the top premiums, which of course are very hard to build.
The low paying symbols are the one-eyed Toonz characters in yellow, green, red, purple and blue. They are valued at from 0.1x for 6 yellows up to 20x for 30 or more blues. The premiums are the two-eyed Toonz, valued at from 0.6x for 6 blues up to 1,250x for 30 or more reds.
It Looks Complex, But At It's Heart Gigantoonz Is A Simple Slot
Part of the fun of playing a slot as intricate at Gigantoonz is figuring out how it works and what to look out for as the game progresses. The rules seem quite complicated at first but at its heart is a simple principle – you build sequences of Cascading Wins to unlock more features to give you more chance of hitting those big wins.
The magic comes with how that is all woven together with the theme. So, lets break it down into each part to see how Gigantoonz can deliver those big moments.
Cascading Wins
To start, Cascading Wins set everything in motion.
After any cluster of 6 or more symbols lands in a vertical or horizontal line, winning symbols are removed and new ones brought in to replace them. If this triggers a win, then the process repeats. More wins may be triggered, and we go again. Until no more clusters are formed. You can see a Cascading Win in action in this screenshot.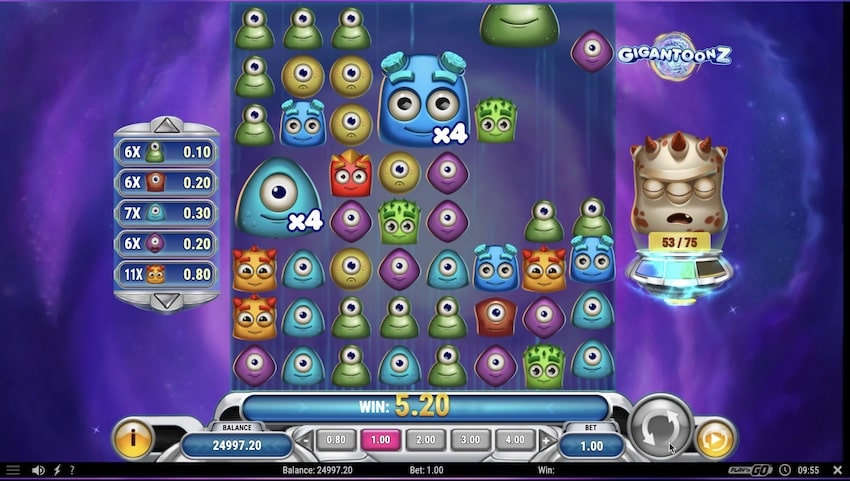 Mega Symbols Come With Randomized Cluster Values
A core component of the game is the Mega Symbols which are supersized versions of the normal symbols. They come as 2×2, 3×3, 4×4, 5×5, 6×6 or 7×7.
It is important to understand that the Mega Symbol is only 1 symbol when building clusters. So even it it's a 3×3 it will only count as 1 towards your 6 symbol cluster. However, it does come with a random cluster value of between 1 and 13 which is used to calculate the win from the cluster it forms part of.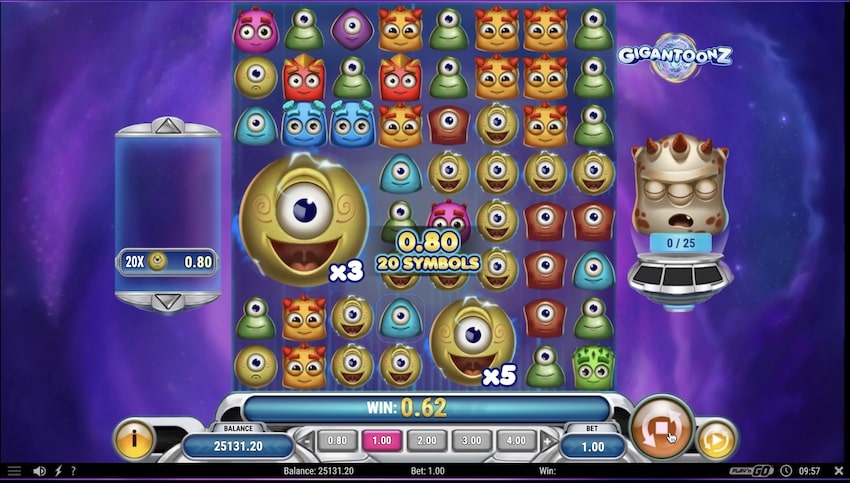 And … it's also important to know that when a Mega Symbol is removed as part of a Cascade, it leaves a Wild behind. And, if after a Cascade, a Mega Symbol cannot drop down it downsizes into 1×1 versions of itself instead.
These are POWERFUL symbols and if you play Gigantoonz a few times you will start to see how helpful they can be.
Quantum Wilds Help Build Clusters
As well as standard symbols, you also have Quantum Wilds that help by substituting for any other symbol to complete a cluster.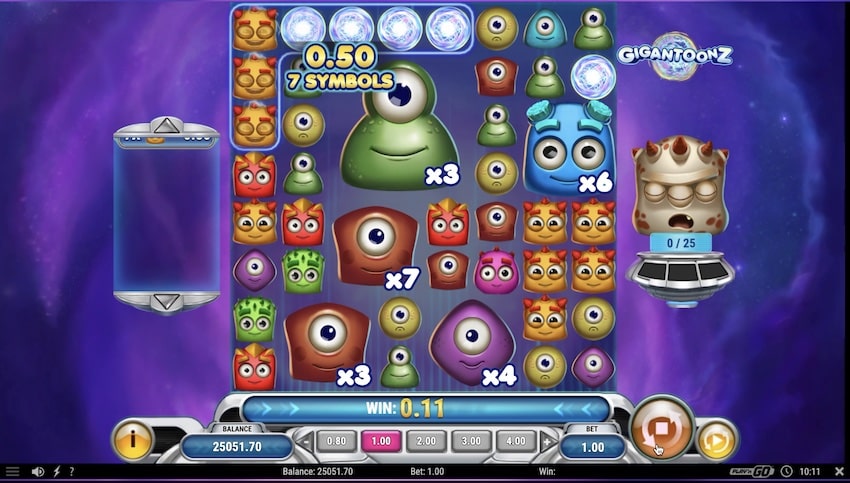 In a 'fair play' gesture that I like in this game, after any non-winning spin, between 5 and 10 Quantum Wilds may be dropped onto the grid at random.
During my 200 test spins I counted Quantum Wilds dropping 10 times – so once every 10 spins, which isn't bad. You can see one example in this screenshot.
Charging the Quantumeter To Unlock Features
Now, onto the main event and the engine that drives all the good stuff.
To the right of the grid you will see the Quantumeter which is a charge meter with a Gargantoonz Wild on top of it. With each Cascade, winning symbols are removed from the grid are dropped into the Quantumeter, charging it up to a maximum of 100.
NOTE: Charging only lasts as long as the win sequence. As soon as there is a dead Cascade, it re-sets to zero and you go again.
There are four charge levels on the meter – 25, 50, 75 and 100. With each, a new feature is unlocked. Those features are:
Disintegration: At 25 Charges all instances of 4 randomly selected symbols are removed from the grid triggering another Cascade.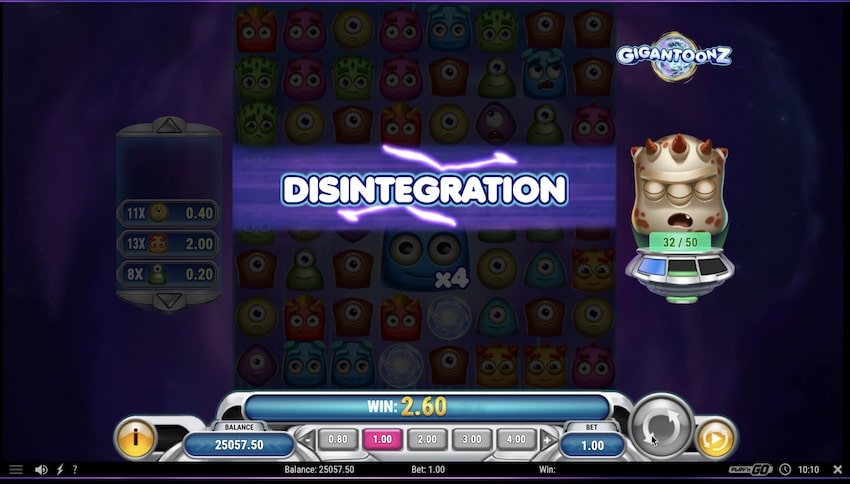 Metamorphoses: At 50 Charges all instances of 1 symbol are transformed into a different symbol, potentially causing more wins and more Cascades.
Radiation: At 75 Charges between 0 and 4 Mega Symbols and 2 and 5 Quantum Wilds are dropped randomly onto the grid. Again, this may cause more wins and Cascades.
Gargantoonz: The ultimate goal is to build up 100 Charges which awakens the sleeping Gargantoon Wild. Then, the following feature plays out.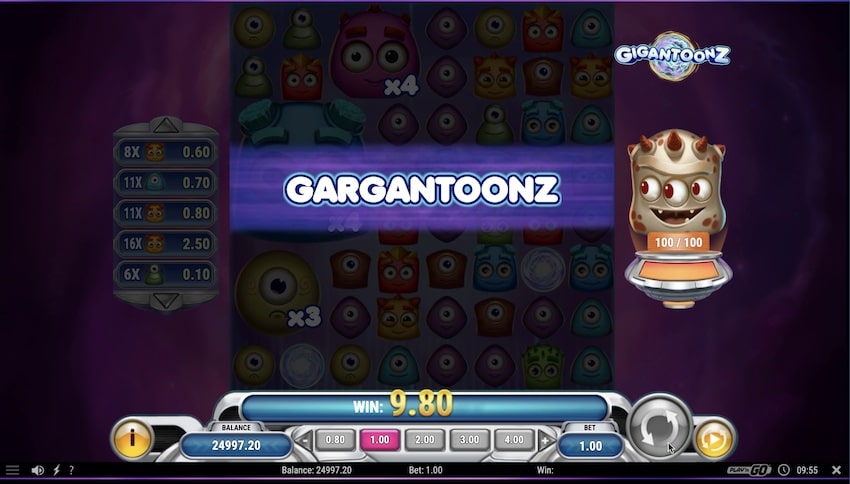 First, any Mega Symbols turn into Mega Gargantoon Wilds, with a minimum of 3 Mega Gargantoon Wilds appearing. Then, between 2 and 4 standard Gargantoon Wilds appear. More wins may be created, and more Cascades follow.
In the second phase, the Mega Gargantoon Wilds break down into 1×1 Gargantoon Wilds for the final sequence of wins and Cascades.
Upon its release Gigantoonz was seen as the weakest of the Toonz games from Play n Go so far. That is because of its simpler gameplay and lower maximum win. But for me, this slot more than holds down its place as a worthy successor to the slots that came before it. This is a game built to entertain and it does just that in both the areas of production and gameplay. The fun comes with building up those charges and waiting to see how far you can get before your luck runs out and everything re-sets to zero. I found the frequency of the features to be very satisfying with regular drops for both Quantum Wilds and the basic Disintegration event which unlocked many times for me in testing. Of course the more tricky features were harder to come by but when the headline act did come round it didn't disappoint.
In conclusion, despite some misgivings over the maximum win and variable RTP settings, for me Gigantoonz sits alongside Reactoonz 1 and 2 as one of Play n Go's best grid slots and is definitely worth a spin.
Boom or Bust? 200 Spins On Gigantoonz
To give you an accurate and honest assessment of the games we review our writers play 200 spins. Whilst this is a useful tool to help us review games and to give an example of what might happen when you play, keep in mind that 200 spins is only a very small sample and cannot be used to accurately predict what might happen over another 200 spins. The outcome of all slots play is always random.
I played 200 spins on Gigantoonz for free at Casumo Casino to test the game and this is what happened.
Stake Size: £1
Start balance: £25,000
End balance: £25,026.20
Biggest Win: 136.4x
Fully Charged Meter: 1
Session Time: 21 minutes and 09 seconds
This was a really entertaining 200 spins with tons of action throughout and it shows what a fun slot Gigantoonz is to play. It's a relentless game where I was continually building up charges on the meter and tripping the first Disintegration feature where symbols disappeared to trigger another Cascade. That happened 16 times in 200 spins. I got up to 50 charges 6 times, to 75 charges twice and to the full 100 charges just once. In that final instance the Gigantoon Wilds arrived and I scored a superb 136.4x win which you can see in this screenshot.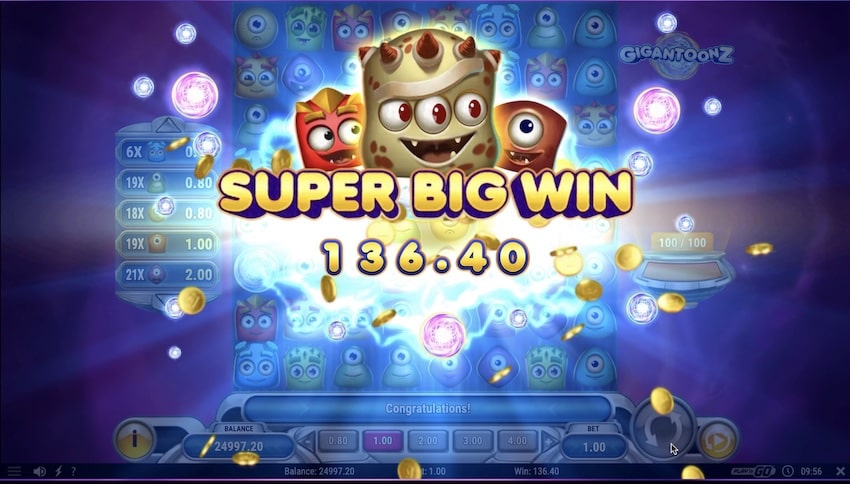 Finally, as well as being very entertaining, Gigantoonz also showed that despite its volatility it still kicked out regular wins with cascades on every 3rd or 4th spin on average.
Useful Tips When Playing Gigantoonz
Remember, online slots are games of chance, there is NO strategy that can improve your odds of winning. However, reading our review and following these tips will help you get the most out of your time playing this slot game.
1. Keep Your Eye On The Charge Meter
With so much going on it can be hard to know where to look in Gigantoonz. But try to keep a watch on the meter to see how far you are from triggering the next feature in each run. That's where the fun is.
2. Quantum Wilds Can Be A Big Help
Look out as well for the regular random Quantum Wilds which an be a big help in maintaining your run of Cascading Wins. These can give you up to 10 extra Wilds – that's powerful!
3. Find A Site Which Runs Gigantoonz At Optimum RTP
Always try to play this game at the optimum RTP of 96.25% – it's the best way to maximise your chances of winning overall. I recommend MrQ for this reason.
4. Play At One Of Our Recommended Slot Sites
The slot sites on this page are chosen for their great game catalogues, top value bonuses and UK licensing. That means they are safe, fair and secure. We recommend you play at these casinos for the best experience.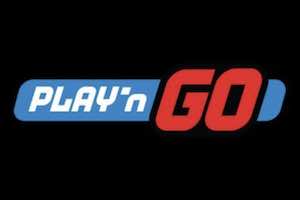 Name: Play n Go
Established: 1997
UK License: Remote 021725-R-304911-020
Total Games: 200 +
Known For: Grid slots, high variance slots, huge range of themes, styles and maths models
Popular Slots: Book of Dead, Reactoonz 1 and 2, Troll Hunters 2, Rise of Olympus
Find More Play n Go
Like The Sound of Gigantoonz? Here are 4 more games chosen for you...
Allslotsites.com - Trusted and Independent Online Slot Reviews
Allslotsites.com has been publishing online slot reviews since 2018. It's fair to say we know a thing or two about what makes a good game – that magic mix of theme, style, gameplay and payout potential. For each slot we review we take you on the full journey through its narrative and design, reel configuration, key numbers including RTP and max win, volatility level, gameplay, and finally an expert verdict. You can also check our comparison tables to see how each slot matches up against others handpicked by our reviewers and check our tips on hitting that winning streak.
We are not paid by the developers whose games we cover. We are independent and our views of each game are honest. That is why you can trust us!
Learn, explore and find your next slots adventure with us!!