Play Gigantoonz At These Slot Sites
About This Slot
Reactoonz will go down as one of Play n Go's all-time top 5 slots alongside classics like Book of Dead, Golden Colts and Honey Rush. It's frenetic mix of high-risk grid play, bamboozling features and big win potential certainly make it one of the mostly highly-rated Cluster Pays games of all time too. So it was no surprise when the follow-up, Reactoonz 2, arrived in our inbox in 2020. What we didn't expect was further -Toonz action in the shape of Dr Toonz in 2021 and now this, Gigantoonz at the start of 2022. That is brand-stretch for you. And why not? The question is, can Play n Go keep things us interested or will we tire of the little critters?
Well, to keep us on our toes, Gigantoonz tweaks the model slightly here. So, whilst the same colourful little cartoon characters and space theme are present, the game screen has been expanded to become an 8×8 grid, while you need to hit a Cluster of 6 rather than 5 characters to receive a payout. You'll still find a Cluster Tracking meter which must be filled to unlock features, and Quantum Wilds which are available to help drive wins. But overall this is a simpler slot than Reactoonz 2 with fewer features whilst the top prize has also been reduced to 4,000x from the previous 5,083x.
Having said that there is a lot to recommend about this cute and colourful grid slot, so let's dive in and explore the features…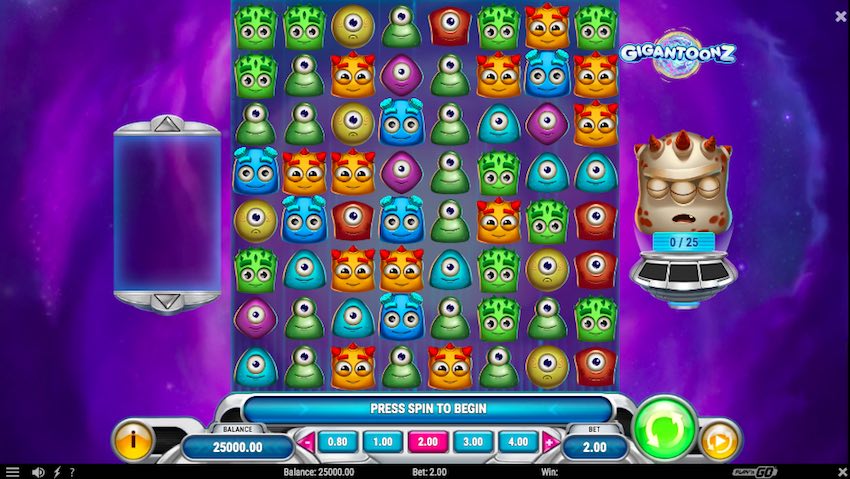 RTP, Variance and Top Payout
Onto the maths and Gigantoonz follows a similar model to others in the series.
The RTP is set at 96.25% which is pretty decent, but with a 10/10 maximum volatility, this is a highly risky play with masses of ups and downs in payouts. The minimum bet is 20p, so it's not the cheapest spinner either but still playable for cautious gamblers at lower betting levels.
The maximum payout of 4,000x is disappointing in comparison to other high variance games on the market right now, with a 1 in 5,000,000 chance of triggering. However, you can still score some fairly decent payouts in the 1,000x + range if you unlock the higher levels of the Quantumeter.
Symbols and Graphics
The symbols in Gigatoonz include the cheerful space characters: the low-paying cyclops characters and the high-paying two-eyed characters. The cyclops Toonz can award 5x to 20x stake for a 30+ Cluster, while the two-eyed Toonz can pay from 50x to 1,250x stake for a 30+ Cluster. The Cascading reels mechanic means that any winning Clusters of Toonz will disappear to be replaced by new symbols – and more potential Clusters.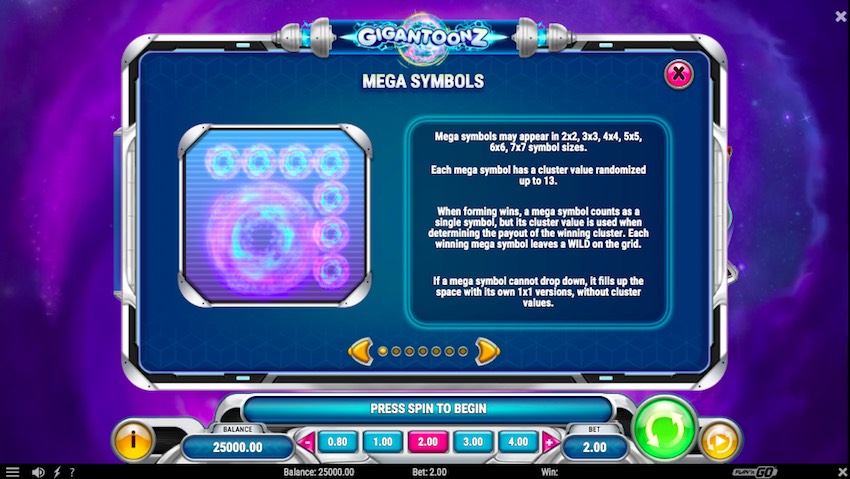 What We Like
8x8 enhanced grid size
Mega symbols up to 7x7 in size
Super-high variance
Earn features by collecting charges
Simpler features than earlier versions
Gameplay and Features
How are you going to score those big wins on Gigantoonz? Here are some tips to help you figure out how to trigger the best payouts.
The classic Cluster Pays feature, Cascading Wins, is ALWAYS in play. After a cluster forms, winning symbols are removed from the grid and new ones drop in to replace them, setting up consecutive wins from one spin.
The main event is the Mega Symbol – a giant-sized icon from 2×2 right up to 7×7 to fill practically the entire grid. They are ONE symbol but their value in a cluster is randomly assigned from 1x to 13x.
Look out for the moment your Mega Symbol disappears from the grid– it is ALWAYS replaced by a Wild.
In the interests of fair play, even after a NON-WINNING SPIN, on occasion between 5 and 10 QUANTUM WILDS may appear to give you the chance to turn a dry spin into a payout.
One of our favourite toys is the QUANTUMETER – each and every winning symbol in a cluster adds ONE charge to the meter. Up to 100 charges can be added to the meter unleashing up to FOUR modifiers.
Adding 25 charges will set up Disintegration where 4 random symbols of the same type are removed from the grid.
When you hit 50 charges then Metamorphosis kicks in and all instances of one symbol transform into a different symbol.
At 75 charges, things get better still as Radiation is triggered and 1-4 Mega Symbols and 2-5 Quantum Wilds are added to the grid at random.
Set your sights on filling the meter with 100 charges and unleashing Gargantoonz. Now, up to FOUR 1×1 Gargantoonz appear on the grid and ALL Mega Symbols are Gargantoonz which drop down in size to standard symbols after any win cascade.
Our Verdict
Gigantoonz is a scaled back version of Reactoonz 2 with a smaller top payout. This sounds unappealing at first, however, Gigantoonz has plenty of fun up its sleeve. For starters, the characters are as cute and colourful as ever. We also find a bunch of Mega Symbols in this version. Not only are they Mega is size, but they also come with a random value up to 13. This means you could end up with a high-paying Cluster when you've only hit a few symbols, but on the other hand, you could end up with a smaller payout from a large Cluster. The top level of the Quantumeter is where it gets really exciting when you've added 100 charges and the best payouts are available.
Play n Go have decreased the top award of Gigatoonz to 4,000x from the 5,083x of Reactoonz 2, which is a disappointment. But even though Gigatoonz doesn't really improve on the Reactoonz games, it's still an enjoyable slot with attractive graphics, decent payouts and a clutch of fun features.
This colourful new Toonz adventure is already available at top UK slot sites.

7.5
Good
A worthy addition to the Toonz series. Highly volatile but maybe a bit too light on features for fans of the original Reactoonzz games.