Play Space Wars 2 Powerpoints At These Slot Sites
About This Slot
NetEnt delivered one of the hits of summer 2022 with this epic Space-themed cluster pays slot with a ton of superb features and a gamification engine that gives Play n Go's Reactoonz a run for its money. Space Wars 2 is a follow-up to the original from 2020 that was a more basic 5×3 video slot. This sequel arrived with some fanfare and rightly so. It's stacked with cool features, building on the basic blocks of all good Cluster Pays slots – Avalanche Wins and multipliers – and utilises a brilliant Powerpoints mechanic to build towards the climactic free spins round.
The action takes place in a galaxy far, far away, with stray asteroids and burning planets providing a Space Odyssey-style backdrop to the game grid. It's giant step forward from NetEnt's other famous star-based slot, Starburst, and holds its own in terms of looks against others like Betsoft's Event Horizon or WMS' Invaders from the Planet Moolah.
Space Wars is already live and available at all the best UK slot sites. Check our listings for casinos with NetEnt games.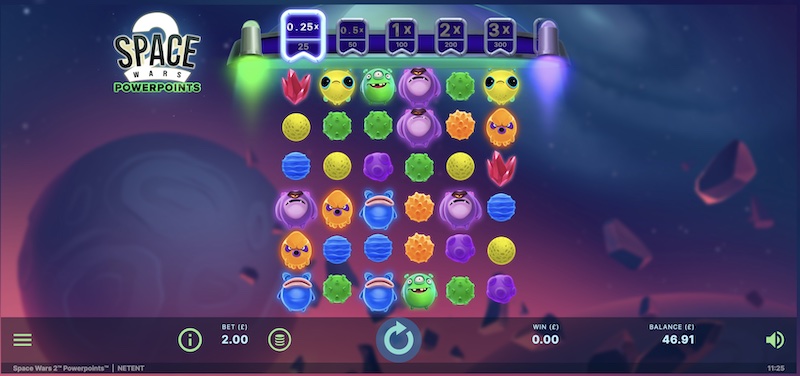 RTP, Variance and Top Payout
Like its closest rival slot, Reactoonz (1 and 2) Space Wars is very much a high-risk game with a volatile engine that can frustrate at times. On the other hand, thanks to its unique set of combining features that we will come to shortly, it can also deliver some amazing progressive win sequences where various elements combine.
The top win is 10,020x which is higher than Reactoonz 2 (5,083x) but still relatively modest compared to some of the outrageous high variance slots being produced by Big Time Gaming, No Limit City and Relax Gaming right now. The 96.05% RTP sits in the mid range for an online slot and gives good value for your bets.
Spins start from just 20p per play.
Symbols and Graphics
Space Wars 2 is stacked with fun symbols on three levels. Remember, you are looking to form clusters of symbols of 3 or more, though horizontal and vertical lines come into play here too. Clusters or lines can be as many as 8 in total in the free spins round.
Space Rocks are the lowest value worth between 0.3x and 0.8x. The funny-looking aliens are the mid-range symbols, worth from 0.6x to 1.6x for up to 8 in a cluster. And the top-payer is the red crystal rock which is worth from 0.9x to 2.4x for up to 8.
For those interested in narratives, the info pages tell us that this crystal is what the Space Wars are being fought over.
On top of all these symbols you will also notice various other icons drop onto the grid when specific events happen. There are Blasters, Bombs, Zappers and Multiplier Wilds. It all makes for a very eventful game screen with rarely a quiet moment.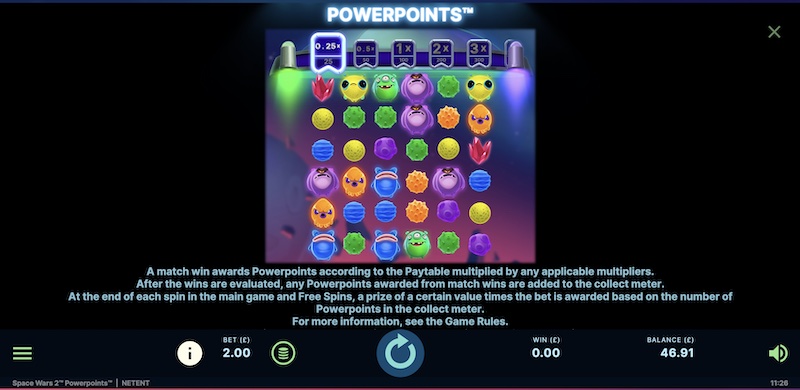 What We Like
Amazing feature-packed gameplay
Multiplier Wilds up to 25x
Free spins re-triggers
Combination features super-boost points
Enhanced grid for free sipns
What We Don't Like
Complex gameplay may confuse
Top payout could be higher

Gameplay and Features
The main aim of Space Wars 2 is to acquire Powerpoints which give you multipliers and free spins. Along the way you have a whole range of features to help you build towards more epic wins. It's what you might call a progressive game – the more you play, the more points you build and the greater your chances of winning big.
Here are those features in full:
Powerpoints – check your point meter which tells you how many you currently have. Every winning clusters, and every event where symbols are blasted off the board, earns you points. More points mean higher multipliers and 1,000 points gets you free spins.
Avalanche Wins – no Cluster Pays slot is complete without Avalanche Wins. Here, for every winning spin, the winning symbols are removed from the reels and new ones drop in to replace them. The process repeats until no more are wins occur.
Column and Row Blasters – somehow this reminds us of Space Invaders! When you land 4 identical symbols in a horizonal or vertical row, then a little space rocket appears and blasts all the symbols from an adjacent reel or row (except scatters or wilds). As this happens, Powerpoints are added to your meter.
Zapper – another way to add Powerpoints is with the Zapper feature. This super-cool symbol drops into the grid when a cluster of up to 6 symbols is formed. Now, as many as 4 symbols are zapped off the grid. In the free spins round, Zappers appear for cluters of 6 or more.
Bombs – you can also earn Powerpoints when a row of identical symbols forms. Now, a bomb appears and explodes, removing all the symbols adjacent to it. If multiplier wilds are caught up in the explosion, then their values combine to add more Powerpoints.
Wilds and Multiplier Wilds – When any cluster of 3 or more forms, after the Avalanche, a Wild is GUARANTEED to fill one of the spaces vacated. Or, in the free spins round, a Multiplier Wild drops in. These have a multiplier of 2x up to 25x which is multiplied by the standard Powerpoints award to create a bigger prize.
Feature Combinations – something unique to this game is the Feature Combination mechanic, where two of the above features come together to create something bigger and better. There are three of these:
Bomb PLUS Blaster – when a bomb and blaster land adjacent to each other, then not just one but THREE rows or columns are destroyed to give you a super-bounty of Powerpoints.
Bomb PLUS Zapper – when these two land in adjacent positions, then between 1 and 3 symbols TRANSFORM into bombs.
Zappers and Blasters – if these two get together then you'll get between 1 and 3 symbols transforming into Column or Row Blasters.
Free Spins Bonus Round
There is, of course, also a free spins round in Space Wars 2. This is triggered by collecting 1,000 or more Powerpoints.  Now, the grid is enhanced to 8×8 giving you the chance to collect Clusters of up to 8 symbols.
During free spins there are further enhancements – all Wilds become Multiplier Wilds AND you can trigger MORE free spins when your Powerpoint meter hits the following levels:
1,400 points
2,800 points
4,200 points
5,600 points
7,000 points
8,400 points
At each stage you'll get between 1 and 3 extra spins. And remember, with Multiplier Wilds in place you can earn points at a faster rate.
Other Slots Like This One
Space Wars 2 has one very obvious rival to its intergalactic grid slot format, and that is Play n Go's Reactoonz 2. So how does it measure up against that legendary game? Here we put the two games up against one another.
Top Payout: Space Wars 2 offers a significantly better top win of 10,020x compared to Reactoonz 2's 5,083x.
RTP: Reactoonz 2 is very marginally better at 96.2% compared to Space Wars 2's 96.05%. In reality this is such a small difference you will probably not notice it.
Variance: Play n Go rate Reactoonz 2 as an 8/10. NetEnt just say that Space Wars 2 variance is 'High'. From our own experience we know that both games are high risk and can be frustrating at times. But they also both deliver stunning combination wins when they are in the mood. If you like high risk gaming either one is a good choice.
Features – Aside from their looks – both games employ an outer-space theme and have cute space creature symbols – the principle similarity is in the use of 'meters' to unlock enhanced payout features. But where Reactoonz is big on Wilds (they are central to the gameplay, coming as standard, super-sized and Electric which zap other symbols) Space Wars 2 is all about hitting a free spins round where enhanced multiplier wilds come into play.
We preferred the Space Wars 2 game engine. It seems easier to understand than Reactoonz 2's bewildering mix of 2 different meter types (Quantumeters and Fluctometers) and Fluctuating symbols. With Space Wars 2 the goal is simple – keep collecting Powerpoints to unlock the bonus round. Both games offer a lot of action for high-variance slots but a few spins in and you will totally get Space Wars 2. Reactoonz 2 takes a bit longer to get your head round. We also found it seemed easier to unlock free spins in Space Wars 2 than it is to hit the more epic enhanced Wilds features of Play n Gos classic.
In the end its horse for courses and both games offer stunning slot play. But right now, NetEnt's newcomer wins it for us.
Our Verdict
With the release of Space Wars 2 at the start of 2022's long hot summer, NetEnt promised a blockbuster hit, and we think they delivered it. There is a ton to enjoy here and for those who like their games to be action-packed, it's something of a classic. Our favourite events were the Bomb / Blaster combos which wipe out 3 reels or rows and deliver a super-charge to your points score.  Elsewhere the Zappers are great fun and look awesome when they take out surrounding symbols.
One final word on the maths here.
On their own website, NetEnt point out that the free spins round 'is where a great chunk of the RTP lies'. This is not uncommon for high risk slots where base games can be gruelling with little joy, then things open up considerably in the free spins bonus round. BTG's classic Bonanza Megaways is a great example of this in action. Just be aware of this before you get started. If you are looking for the big wins then you are going to have to work hard to drive up your points score and hit the bonus round because they are few and far between in the base game. Of course, the good news is that you have plenty of tools at your disposal to do that with!
Good luck and have fun!

9.0
Awesome
Massive grid slot moment from NetEnt combining exciting features and thrilling high variance slots play!