Play Road Rage At These Slot Sites
About This Slot
No Limit City is a game developer who has set themselves apart from the mainstream since they first began producing slots in 2016. Over time, this Swedish studio has pushed the limits of what is expected of a video slot more and more. And in doing so they have turned themselves into one of the most exciting casino game producers since Big Time Gaming set in motion their Megaways™ train. This year alone they have produced some outrageous games like the brilliant Punk Toilet and Remember Gulag! Typically the games have out-there, often adult themes, are feature-packed and run on super-high variance maths models with huge win potential.
Which brings us to NLC's latest adventure in slots: Road Rage! As the name suggests, this is another game with a dark-theme, exploring the darker side of human psychology, with an urban setting and some sinister-looking characters. Once we get into this one you will see that Road Rage doesn't quite hit the hights of NLCs best moments to date. The production values have dropped a little with more basic artwork, and many of the developer's trademark features are not present. However, with an expanding payline model, 36,000x top win and interesting interactions of Wilds and other symbols, there is still a lot to enjoy here.
Road Rage is due out at slot sites on August 16th 2022.
RTP, Variance and Top Payout
NLC are famous for creating vertiginous maths models with super high variance and favourable top payouts. They are the name behind the stunning Tombstone VIP for example, with a 300,000x top win. In this instance, the volatility is dialled-down a little to 8/10 (still high, just not by NLC's standards) and the top win sits at 36,000x. The odds of hitting that figure are 1 in 80 million.
The Return to Player (RTP) of Road Rage is set at 96.03% which is about average for an online slot. Check the game settings though because it can be variable based on country and operator.
Spins start from 20p per play.
Symbols and Graphics
Road Rage utilises another expanding reels grid format and showcases the team's innovative edge once again. To score a win you'll need to land at least three matching symbols on ADJACENT reels from left to right. The symbols must be touching horizontally or diagonally.  As we will see during our exploration of the features in Road Rage, the number of paylines increases from 99 up to 259 during spins.
There are 10 different low value and premium symbols on the paytable. Lows are the Mirror, Flat Tyres, Coffee Cups, Air Fresheners and Mobile Chargers. They have small values from 0.5x to 1.5x when you hit five on adjacent reels. The premiums, in a typically NLC style, are made up of personalised number plates with regs like GR4N and 4RISTOC4T. Top payouts for five on adjacent reels gets you between 2x and 5x.
Crucial to the gameplay are the multi-colored cars which come as Red, Yellow or Green. They will modify the properties of other symbols on the reels. Finally, there are Scatters which trigger the bonus modes described below.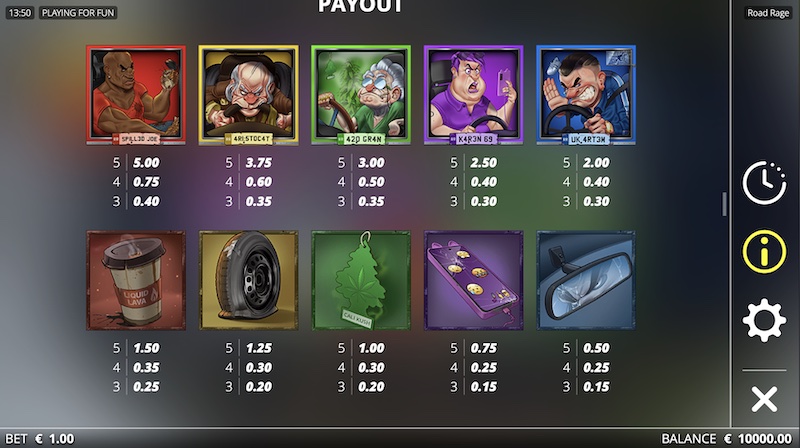 What We Like
Expanding Rows in bonus rounds
36,000x top payout
Sticky Multipliers
Drive by feature with extra multipliers
Guaranteed Wild Cars with Re-Spins
What We Don't Like
Complicated to understand
Tricky to unlock bonus rounds
Theme not as good as other NLC slots

Gameplay and Features
If you are expecting xNudge Wilds and Splitter Cells then you'll be disappointed. NLC have dropped those trademark features for Road Rage. Instead, you get the following mix of Modifier Wilds and Bonus Rounds.
Wild Cars – regularly appearing on the reels are the three colored cars, each with their own modifier property
Yellow Cars signal Engine Breakdown, increasing the size of all symbols on their reel by +1.
Red Cars signal a Drive-By, moving from right to left causing any symbol it moves over to increase its multiplier by 1. Then turning Wild when it comes to a stop.
Green Cars also signal a Drive-By, but this time from left to right. Has the same properties as the Red Car.
Red and Green cars can collide to create a Colliding Wild where the multipliers are added together. They also remain sticky when active in a bonus round. 
Traffic Light Scatters – these appear at random in the base game. Two triggers a re-spin with a GUARANTEED Wild Car on every reel.  Three, four of five triggers one of the bonus rounds below.
Mystery Symbols – drop in the bonus rounds to reveal a color. If that color matches a Wild Car then it increases that cars multipliers by 1x. If there is no matching color then then an extra re-spin is given.
Rage Buff – this unique feature will play before a bonus round starts. The cars move over the reels to award Free Spins, Sticky Multipliers and Drive-By Multipliers.
Bonus Modes – There are three of these:
3 Scatters – Morning Rush with 3 rows
4 Scatters – H1ghway Jam with 4 rows
5 Scatters – C1ty Mayh3m with 5 rows
In short, you are playing on a bigger grid at higher bonus levels, resulting in more paylines and more chances to win. Landing scatters when playing on one bonus level can upgrade you to the next. Meanwhile, Wild Cars also become Sticky in their stop positions and guarantee you an extra spin when you move up the bonus level.
Remember, the Rage Buff feature will play out before the bonuses begin, so you'll also have extra spins and sticky multipliers in play too.
Other Slots Like Road Rage
There are no other Road Rage-themed slots we can think of, but for comparison, here are two other car-themed games.
Mad Cars by Push Gaming – another highly innovative slot from another high-risk specialist is the recent release from Push Gaming, Mad Cars. It has a lower top payout than Road Rage – just 25,000x – and paylines are fixed at 50. However, the gameplay runs something like Relax Gaming's Money Train, with Instant Prize Cars racing up the grid, and a Bonus Reel used to apply modifiers to those cars, including Persistent Payers and Collectors. Like Road Rage it can be hard to follow at first, but overall it's a simpler gameplay and once you get playing, it's hard to put down! Find out more in our review here.
Drive: Multiplier Mayhem by NetEnt –  if you prefer something with the variance dialled-down a little then this game could be for you. It's a 5 reel, 3 row game with 15 paylines and a traditional slot format so easier to follow. The max win, at 5,109x is not so appealing as Road Rage, but the gameplay is fun with combining multiplier wilds of up to 40x and up to 10 free spins awarded with 3 scatters.
In truth, there is no driving game quite like Road Rage, but these two do give some interesting comparisons.
Our Verdict
Road Rage is another complex affair from No Limit City who have built their reputation on feature-packed experiences and innovative interactions of different symbols and modifiers to create absorbing gameplay. Here, they show no sign of changing that. So, if you like you slots simple and easy to follow, then this one probably won't be for you.
For us, whilst it can be a little confusing trying to figure out what is going on at any one time on the reels, this model has worked up to now because of the quality of the production and the compelling nature of their crazy, often adult, themes. However, in this instance, the Road Rage narrative didn't quite cut it and consequently we found it hard to maintain concentration as we watched the Wild Cars do their thing. There was also a very long wait for a bonus round to hit which is where the big wins and the fun will really kick in.
That said, if you are an NLC fanatic, you'll probably love this game too. In terms of maths models doesn't quite hit the highs of a San Quentin xWays or a Tombstone RIP, but it's still got a big stack of coins up its sleeve for a few lucky punters.
In conclusion, somewhere between a hit and a miss for us. Now go find out for yourself!

7.5
Good
A complex slot with an interesting mix of modifiers and fun features. Not NLCs best work though and hard to follow.