Nolimit City has earned a reputation for producing unique slots, often with a controversial edge. In addition to eye-catching graphics and intriguing themes, their games often feature extreme volatility levels and incredibly high maximum wins (also known as payout potential).
In this article, we'll run through the ten highest paying Nolimit City slots. But we're not referring to the RTP percentage here. Instead, we're ranking these titles based on the maximum payout per single spin. And some of them are simply extraordinary.
Top 10 Nolimit City Slots By Maxium Payout
* Default RTP is the highest RTP setting available. Some operators choose to run the games at lower RTP settings. Find out more here.
NOTE: Screenshots on this page are taken playing for real money at Casumo, Temple Nile or Bacana Play. You can click the buttons under each mini review to play at one of our recommended casinos. For more options for your slot play, check out our list of UK slot sites.
Tombstone RIP - 300,000x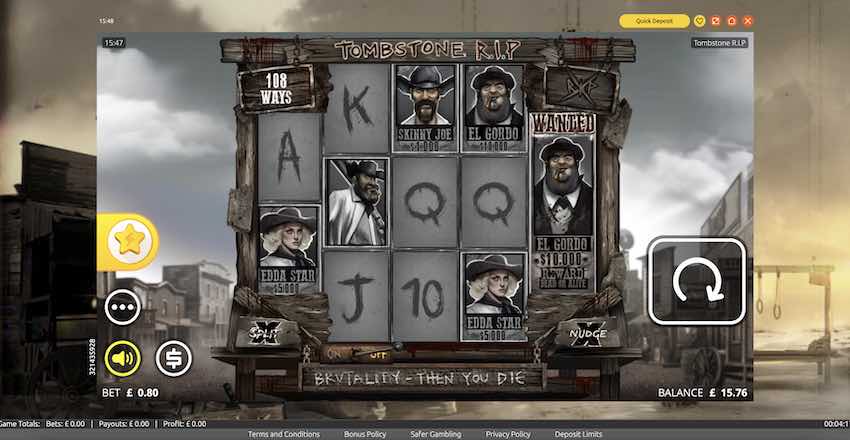 Tombstone RIP By The Numbers
RTP: 96.08% or 94.08%
Variance: High
Top Win: 300,000 x
Reels: 5
Rows: 3
Paylines: 108+
Release Date: January 2022
Released in January 2022, Tombstone RIP neatly sums up everything that Nolimit City is about in a single game. The Wild West is a common slots theme, but this release took things in a different, far darker direction. It features graphic depictions of lynchings, blood-stained reels and references to crimes ranging from arson to murder.
Despite gambling being an adult-only pastime, Tombstone RIP was initially criticised by many casino operators due to the content. Nolimit City are no strangers to controversy though, and released it anyway, despite some partners refusing to offer the game.
The 5×3 video slot was actually very well-received by players. And a major reason for that – aside from excellent gameplay and enthralling features like xNudge Wilds and xWays – is the crazily high maximum payout of 300,000x. We're not aware of a non-progressive jackpot slot offering a bigger top prize.
San Quentin xWays - 150,000x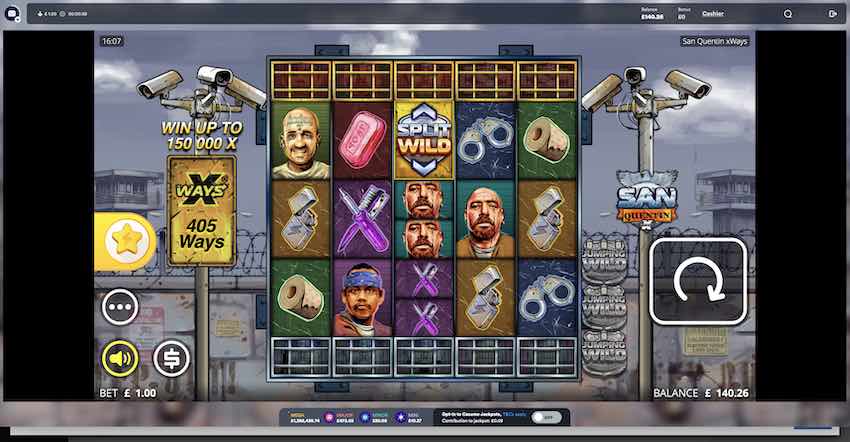 San Quentin xWays By The Numbers
RTP: 96.03%, 94.11%
Variance: High
Top Win: 150,000x
Reels: 5
Rows: 3
Paylines: 243
Release Date: January 2021
Almost exactly a year before the release of Tombstone RIP, Nolimit City was stirring up debate once more. San Quentin xWays was the subject of unprecedented levels of hype before its release, thanks to a particular marketing image.
Based on a world-famous jail known for housing dangerous criminals, the slot naturally features a lot of prison-related imagery. However, one specific promotional picture was used that appeared to depict a rape scene. The tongue-in-cheek joke didn't land well in parts of the casino community.
The extremely high volatility level of San Quentin xWays is not for everyone. But the game is terrifically playable, with a massive top payout of 150,000x your bet, plus several interesting features.
Folsom Prison - 75,000x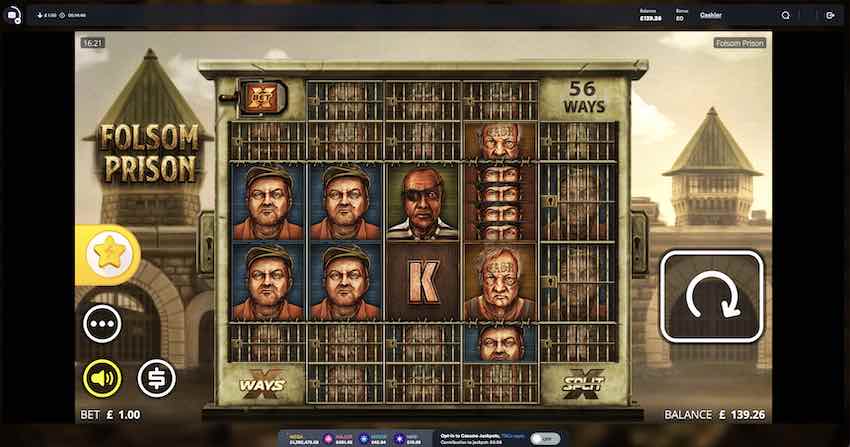 Folsom Prison By The Numbers
RTP: 96.07%, 94.01%
Variance: High
Top Win: 75,000x
Reels: 5
Rows: 2+
Paylines: Up to 46,664x
Release Date: June 2022
This high-paying Nolimit City slot is based on another well-known jail, immortalised in the Johnny Cash song Folsom Prison Blues. Famously home to such characters as Charles Manson and Rick James, you might expect the developer to have a little fun with this theme.
Instead, the slots provider shied away from their usual provocative approach and the result is a highly playable, innovative game. Upon loading, most of the reels are behind bars and must be unlocked as you progress. Starting with just 16 potential ways to win, this can rise to 46,664 as wilds, scatters, xWays and xSplits are collected.
Naturally, Folsom Prison has a high level of volatility. But with a maximum payout of 75,000x up for grabs, it also boasts one of the highest potential wins of any online slot.
Serial - 74,800x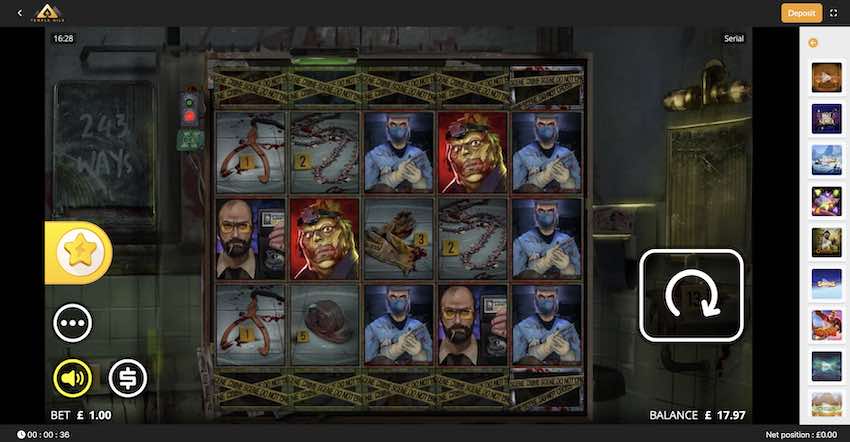 Serial By The Numbers
RTP: 96.07%, 94.08%, 92.05%
Variance: High
Top Win: 74,800x
Reels: 5
Rows: 3+
Paylines: 243+
Release Date: November 2022
Released in November 2022, Serial follows the story of the Bodycam Butcher, a fictional mass murderer. Comparisons were quickly drawn to the Texas Chainsaw Massacre, a horror movie where audiences were led to believe the incidents portrayed actually happened.
Although this slot's premise is gruesome, the game itself is not nearly as graphic as other releases. And the ever-popular xWays mechanic keeps the action coming, with multiple symbols massively increasing the ways to win.
High volatility is pretty much a prerequisite for a Nolimit City game, and Serial has this too. But it's the impressive maximum payout potential of 74,800x that is this slot's standout feature.
Misery Mining - 70,000x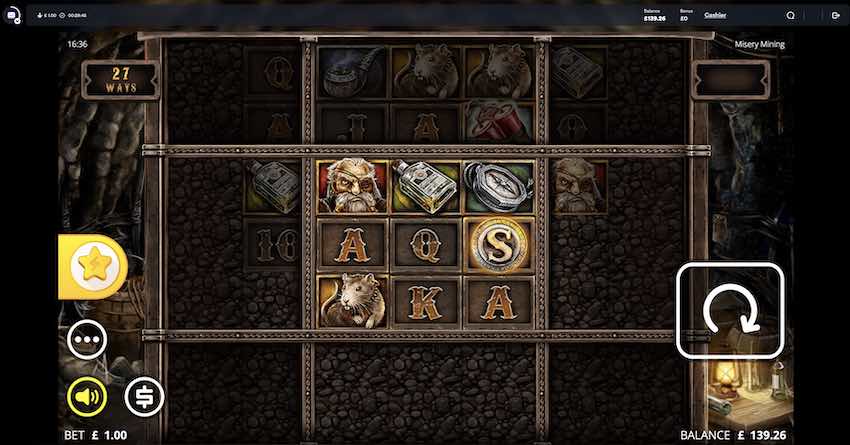 Misery Mining By The Numbers
RTP: 96.09%, 94.05%
Variance: High
Top Win: 70,000x
Reels: 7
Rows: 7
Paylines: Up to 823,543
Release Date: March 2022
Although it sounds like a My Chemical Romance album, Misery Mining is actually a Nolimit City slot, released in March 2022. Its appearance continued the developer's recent trend for producing quality games with exceptionally high levels of volatility and massive top prizes. 
As you might guess, this slot is set down a gold mine. It's a sequel to their Fire in the Hole xBomb game, featuring the same miserable looking dwarf character. The xBomb mechanic returns too, leading to some pretty cool gameplay elements, most notably the Collapsing Mine feature. Here, players must blow up inactive areas of the reel grid to unlock new paylines.
Another fascinating aspect of Misery Mining is the ability to choose your volatility level when triggering the free spins bonus. Naturally, your options are "High" and "Extreme"; wins never come easy with Nolimit City slots.
Mental- 74,800x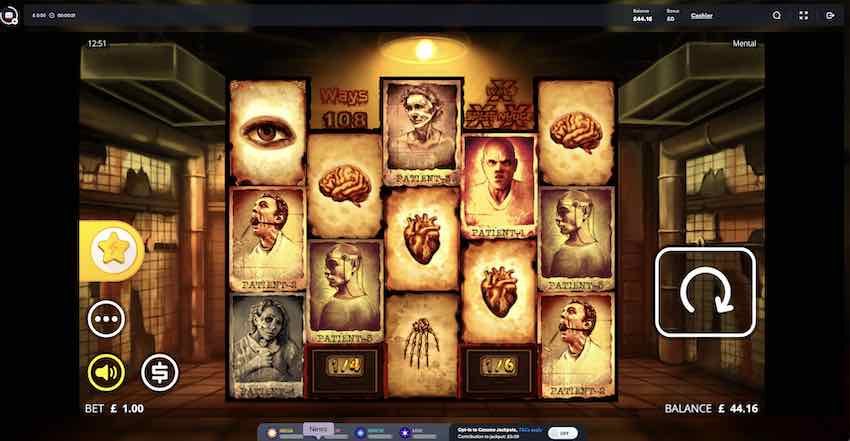 Mental By The Numbers
RTP: 96.08%, 94.20%
Variance: High
Top Win: 66,666x
Reels: 5
Rows: 3
Paylines: 108+
Release Date: August 2021
A December 2022 release, this 6×5 reel slot is quite clearly inspired by the Thomas Harris character Hannibal Lecter. A former psychologist turned serial killer, he is held captive in an asylum, much like the main character in Nolimit City's Mental.
Appropriately for such an evil villain as the notorious cannibal, the maximum payout of Mental is an impressive 66,666x. And it goes without saying that the volatility of this slot is high, rated 10 out of 10 by the creators.
The standard RTP of Mental is pegged at 96.08%. But watch out, as some casinos offer a lower value of just 94.20%.
Dead Canary - 65,000x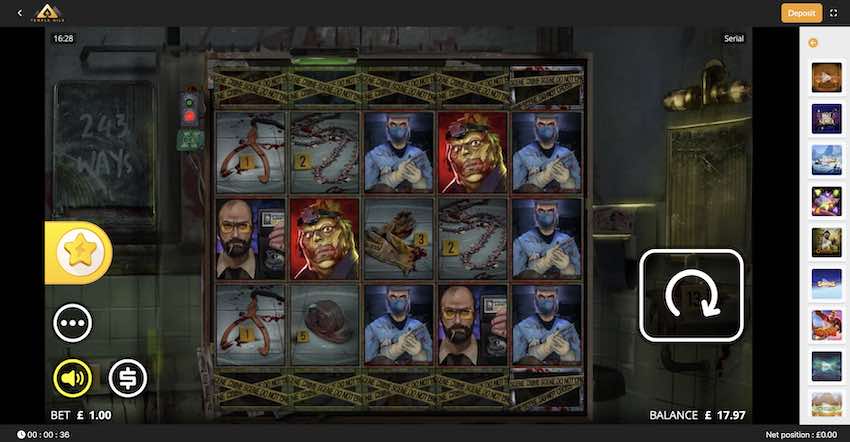 Dead Canary By The Numbers
RTP: 96.02%, 94.12 %, 92.11%
Variance: High
Top Win: 65,000x
Reels: 6
Rows: Up to 4
Paylines: Up to 1,728
Release Date: November 2022
Late 2022 to early 2023 was a prolific period for Nolimit City, churning out several games. Among them was Dead Canary, a follow up to Misery Mining, once again featuring our grumpy dwarven friend.
Despite so many releases in quick succession, there's never any hint of a lack of quality with Nolimit City slots. Each title contains multiple exciting gameplay elements and rewarding bonus features to keep you engaged. While the graphics are always slick, and the payout potentials huge.
Dead Canary is no exception. A staggering top prize of 65,000x ought to be reason enough to give it a try. But the familiar xBomb Wild feature, plus the fun Canary Free Spins bonus game, make this a very playable slot indeed.
Fire in the Hole xBomb - 60,000x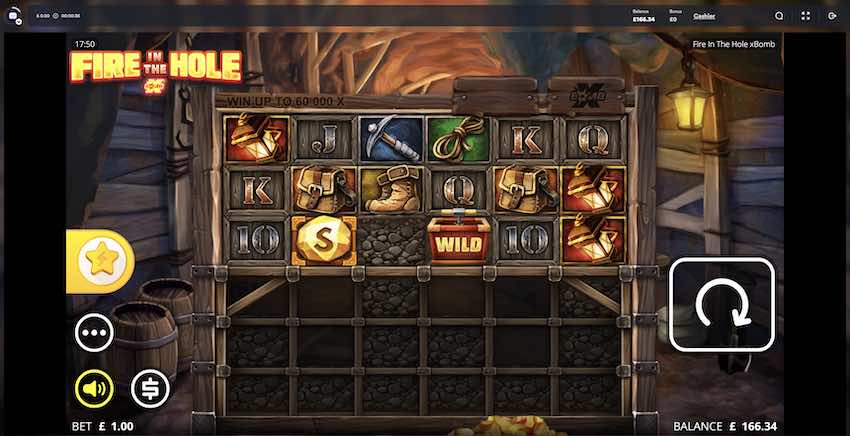 Fire In The Hole xBomb By The Numbers
RTP: 96.06%, 94.11%
Variance: High
Top Win: 74,800x
Reels: 6
Rows: Up to 6
Paylines: Up to 46,656
Release Date: March 2020
The first of Nolimit City's mining series, Fire in the Hole xBomb is the lowest paying in that collection. However, with a maximum reward of "only" 60,000x, you could certainly be forgiven for thinking otherwise. After all, slots produced by other top suppliers still usually fall far short of such a valuable figure.
The game was released back in March 2021 and lacks the graphical quality of subsequent releases in the series. But it's an enjoyable experience all the same, particularly as it helps you to plot the character's development. 
A 6×3, high volatility slot, Fire in the Hole xBomb boasts up to 46,656 ways to win. Not to mention thrilling Multiplier Wilds, Expanding Reels and Lucky Wagon Spins.
Infectious 5 xWays - 55,555x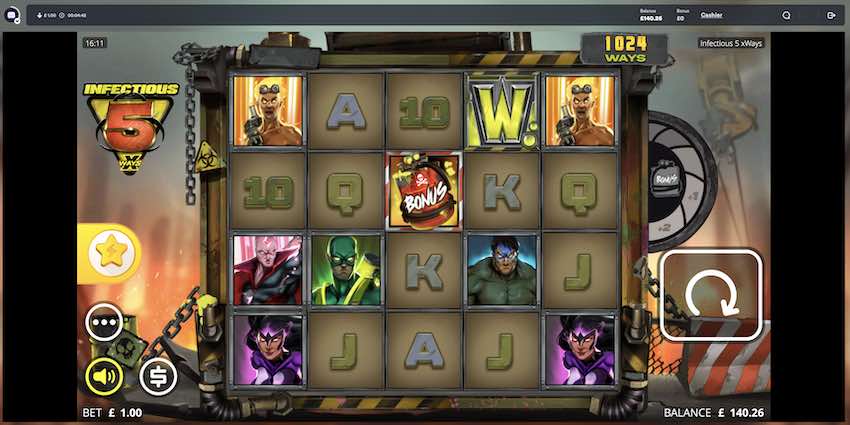 Infectious 5 xWays By The Numbers
RTP: 96.02%, 94.27%
Variance: High
Top Win: 55,555x
Reels: 5
Rows: Up to 8
Paylines: 1,024-110,592
Release Date: June 2021
Six months after San Quentin xWays, Nolimit City released a much safer title in the shape of Infectious 5 xWays. This slot put a somewhat dark and dystopian slant on the classic superhero theme. But it did so by focusing on stunning artwork, sounds and gameplay, rather than courting controversy. 
This 5×4 reel slot has a typically high volatility level, something of a recurring feature with Nolimit City games. While the xWays mechanic allows for a possible 110,592 ways to win, keeping every spin fresh and interesting. 
Perhaps the most impressive aspect of Infectious 5 xWays though, is the enormous potential reward of 55,555x. It's a remarkable figure in its own right. But you must remember that Nolimit City developed this game halfway between San Quentin xWays and Tombstone RIP. The company's commitment to producing highly rewarding slots on a consistent basis is quite impressive.
Das xBoot - 55,200x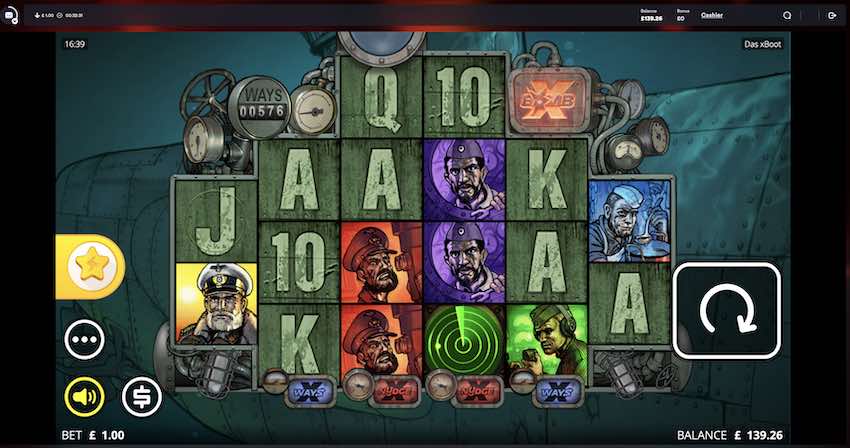 Das xBoot By The Numbers
RTP: 96.03%, 94.04%
Variance: High
Top Win: 55,200x
Reels: 6
Rows: Up to 4
Paylines: Up to 75,712
Release Date: September 2021
Inspired by the World War II movie Das Boot, this release dropped in September 2021. While the RTP of 96.05% is average, the maximum payout of 55,200x is anything but. And like most Nolimit City slots, the level of volatility is remarkably high, featuring the maximum 10 points on the developer's scale.
Das xBoot immediately proved popular with fans, scoring highly in reviews. That's not just down to the potential rewards though. It's also a visually pleasing slot, with bet limits suited to a wide range of bankrolls. 
Finally, the game is packed with engaging features, the most notable of which is the Silent Hunter Free Spins bonus. This boasts a really nice torpedo launch animation that, if successful, leads to generous multipliers.
How to Find the Maximum Payout On NLC Slots
If you're left wondering how to calculate the maximum payout of a Nolimit City slot, don't worry – it's very simple! This information is always contained within the game's rules. 
Every title is different, of course. But all Nolimit City slots feature some kind of information screen, usually represented by an "i" symbol. Clicking on this reveals useful details like the paytable, rules of the various gameplay elements and of course, the maximum potential payout.
Here is a screenshot of the game rules for San Quentin xWays, taken at Casumo. You can see it says the simulated maximum payout is 150,000x based on 1 in 2,000,000,000 rounds (spins):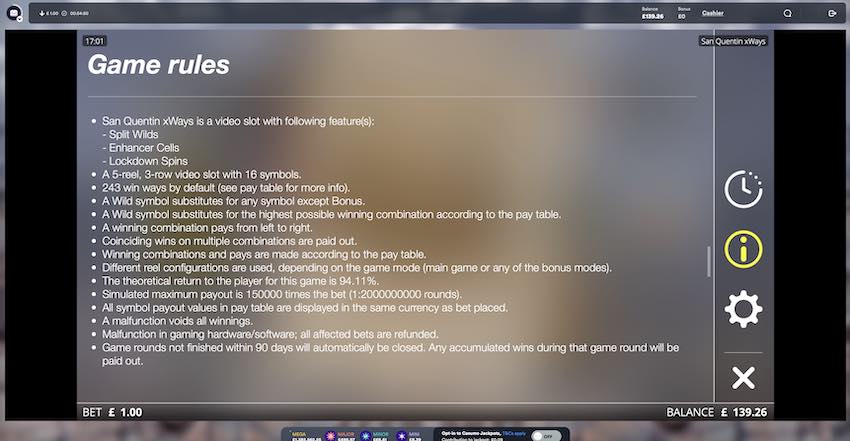 You can also find the maximum payout for each Nolimit City game on their website. NLC publish profiles of each game including RTP and demo versions for you to try.
Enjoy the Highest Paying Slots from Nolimit City
We hope you've enjoyed learning about some of the industry's highest paying titles produced by this extraordinary designer of slots. Why not check out some of these rewarding Nolimit City slots for yourself?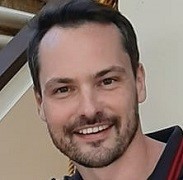 A former gambling industry professional with over 15 years experience in a variety of operational and product roles. Dominic has launched retail and online gambling sites for industry giants across Africa and SE Asia. These days, he pursues his passion for writing while travelling the world.