Play Pacific Gold At These Slot Sites
About This Slot
ELK Studio's Kane is one of the more unusual explorers in the online slot world. His travels have taken him away from the standard Egyptian and Latin American destinations to places like Kathmandu and the Louisiana Swamps. This time we are taken on journey to a Pacific island, a dark and moody setting where (so ELK tell us in the storyline) the wreckage of a Cargo plane bound for Japan in 1953 mysteriously crashed into trees. Explosions and tribal masks adorn the reels. Fans of ELK Studios will remember Kane from his other adventures in exotic locations and this one continues in that vein. The trend in video slots, as established by No Limit City, is dark and gritty right now, and ELK are definitely on board with that in Pacific Gold.
Overall, as we shall see, this game offers a good mix continuity and a few new features which keeps things interesting whilst grounding us in the style we have come to expect from these games. This, plus a pleasing maths model, makes Pacific Gold one of the most playable slots in the series.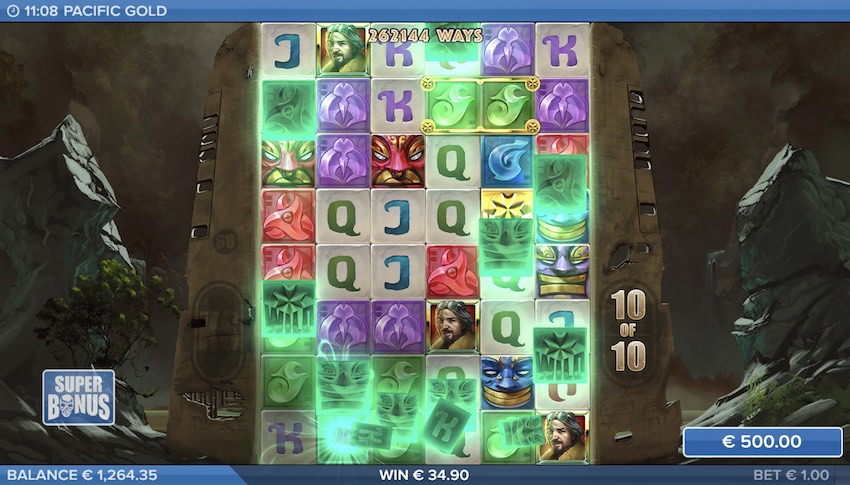 RTP, Variance and Top Payout
The maths model here is similar stats to others in the Kane adventures. That means an RTP of 95% which is underwhelming for a slot – most run at a minimum of 96% – whilst the variance is very high. That makes Pacific Gold a frustrating game at times but one that can, like any high-risk game, deliver a stunning series of wins though its best features. We can imagine a good sequence of Avalanches, fully expanded reels and Ghost Boxes would do just that.
The maximum reward here is 10,000x and the minimum stake is 20p per play.
Symbols and Graphics
As standard, you'll need to land three identical icons on adjacent positions on any of the 4,096 from left to right to trigger a win. There are a few good features to help you here.
The symbols in Pacific Gold include the explorer Kane, an aeroplane, colourful symbols and tribal masks, along with high cards. The high cards award the lower payouts with 0.3x stake available for 6 of a kind. The colourful symbols can pay 1x stake for 6 of a kind. The tribal masks and Kane award the best payouts with 2-5x stake available for 6 matches.
There is also a Wild symbol, which can substitute for the other symbols to create more potential wins. The aeroplane is the Bonus symbol, which can launch the Free Spins round.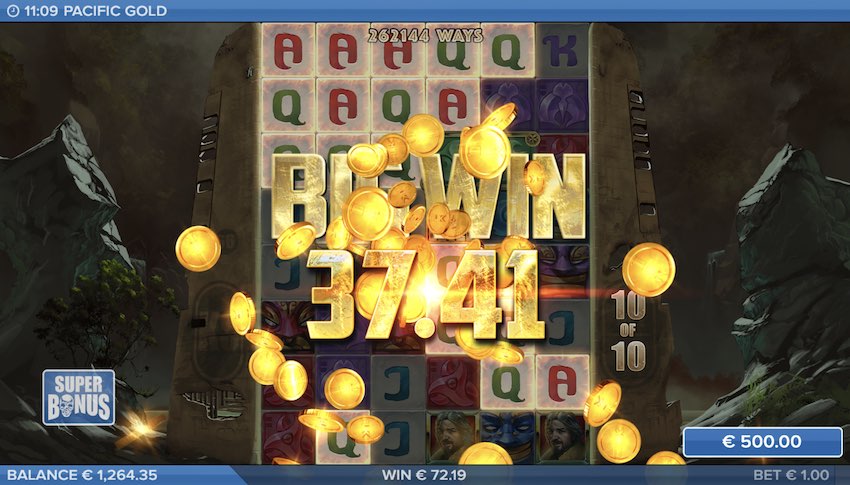 What We Like
Mysterious cargo-plane crash story!
Good addition to Kane series
Up to 262,144 ways to win
Mega Symbols up to 4x4
Innovative Ghost Boxes feature
What We Don't Like
Below average RTP
Variance too high for some players

Gameplay and Features
Those who have met the adventurer Kane before will be familiar with some of the basic features in Pacific Gold, but there are unique additions in the Pacific Wave and Ghost Boxes and that is where the game gets interesting. Here are the big triggers to boost your wins:
Pacific Gold uses the Avalanche Reels mechanic with which one spin can trigger multiple wins. However, in this case there are further enhancements because for every avalanche, the reels expand by ONE row, up to 8 max.
This gives you up to 262,144 paylines at maximum heights.
Watch out for Mega Symbols that come as 2×2, 3×3 or 4×4 in size. The size is important here – a 2×2 counts as FOUR symbols, a 3×3 as NINE symbols, a 4×4 as SIXTEEN symbols. That's a massive boost to your wins when they land.
Any spaces that appear UNDER a Mega Symbols are filled with symbols of the same type.
Symbols also come in POWER STACKS of four high. They look like one symbol but have the value of four when it comes to payouts.
We loved the next feature – PACIFIC WAVE – a horizontal line of the same symbols marking a line across the reels lands and any empty spaces beneath it turn WILD.
And lastly, the eerie GHOST BOXES collect all winning symbols after a winning spin, including those from the Mega Symbols (16 from a 4×4 for example). The Ghost Box releases its load when the last avalanche plays out. All symbols that were collected in the box are redistributed onto the reels giving you a final win from the spin that set things off.
Those are the standard base game feature but the action doesn't stop there. Free Spins are called Pacific Wave Free Drops and you earn them like this;
3 bonus symbols will earn you 10 free drops
4 bonus symbols will earn you 15 free drops
5 bonus symbols will earn you 20 free drops
6 bonus symbols will earn you 25 free drops
Our Verdict
Pacific Gold is another solid adventure slot featuring the bold explorer Kane. ELK have done a top job of mixing familiar features with some exciting new ones in the form of the Pacific Wave and the Ghost Boxes.
The action here is relatively fast-paced but be warned that it is volatile with the slightly disappointing 95% RTP adding to the infrequent nature of the payouts. But despite that challenging number, Pacific Gold represents a compelling gaming experience that will deliver some thrilling action when a Pacific Wave lands high up the reel set giving the chance for a few wilds to land beneath, or your Ghost Box fills with high value symbols and redistributes well after a good avalanche sequence. You can certainly see where this game might deliver after teasing for a long time.
All in all, this is a slick and nicely built slot with a classic moody atmosphere and solid features. If you are a fan of Kane slots then this is a worthy addition to the series.
Kane heads to the Pacific on 1st March 2022.

7.5
Good
A good storyline combines with a familiar character and new, innovative features to create a very playable slot with big potential