D10S Maradona – Blueprint Gaming Celebrate The Life of the Argentinian Football Legend
Published On: 29th September 2022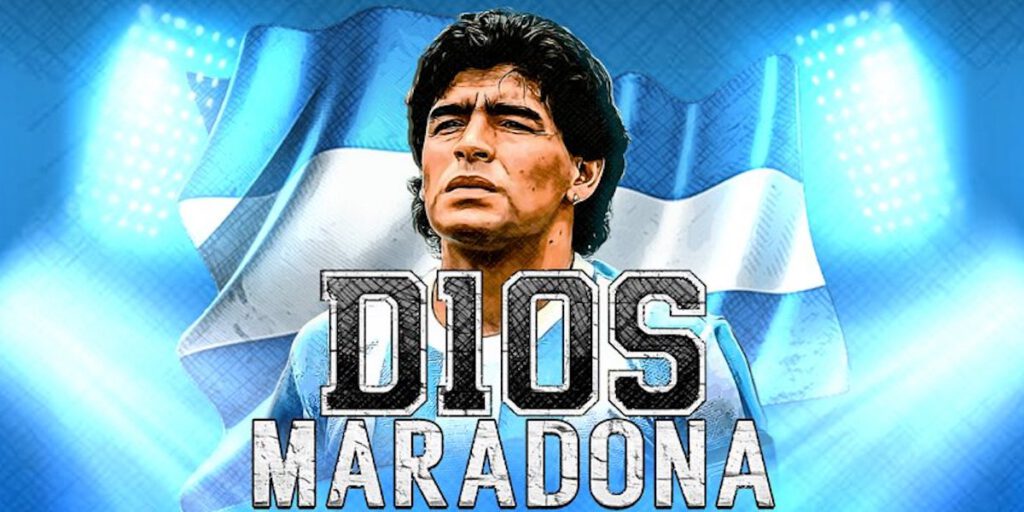 Just in time for the football World Cup's opening match in Quatar (November 20th) Blueprint Gaming are celebrating the sporting life of one of the game's greatest ever players and true-life maverick, Diego Maradona.
Maradona is famous for many things – scoring with his hand against England, scoring one of the World Cup's greatest ever goals (against England too!), taking Napoli to the summit of Italian football (twice), and a well-documented taste for the high life and party drugs.
But betting and casinos? To date, no. But Blueprint are changing all that with this 20 payline online slot called D10S. It's a play on the Spanish word for God (dios), with Diego's iconic number 10 shirt number used for the I and O in the middle.
It's unlikely that D10S will be the only football-themed slot this winter, such is the marketing fever usually associated with that competition. But it may just be the best.
Here we take a sneak preview of the game before a full review in the coming weeks.
D10S By the Numbers
Reels: 5
Rows: 3
Variance: Medium
RTP: 95%
Top Win: 10,000x
Release Date: 15th November 2022
What Can We Expect From D10S Slot?
It is not uncommon for slots developers to dial down the variance a little for slot games that utilise a brand (movies, musicians, sportsmen and women) to give them a broader appeal. And that is what we expect from D10S. The variance is medium for an even distribution of wins and the features are entertaining and will trigger on a regular basis.
Here is a brief overview of what to expect in the gameplay.
The simplest feature is a Cash Collect. Cash symbols land anywhere on reels 1 to 4, and when a Collect symbol accompanies them on reel 5 then all Cash Symbol values in view are paid out in a win.
Blueprint have varied this feature with a different payout type named after each of Maradona's teams – Barcelona Maradona gives standard collects; Boca Juniors Maradona gives re-spins with sticky Cash Symbols and Collect Symbols; Napoli Maradona gives you a cash boost on top of your normal payout; and Argentina Maradona adds a 5x multiplier to the mix.
There will also be a Free Spins round with extra Cash Collect and Collector symbols on the reels. Players will be awarded 10 free spins and in an epic finale, all Cash Symbols are collected in pots above their reels for spins 1 to 9 before a final spin in which the value of each cash pot is added to any Cash Symbol that lands on the reel beneath.
That sounds epic to us!
Will It Be a Hit or a Miss?
Football fans will of course be in the mood to spin on this one come November. Maradona had a cult appeal that will make this an irresistible game to spin on. Let's face it, most England fans still loved him despite the 'hand of God' goal in 1986. So, expect D10S to be a popular game when it hits the best new slot sites.
Keep watching this space for a full review soon, and in the meantime you can check out more Blueprint Gaming slot reviews from our writers.
Further Reading
Maradona Hand of God Jersey Sold For £7.1 Million