Slots and Reels and Rock n Roll – The Best Rock n Roll Slots EVER!!!
Published On: 22nd March 2022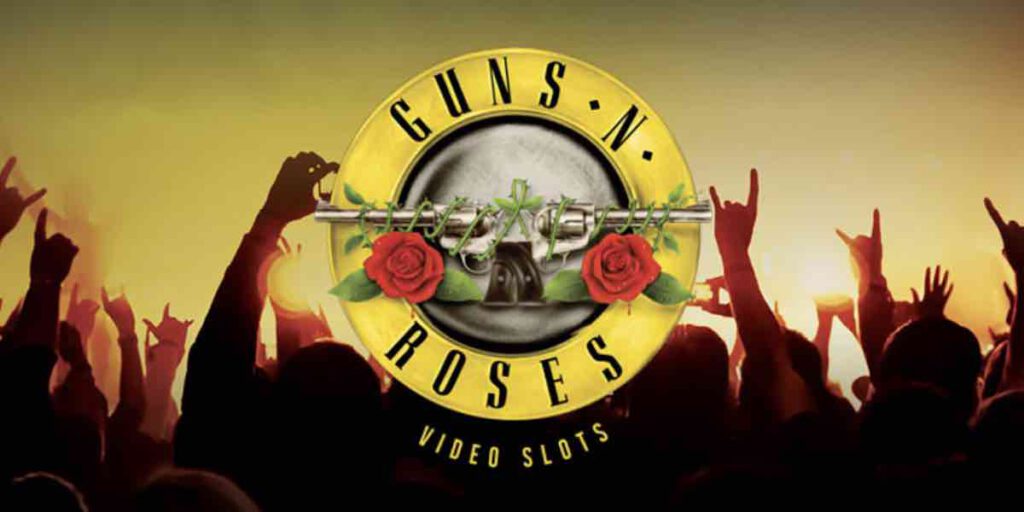 Gambling and rock n roll have a lot in common – they both occupy a space in our collective consciousness that is occupied by dreamers, glory-hunters, risk-takers and rebels. They also both have a darker side for those who've chased the dream only to come up short and find themselves down and out. There are countless examples of great songs from the rock n roll pages that feature gambling and no good gamblers, including The Rolling Stones' Tumbling Dice, Stevie Nicks' The Dealer, Kenny Rogers' The Gambler and The Clash's The Card Cheat.
And guess what? Slots game developers have harnessed the power of rock n roll on many occasions too! From inspiring soundtracks to games entirely dedicated to one band of singer. In this article we've picked five of our favourite rock n roll slots for you to try.
The Final Countdown by Big Time Gaming
Back in 2019 Big Time Gaming were riding the crest of a wave and truly were the darlings of the online slot world. Their Megaways™ revolution was gaining ground and they could do no wrong. Up they stepped with another epic round of high variance action with The Final Countdown, a slot game that channelled all the up-beat energy and sheer fun of 80's stadium rockers, Europe.
The game's backdrop mixes up space stations, space rockets and a multicolored disco dancefloor whilst the reel set offers six reels, four rows and 4,096 paylines. The scene is set from some superb slots action with up to 36,000x wins possible on a single spin. The key features are cloning reels where up to four reels can lock and clone, including cloning wilds with up to 256x multipliers!
Perhaps BTG's biggest strength is interweaving features with a game's theme. And that's just what we get here. In The Countdown Free Spins every scatter that lands drops your counter by 3 – and when you reach zero, the round re-triggers. In the Heading For Venus round the Reel Clone is active on every spin and wild multipliers can grow to 888x!
BTG have produced many spectacular slots in their time but few match The Final Countdown for epic win potential and drama.
Guns n Roses by NetEnt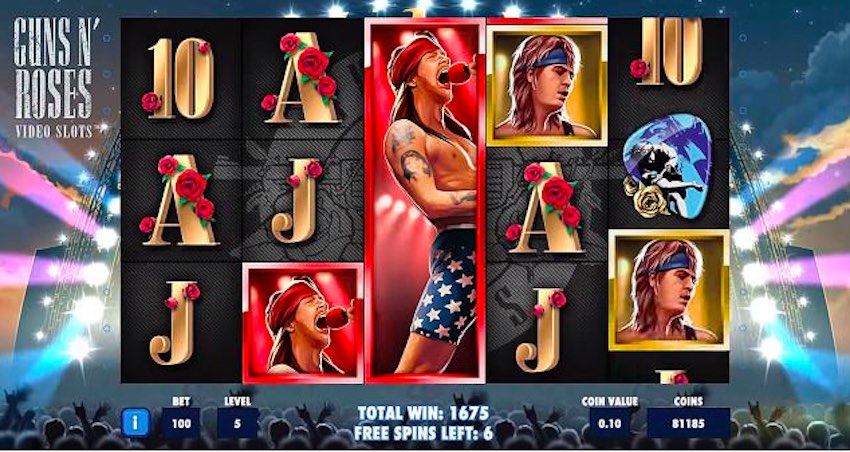 In the Mid 2010s, NetEnt rolled out their rock series of slots with licensing deals that allowed them to use the songs and images of Jimi Hendrix, Motorhead and Guns n Roses. After investing in the rights to use the work of these icons of music, NetEnt set about producing some top quality, feature-packed games. And our favourite of these was Guns n Roses slot.
Who wouldn't love spinning the reels to the sounds of Sweet Child O Mine, Paradise City and November Rain after all? Axl Rose, Slash and Izzy Stradlin are depicted as illustrations (sadly no pictures) and the backdrop is one of the Roses' cavernous stage sets with huge speaker stacks and an arching light show.
But it's what happens on the reels that counts right? To open the game up to a wide audience NetEnt set the variance to a low-medium level, the RTP to 96.8% and stacked the gameplay with numerous features and modifiers. In the base game, random events include Legend Spins – 3 Free Spins with Wild Reels, Solo Multipliers – a random multiplier worth up to 10x, and Appetite for Destruction Wilds – a cross-shaped wild that overlays the entire reel set. Finally, there is also a Bonus Wheel that gives you a Pick Me Crowd Pleaser with prizes of up to 800 coins and an Encore Free Spins feature with 10 spins and an overlay wild.
Whether you are a fan of the band or not this is a superb slot with an easy maths model and a ton of fun features. Crowd pleaser? Most definitely.
Kiss Reels of Rock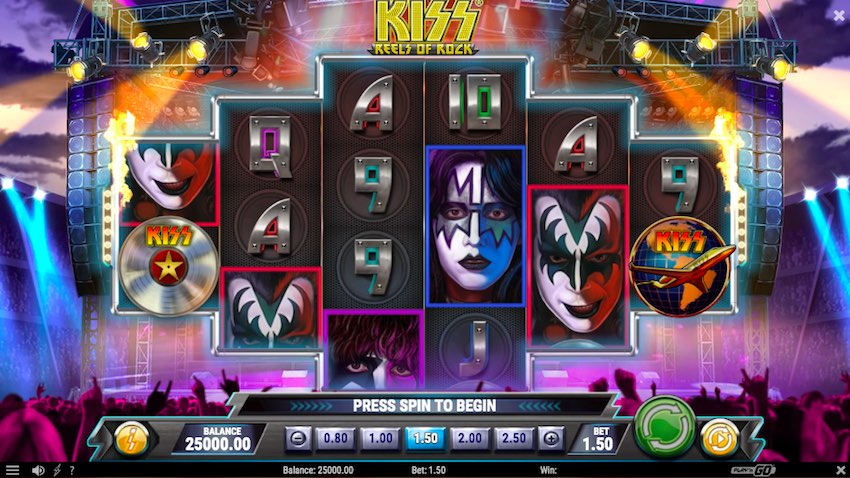 It's not just BTG and NetEnt who know a thing of two about epic rock slots action. Sweden's Play n Go are also in on the act with a rock series that has taken inspiration from the darkest corners of the metal world in House of Doom (inspired by Sweden's Candlemass) and Alice Cooper and the Tome of Madness (inspired by … Alice Cooper)! They are due to launch a Lordi Slot this Spring too (inspired by the Finnish Eurovision entry from 2006 – a bizarre horrorshow of a band that was comedy as much as music).
But for this article we introduce you to their Kiss Reels of Rock game, a slot inspired by the US glam rock band whose heyday was in the 70s but have continued to send stadiums into meltdown in every decade since with their crazy costumes, black and white facepaint and bombastic tunes.
For reels of rock we are back onto 6 reels with 4 rows and 4,096 paylines. Much like BTG's The Final Countdown, Play n Go have used a locking reels feature with synching symbols. There are also Double Sized Wilds in the Drive Me Wild feature and a Free Spins tour with five separate destinations each with a different configuration of spins and multipliers.
But what's most impressive about Kiss Reels of Rock? The 50,000x top payout of course!
Punk Toilet By No Limit City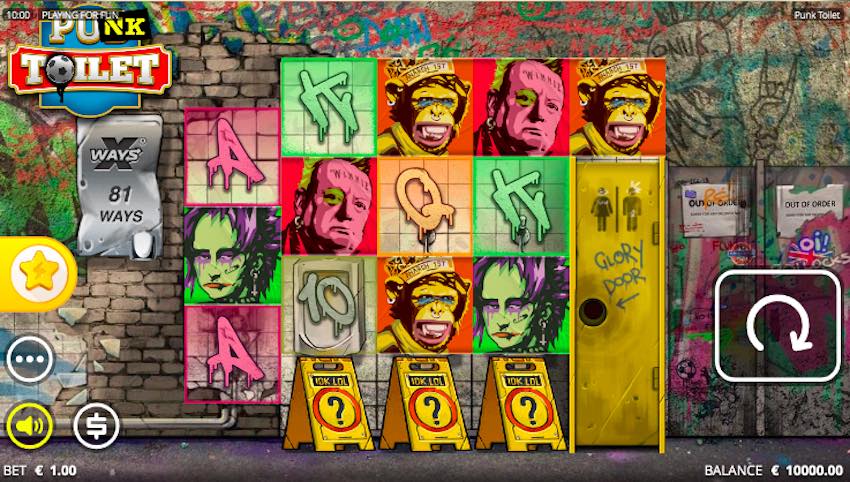 Right now no article about rock n roll rebels and online gambling could be complete without a mention of the current bad boys of slots, No Limit City. Their seeming desire to push the boundaries of what is acceptable with every new release makes it inevitable that eventually they would pump out something inspired by the darker recesses of rock n roll.
And this March, it arrived! Punk Toilet!
Rumour has it that this game was inspired after a trip to a run-down pub in the East End of London. Wherever it came from, it's certainly like nothing else we've seen before. Punk Toilet is the sequel to Punk Rocker which featured a series of icon-bashing images like Churchill with mohawk haircut and a chimp with the Queen's crown on its head. It looks like something Banksy might have dreamed up though it also borrows heavily from the 70s punk scene in London too.
Fans of this kind of music will appreciate the imagery, though there is no licensed music on the soundtrack so you will have to find a playlist on Spotify to accompany your spins!
As with every NLC slot the features are plentiful and include the weird and wonderful Urinals, Glory Doors, P!$$ and $H!T Spins and a multitude of Multipliers and xWays splitting symbols.  With up to 5 rows in play at any time the maximum win in this grimy back-alley of a slot is a very pleasing 33,333x!!
Elvis Lives Slot by WMS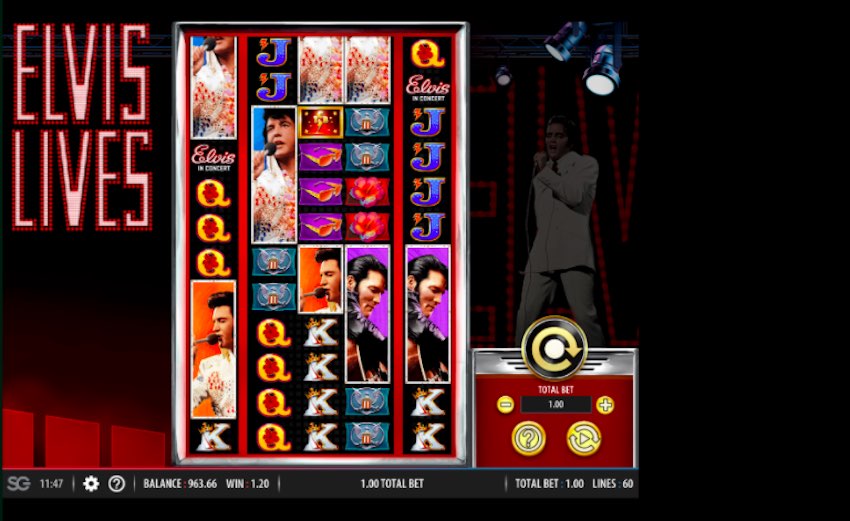 Let's finish at the source of all rock n roll – the very embodiment of rock n roll in its earliest form, Elvis Presley! Elvis Lives is not as visually arresting as the other games written about here, but it does have a rocking soundtrack and some really fun features to enjoy.
Elvis Lives arrived at UK slot sites in 2019 and it is the most basic of rock n roll slots with just 3 reels but 60 active paylines. In keeping with The Final Countdown and Kiss Reels of Rock, this one also has synchronising reels that can display one, 3×4 epic dancing Elvis! There are also Wandering Wilds, Free Spins with Multipliers and a 2,000x jackpot for those who can light up ALL the Elvis Lives lights!
It might not share the same high -level production values of other great rock n roll slots but Elvis Lives is still a fun adventure with the the genre's ultimate icon!
Honourable Mentions Go To … 
We can't finish without mentioning a few more great rock n roll slots from the past two decades. So, we doff our caps to the following games too:
Wild Flower by Big Time Gaming
Danger! High Voltage by Big Time Gaming
Twisted Sister by Play n Go
Ozzy Osbourne by NetEnt
ZZ Top Roadside Riches by Play n Go
Megadeath by Leander Games
If you want to play any of the games listed on this page we recommend you choose a casino from the list of slots sites on our home page. And check all the latest releases on our slots games page.