The Best TV Slots of All Time
Published On: 25th January 2022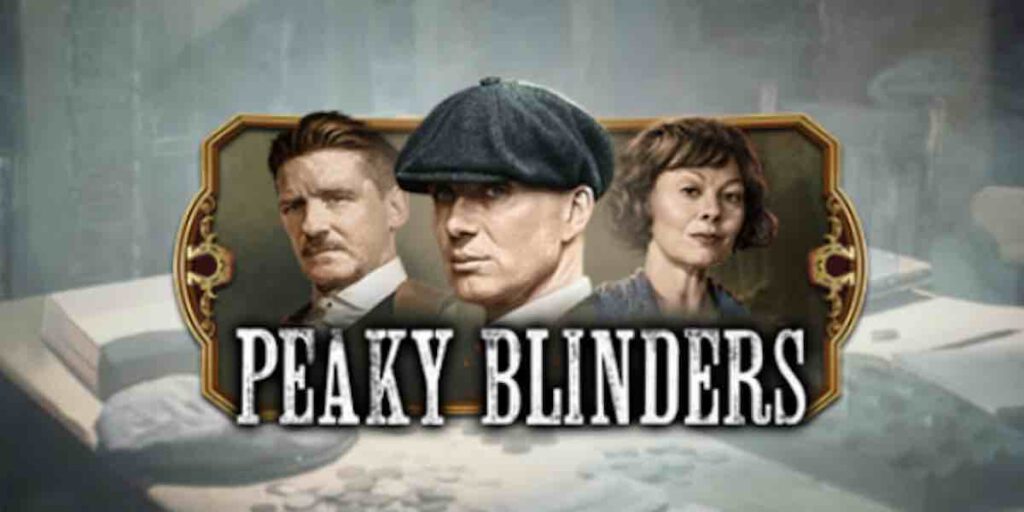 Following our recent guide to The Best Movie Slots of All Time, here is our guide to the best TV show slots. Just like those movie-themed games, our TV slots match up reel-based action with some of the most popular screen shows of the last 50 years (yeah, we really do go back that far!).
Game developers and casino operators fork out a fair chunk of cash for the licenses to bring you these games so they are always ready to invest big in the production to get their money's worth. Which means TV slots are packed with excellent features and gameplay, cleverly weaving narratives from the shows into the action on the reels!
Top 10 TV Slots of All Time
Here is our top 10 as chosen by our writers featuring all your favourite characters, storylines and theme tunes brought to life. These games take in everything from cartoons and comedies to quiz shows, sci fi, gritty dramas and even cooking!
Game of Thrones by Microgaming
Family Guy by IGT
Who Wants To Be A Millionaire by Big Time Gaming
Narcos by NetEnt
Battlestar Gallactica by Microgaming
Survivor Megaways™ by Big Time Gaming
Baywatch by Playtech
Hells Kitchen by NetEnt
Peaky Blinders by Pragmatic Play
Wheel of Fortune Megaways by IGT
Now read a mini review of each of the video slots listed in our top 10. We cover variance, RTP and top payouts and highlight all the main features so you can be ready to play with confidence when you load up your slot. You can find where to play in our listing of the latest slot sites on our home page.
Game of Thrones by Microgaming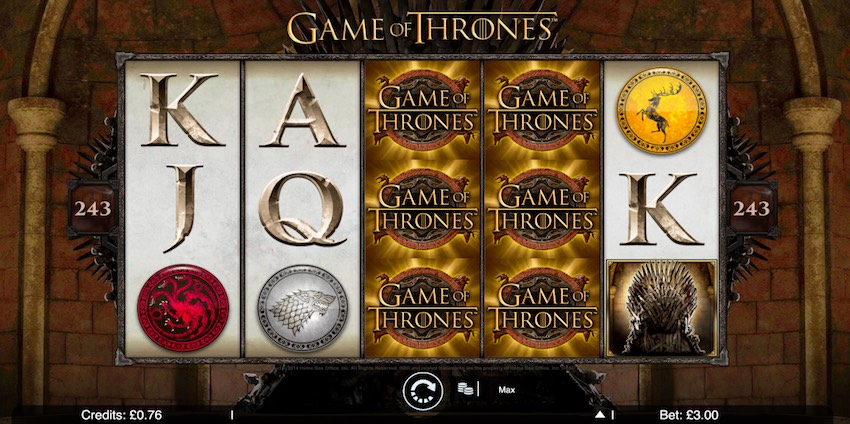 Best For: High payout potential and thrilling free spins round
Game of Thrones slot from Microgaming is inspired by the blockbuster HBO TV series, which itself is based on the series of fantasy novels by George R. R. Martin, A Song of Fire and Ice which tells the story of the battle between the noble families over the lands of Westeros and Essos. It's an epic narrative full of big characters and stories that inevitably climax in confrontations.
Microgaming have a lot of experience in turning TV shows and films into games and it shows in their rendering of the Game of Thrones storylines here. Each of the central characters is vividly portrayed on the reels and a clever mix of features makes the game a compelling play.
The action plays out on 5 reels with 243 active paylines. The features include Stacked Wilds, Free Spins, Random Multipliers up to 5x, Scatter Bonuses and a Gamble Game. The game has an RTP of 95.01% and medium to high volatility and a payout potential of 20,250x which is pretty good even in today's market.
The stand-out part of Game of Thrones slot is the Free Spins round where you get to choose which of the four noble houses you will serve, depending on your taste for risk: Baratheon, Lannister, Stark or Targaryen. Each comes with a varying degree of risk, multipliers (up to 5x) and free spins (up to 18).
The only drawback here is that there are no clips from the show in the game.
Family Guy by IGT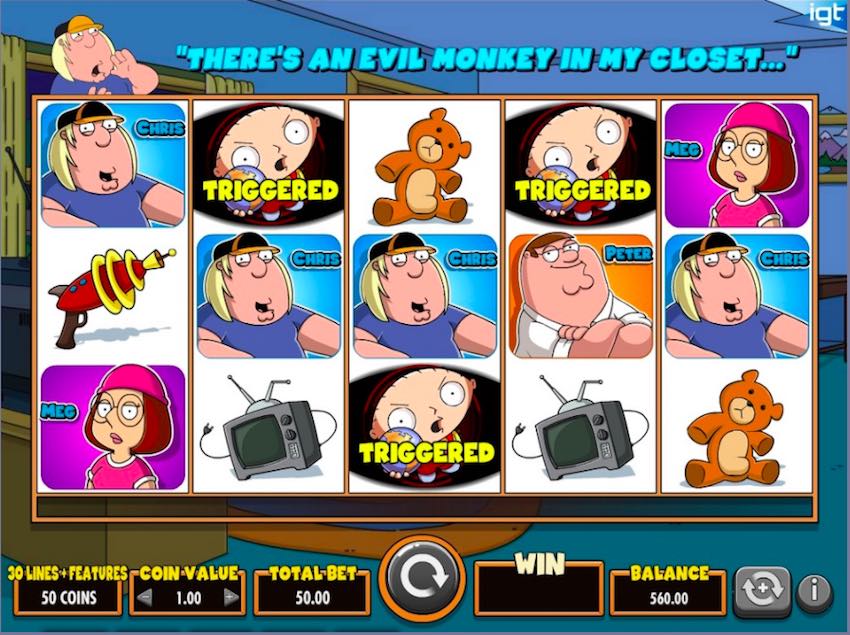 Best For: A laugh a minute chicken fights and tons of wild subsitutions!
If you love comedy then you must love Family Guy, the cartoon created by Seth MacFarlane who is also behind American Dad and the movie Ted. It's more adult-themed than The Simpsons but stars an equally dysfunctional family. Given its popularity it was only a matter of time before someone turned it into a video slot!
And it was blockbuster slots specialists IGT who took the task on! The team behind Cleopatra and Wheel of Fortune turned the stories of Peter and Lois Griffin and their family into a 5-reel 30-payline slot.
The action is set in the family lounge with the reels packed with family members, beer bottles, teddy bears and a television. You'll find no less than SEVEN bonus features based on events in the cartoon, including the Chicken Fight 'pick em' bonus game with prizes up to 1,000x stake and Multipliers up to 5x.
There is also the Lois' Hot Free Spins round, which awards 10 Free Spins, plus four special features where cash prizes and Wild symbols can mount up. Wild symbols are the best-paying regular symbol, awarding 500x stake for 5 of a kind, while the Peter Feature can pay up to 5,000x your bet.
The RTP is 94.28%, while the volatility level is medium to high, so you can expect a good balance of payouts, although this sits on the riskier side. Betting starts at 30p, so it's not the cheapest spinner out there, but if you're looking for 'good old-fashioned values' grab a beer and get ready to join the Griffin family!
Who Wants To Be A Millionaire Megaways by Big Time Gaming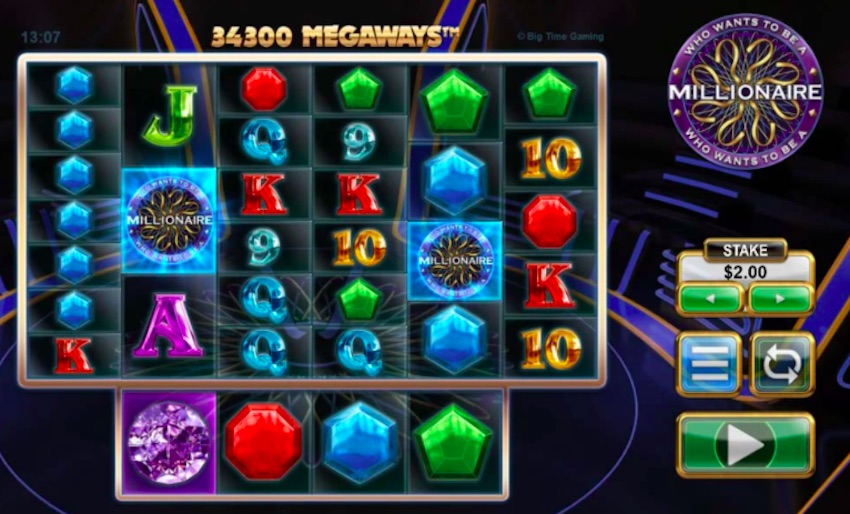 Best For: Huge payout potential, tense gameplay and ask a friend features
If you are looking for a slots developer to create a game that can match the drama of the progressive prize quiz, Who Wants To Be A Millionaire, then there can be only one name in the hat, surely? It's no surprise that the name is Big Time Gaming whose rep is built on high risk slots with huge payout potential!
So here we have Who Wants To Be A Millionaire Megaways™ an expanding reels slot based on the popular TV quiz show that became famous in the UK in the 1990s and has now been sold all around the world now, making it into a truly global phenomenon.
The good news is, BTG more than matched the thrill of the show with their own brand of harem scarem gameplay. As with all good Megaways™ games the action players out on 6 reels and 4 rows of precious gem symbols. There is also a horizontal reel and familiar features, including the lifelines, Phone a Friend, Ask the Audience and 50/50, which allow you to gamble your Free Spins. Be careful with Ask the Audience, as just like in the TV show, this lifeline isn't fully trustworthy!
You'll enjoy the Megaways mechanic, which gives up to 117,649 ways to win, along with Cascading Reels to give multiple chances to win from one spin. There are also Wilds and Progressive Multipliers to add more spice to your gaming. The RTP is an average 96.24%, while the minimum bet is 20p. This game draws players into the atmosphere of the quiz show with a TV studio background and dramatic sound effects.
Fancy a crack at the £1 million jackpot? Go on ..
Narcos by NetEnt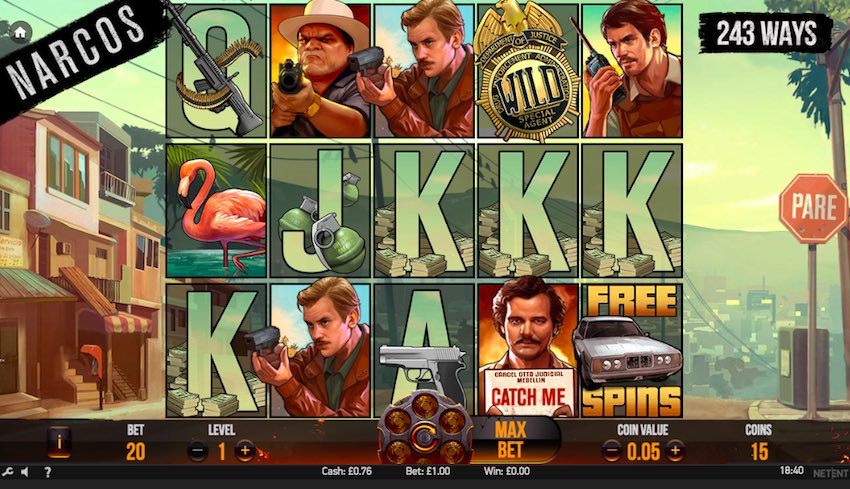 Best For: Scenes from the TV show and high RTP
Narcos slot by NetEnt from 2019 is based on the popular Netflix series of the same name which explores the dark underworld of 1970s Columbia and the exploits of uber-drug lord, Pablo Escobar.
It's a 5-reel slot with 243 ways to win and familiar characters from the show, including the agents Murphy and Peña who are trying to track down the infamous crime boss.
Load up the game and NetEnt do a pretty good job of transporting you to the mean streets of the Medellin criminal world with Wilds, Walking Wilds and Drive By feature offering extra ways to strike it rich, along with bullets flying across the screen for extra realism!
The trick is to land 3 Locked Up symbols to trigger big Multipliers, while 3 Scatters sets up the Free Spins round with 10 Free Spins and Walking Wilds. The 96.23% RTP is average, while the 20p minimum bet should suit most pockets. This slot offers a thrill for fans of the Narcos series, while the rest of us can explore the darker streets of Medellin from the safety of our favourite online casino!
We do sound a word of caution on this game – the top prize is a rather measly 1,506x. However, the video clips that intersperse the gameplay are really cool and if you are a fan of the show then you can simply get absorbed in these which will be enough for some!
Battlestar Galactica by Microgaming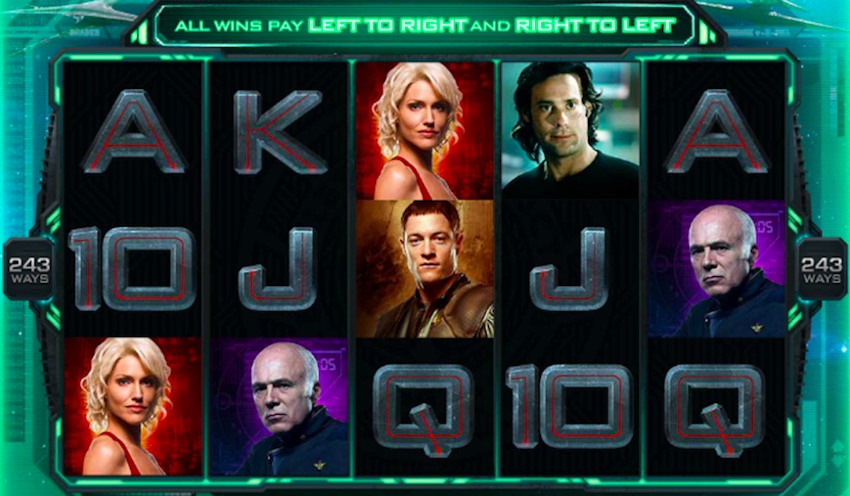 Best For: Retro Sci-Fi fun and low risk gameplay
Battlestar Gallactica slot is the oldest in our list, having been released as long ago as 2012! The game is based on the popular sci-fi TV series. You'll find fantastic visuals here, including characters from the show such as Starbuck, Apollo and Colonel Tigh. There are 243 ways to win, while the special features include Ion Storm Wild where there are 15 Free Spins and 3x Multipliers in play at one time.
Run Mode and Flight Mode add extra thrills with the potential for random symbols to turn Wild and split into two for extra winning potential. The RTP is 96.6%, which is slightly over average. While the 30p minimum bet isn't the cheapest, it's still playable, especially considering the low volatility level, which means lots of small payouts to keep your bankroll topped up.
The top prize of 7,500x stake is a decent sum to chase in space and although most payouts will be small due to the low volatility, it will keep you enjoying a longer gaming session – always a pleasure when the graphics and design are this impressive.
Survivor Megaways by Big Time Gaming
Best For: High risk gaming with big potential (over 40,000x)
Meanwhile … somewhere on an isolated desert island yet another reality TV show is kicking into life … and Big Time Gaming are here to give it the Megaways™ treatment!
Yes, back in 2020 BTG turned out Survivor Megaways™, an exotic-looking slot themed on the adventurous American reality TV series that places contestants in a remote location and, after the ensuing battle of wits and endurance, rewards the Sole Survivor with a $1 million reward. What more inspiration could you want to take a spin on the reels?
Well not much actually as BTG have done a fantastic job with this one. The enticing theme lends itself well to video slots action and tribal masks and chanting sound effects, along with some impressive graphics make for compelling viewing before you even get spinning!
The Megaways mechanic gives 100,842 ways to win with Cascading Reels split into 3 sections, letting you win potentially multiple payouts from a single spin. You'll also find Free spins round and Progressive Multipliers, along with a top prize of 44,000x stake. The RTP is a touch above average at 96.47%, while the volatility level is high, which means you can expect big ups and downs in payouts.
Get out the face paint and prepare for some tropical spinning!
Baywatch by IGT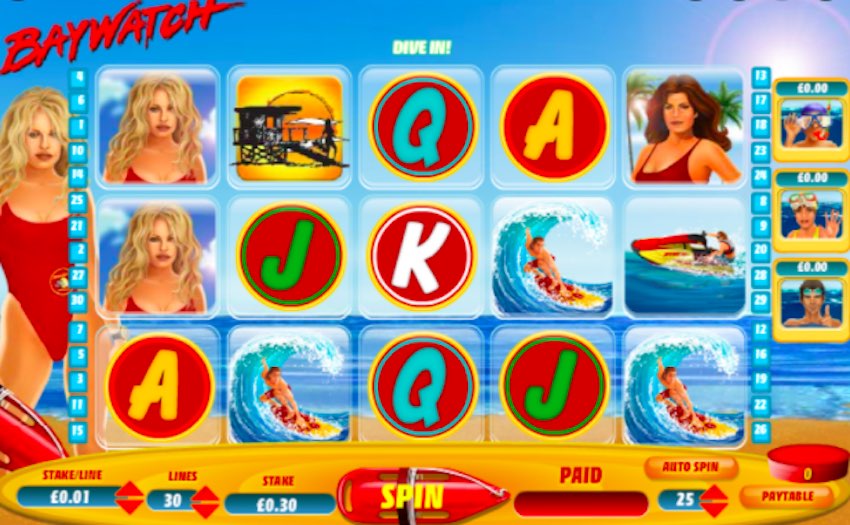 Best For: Reliving the 90s and experiencing West Coast beach life!
Baywatch was a 90s TV series starring David Hasselhoff and Pamela Anderson, following the lives and work of a group of bronzed and toned lifeguards. It's cheesy scripts seemed to tread a fine line between comedy and drama at times, but it sure makes a great slot game!
It's all dazzling and iconic red swimwear and a sandy beach setting with 5 reels and a simple and low-key layout with symbols including the characters from the show, binoculars, beach buggy, life floats and a speedboat. The design of Baywatch slot has a retro vibe in terms of graphics, while the bonus features include the regular logo Wild and the speedboat Wild, which appears on reel 3 to set off across the screen leaving extra Wilds in its wake.
Landing 3 lifebelt ring Scatters will trigger the Free Spins round, during which you can rescue the swimmers to receive cash prizes. The 92.6% RTP is average while the low to medium volatility means plenty of small wins. Battle through the sand dunes for a potential reward of up to 3750x stake.
Grab the sun cream and hit those dunes!
Hell's Kitchen by Net Ent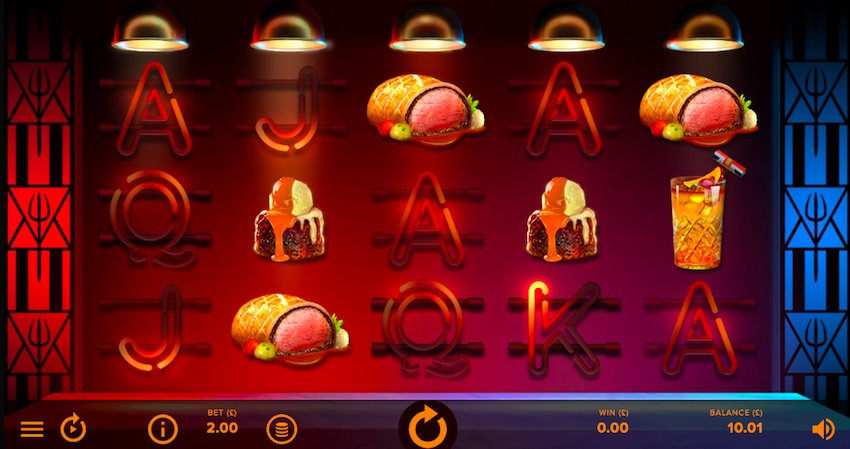 Best For: Flying knives across the reels backed by Ramsey's angry tones!
Hell's Kitchen is a slot from Net Ent themed on the reality TV series featuring angry, loud-mouthed and swear-a-thon celebrity chef Gordon Ramsey. The show follows the battle between contestant chefs as they cook their way towards the top job in a restaurant.
The slot version is styled in red and blue just like the show, while the 5 reels are packed with food and drink, including a beef wellington, garnished beef burger, chocolate brownie and a tasty cocktail.
Bonus features in Hell's Kitchen include Ramsey's Wilds, featuring knives thrown across the screen and voice overs from Gordon himself, while Team Challenge Free Spins pits the reds and blues against each other with Multipliers and Wilds to collect during the Free Spins.
Load up this slot and you can also enjoy Gordon's Bonus Game, which is a 'pick em' feature awarding Multiplier prizes. The slot has an RTP of 96.07% and surprisingly low volatility considering Gordon's notorious moods, so it's quite a tame play, although the 40p minimum bet makes this more expensive than most.
Ready to cook?
Peaky Blinders by Pragmatic Play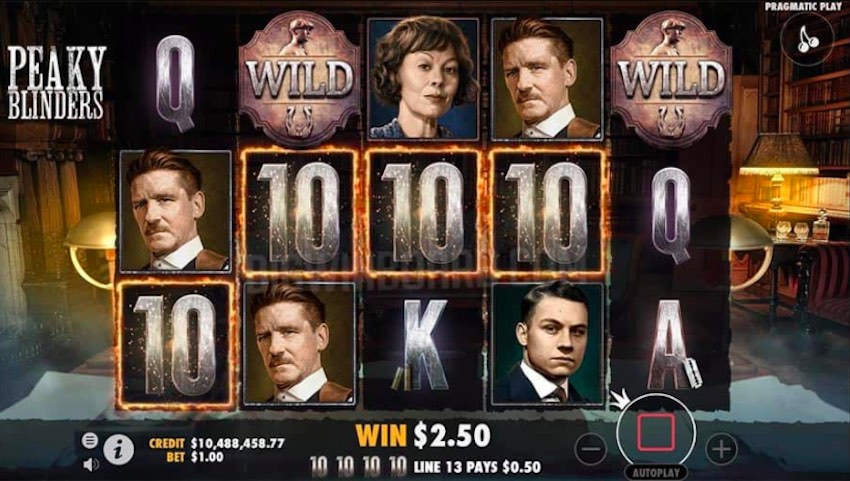 Best For: Lots of Re-Spins and Multipliers and great imagery from the shows
Peaky Blinders is based on the popular TV series set in the ganglands of Birmingham between the wars. The story follows the fortunes of the Shelby crime family and you'll find a dark atmosphere in keeping with the gangster theme.
The backdrop is a scene of smoky back streets and the reels are filled with characters from the show, including Thomas in his trademark hat. Special features include Wild symbols, Shelby's Betting Shop Bonus and By Order of the Peaky Blinders Bonus. These features can award Multipliers and Respins, while the game logo Scatter can launch the Free Spins round.
The RTP is 96.5%, while the volatility is rated as medium to high, and the minimum bet is 20p. This creates a slot with a good balance of bets to rewards but still with a large dose of risk. It's the imagery that sells this slot though and fans of the show will enjoy spinning the reels rich in underworld vibes.
Wheel of Fortune Megaways™ by Big Time Gaming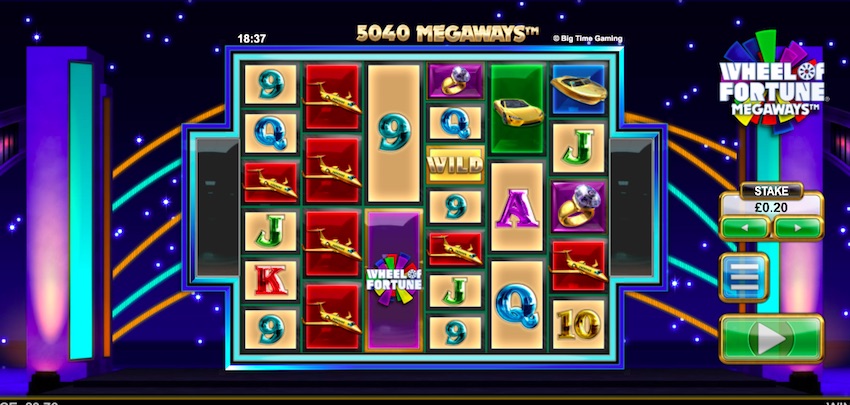 Best For: Chasing down huge wins (80,000x +) on a super high risk game engine
Wheel of Fortune Megaways™ is a fun slot inspired by the classic TV gameshow from way, way back! And it's the THRID time Big Time Gaming join our list of top TV slots. Testament to the quality of their games as well as the match between their style of gameplay and the kind of TV we like to watch!
Of course, Wheel of Fortune has been successfully brought to the reels before by IGT both online and offline, so it's some challenge for BTG to re-invigorate it. But with 117,649 ways to win with the exciting Megaways™ mechanic it's a sure-fire bet! Those expanding reels and the high volatility gameplay creates an exhilarating, high-risk slot, perfectly suited to higher rollers and those who love dramatic ups and downs. The backdrop shows a TV gameshow set, while the symbols include luxury cars, yachts and planes, along with a TV presenter who can appear stacked on the reels.
Special features in Wheel of Fortune Megaways™ include up to 18 Free Spins and Expansion Symbols, which can increase the win ways to a massive 1 million! You also have the chance to hit a stack of 10 Wilds together with can trigger spectacular results.
The 96.46% RTP and 20p minimum bet make this a sensible play, even though the volatility is high. Top spinners can walk away with a fortune of up to 80,150x stake!
A Bit More About TV Slots
Why Should You Play TV Slots?
If you've read this article through, then by now you've probably got a pretty good idea about what makes these games special. But here are a few simple reasons why TV slot games are amongst the best you'll find at any online casino.
Superb Production – TV show slots are expensive to produce. There are licensing fees to take into account to use show clips, actor photos and scripts from the shows. But developers are prepared to pay these costs because the games attract a wide audience. And for that reason they are also willing to invest more into making the games compelling and fun. More feature, bigger prizes and high production values are all commonplace in TV slots.  Which is why we love them!
Video and Audio Excitement – It's fun to combine your favourite TV shows with the betting products you love – seeing clips from iconic shows and hearing the actors voices adds another level of excitement to the gameplay.
Huge Potential – As you can see from this list, game devleopers are not shy to offer big prizes on TV slots. Just check out the potential on Who Wants To Be A Millionaire Megaways™ and Wheel of Fortune Megaways™!
Are There Any Drawbacks To Playing TV Slots?
In a word, NO! You may find in some cases that the RTP has been shaved down slightly to compensate for licensing fees, but this is less common than in the field of movie slots. Most games in our list come in at an RTP of around 96% to 96.5% which is about average for any slot game.
So, there we have it!
That's our pick of 10 of the best TV themed slots currently available online. We hope you've enjoyed a meander through this list of televisual classics and been reminded of your favourite shows. With so many successful titles from this genre you can be sure that more will following the coming months and years. So keep checking our slot game reviews for the latest releases so you don't miss out on the excitement!
Good luck and have fun!