Progressive Jackpot Guide
Published On: 8th October 2022
Progressive jackpots offer the biggest prizes of any online casino game, by a considerable margin. With the opportunity to win millions from a single spin, it's easy to see why they're so appealing. 
In this guide to progressive jackpots, we'll discuss how these games work and explain where you can find them. What's more, we'll reveal our top tips to give you the best chance of hitting the jackpot.
What Is a Progressive Jackpot?
Many casino games feature a prize called a progressive jackpot. Whenever the game is played and the jackpot is not won, the prize pool increases in size. In other words, the growth of the potential jackpot continues to "progress".
Although many table games offer progressive jackpots too, in this article we're going to focus specifically on slots. If you look at the hugely successful Book of Dead slot, for instance, you'll see that the maximum prize is 5,000x your bet. This value remains fixed and never changes, so it is different from a progressive jackpot.
In contrast, progressive jackpots begin with a set amount, known as the "seed". But they increase every time a player spins the reels. When the jackpot is eventually won, a new one is immediately seeded to ensure that there's always a prize on offer. Microgaming's popular WowPot series, for instance, seeds at an impressive €2 million!
Return To Player Rates
It's also worth pointing out that most progressive jackpot slots have a lower than average RTP (Return To Player) rate. Continuing with Book of Dead as an example, the RTP of 96.21% is bang in line with the industry standard of 96%. But if you look at Book of Atem: WowPot, a progressive jackpot slot, it's noticeably smaller at 93.50%.
Why is that the case? A progressive jackpot works by taking a small percentage of every bet made and adding it to the prize fund. So in reality, whenever you win a regular prize playing jackpot slots, it's not based on your entire stake. Thus your long-term returns are negatively affected, albeit slightly. Of course, the trade-off is that you have the chance to win a life-changing sum of money if you hit the jackpot!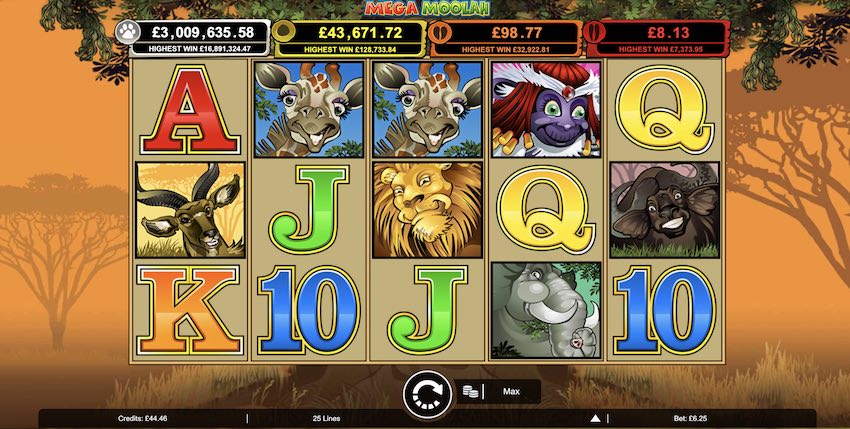 What Are the Different Types of Progressive Jackpot?
Not all progressive jackpot slots were created equally. There are actually four different types of mechanism behind such games. Let's quickly look at how each one works.
Standalone Jackpot
The earliest jackpot slots were physical machines in bricks-and-mortar arcades and casinos. As people continued to play that individual game, its own specific jackpot would progress in isolation. 
Payouts on similar machines elsewhere in the casino are irrelevant. Whatever the jackpot is, it can only be won from this particular game. As a result, the payouts tend to be on the smaller side. Some online slots today also replicate this model.
Local
A local, in-house progressive jackpot takes things a little further, by linking up several games in a single casino. Whether it's land-based or online, each individual slot contributes to a bigger prize pool. 
It's possible to win the jackpot by playing any of the games which feed the progressive jackpot. This tends to produce much bigger prizes, as more people contribute to the kitty. However, if another casino also offers these games, they will have their own unique jackpot. 
Networked
These are some of the biggest progressive jackpots around. Not only are there multiple games from an individual casino contributing, but many different casinos feed in too. In fact, these networks often spread across different countries, leading to enormous prize pools.
The classic example is Microgaming's Mega Moolah series of jackpot games. They have repeatedly broken world records for the largest casino payouts because the network extends across multiple continents, including land-based casinos.
Must Drop
An interesting twist on the classic jackpot slot, "Must Drop" jackpots are guaranteed to pay within a specific period. It might be a set time limit, like Red Tiger's Daily Drop Jackpots, or it could be a fixed monetary value. Either way, the jackpot is guaranteed to be won before the deadline hits.
Naturally, these jackpots don't tend to become huge as they are won so frequently. Of course, every time someone scoops the jackpot, it reseeds to ensure there's always something to be won.
What Happens When a Progressive Jackpot Pays Out?
Every slot machine is different, with its own rules, features and bonuses. But in order to win the jackpot, something specific needs to happen and that almost always involves a bonus game.
For instance, take a look at any slot involving Big Time Gaming's popular Megapays™ mechanic. We'll use Who Wants To Be A Millionaire Megapays™ as an example. 
Megapays™ Explained
As you spin the reels, the letters in the Megapays™ logo will change colour. If you manage to fill in the entire word, the Megapays™ bonus feature will activate. This is the first step to winning the jackpot.
At the beginning of the game, a regular symbol is randomly selected. This becomes your key to unlocking the jackpot. Once the free spins kick off, you're hoping that your chosen Megapays™ symbol appears. If you can find at least four of these symbols, you're guaranteed to win one of the progressive jackpots:
4 to 7 symbols: Mini Jackpot;
8 to 11: Midi Jackpot;
12 to 14: Major Jackpot;
15+ symbols: Mega Jackpot.
Of course, Megapays™ slots are just one example of a progressive jackpot mechanic. Every game has its own set of features and bonuses, such as the Jackpot Wheel in Mega Moolah or the DD blocks in Dream Drop slots. As such, it's important to make sure you've read and understood the rules of each game before playing, to avoid potential disappointment. The guides found on our site will undoubtedly help you too.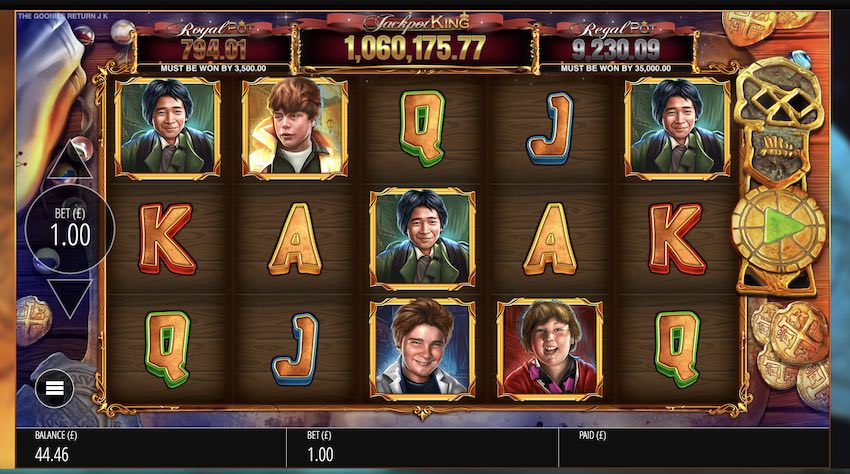 How Much Can I Win on a Progressive Jackpot?
Again, each progressive jackpot slot or network is completely unique. As such, the prizes can vary wildly. 
At the higher end of the scale, you have the Mega Moolah series by Microgaming. In April 2021, one lucky player in Belgium dropped a jackpot of €19,430,723.60! This world record for the largest payout came courtesy of the Absolootly Mad™: Mega Moolah game.
Another network of progressive jackpot slots is the WowPot series, including popular titles like Wheel of Wishes: Wowpot. Also in April 2021, a whopping jackpot of $15,183,085.96 was paid to a 32Red player through the Book of Atem: WowPot slot.
Of course, winning these gigantic sums of money is very difficult. It's thought that the odds of hitting the biggest Mega Moolah jackpot are 1 in 49,836,032. And that's why many players favour games with smaller progressive jackpots. There are still significant prizes to be won, but your chances are greatly improved.
Tips on How To Win a Progressive Jackpot
Like all casino slots, progressive jackpots are completely random. As such, there's no way to guarantee you'll win a prize. However, there are certainly some tricks you can employ to increase your chances:
Bet the maximum. This is absolutely crucial. With some slots, if you don't play with the maximum possible wager size, you aren't even eligible for the jackpot. But if you are, your chances are greatly diminished when playing at smaller stakes.
Consider smaller jackpots. Not every game offers eight-figure prizes. Focusing on games with smaller jackpots increases the likelihood of winning. Not only are your odds more favourable, but there are fewer competitors who might beat you to it.
Ready to drop. With many progressive jackpot slots, you have no idea when the prize will be won. But there are "Must Drop" games which tell you exactly when the payout is near. So if a jackpot is imminent, now is the time to play!
Use casino bonuses. All casinos provide welcome promotions and loyalty offers, giving players bonus credits and free spins. Check to see if you're able to play progressive jackpots through these deals. If so, you have a chance to win for free!
Manage your bankroll. Money management is the key to success with any form of gambling. Progressive jackpot slots are no exception. Set aside a fixed amount and walk away if you lose. Never chase losses or use money earmarked for everyday life.
Popular Progressive Jackpots in the UK
There are lots of different progressive jackpot slots available at online casinos, all of which offer immersive gameplay and sizable rewards. We'll discuss some of the most popular games in the following section.
Mega Moolah 
Microgaming's immensely popular series is arguably the most famous of all progressive jackpot slots. In addition to the original Mega Moolah, there are seven other titles which feed into the prize pool. These include Juicy Joker, The Witch's Moon and Absolootly Mad, which is responsible for the biggest ever progressive jackpot win.
Since launching in 2006, the Mega Moolah series has awarded more than €1.3 billion in prizes. The games are colourful and entertaining, though the overall RTP is quite low at 88.12%.
Wheel of Wishes Wowpot 
In addition to Mega Moolah, Microgaming also owns the popular Wowpot collection of progressive jackpots. There are eight games in total, each with a unique and enticing theme. But Wheel of Wishes: Wowpot, released in February 2020, is perhaps the most popular.
Wowpot jackpots are noticeably smaller than some other progressive slots, but that only serves to increase your chances of winning. The 93.34% RTP is considerably higher than Mega Moolah, for instance. But the biggest payout to date from Wheel of Wishes is still an impressive €517,862.41. 
Mega Fortune 
Using a classic 5 reel by 3 row grid layout, Mega Fortune has a somewhat "old-school" feel to it. First released back in 2009, the visuals do feel a little dated and the gameplay mechanics are somewhat basic. However, for many slots lovers, this is all part of the game's charm. 
It's easy to pick up and play and the game offers a nostalgic vibe. But above all, it pays out big! In 2013 for instance, one lucky Finnish player bagged a mighty jackpot worth €17.8 million while playing Mega Fortune.
Bonanza Megapays™ 
Big Time Gaming's Megapays™ mechanic offers players a shot at winning four different progressive jackpots. Trigger the bonus game to win free spins and accumulate as many Megapays™ symbols as you can. 
A minimum of four Megapays™ symbols will secure you the smallest bonus, while 15+ earns you the big prize. This Mega Jackpot seeds at €300,000 so you're guaranteed a six-figure prize if you're lucky enough to win. And what's more, Bonanza Megapays™ offers a very generous RTP of 96.40%.
The Goonies Return Jackpot King 
Fans of classic movies will love this Blueprint Gaming title, with a relatively generous RTP of 93.55%. Enjoy Truffle Shuffle Wilds, Fratelli Free Spins and Booby Trap bonuses while hunting down the elusive One-Eyed Willy Riches.
The Goonies Return is a local jackpot, so each individual casino will have its own prize pool. Be sure to look around different sites to identify the best possible jackpot amount.
Temple Tumble 2 Dream Drop 
Relax Gaming introduced its Dream Drop Jackpots in March 2022, with Temple Tumble 2 the first title in the series. And they wasted no time in making millionaires, as three people secured the biggest jackpot before the year was out. In September, an Irish player scooped a healthy €1,486,291.47!
The Dream Drop Mega Jackpot seeds at €500,000 and becomes "Must Win" once it hits €1,000,000. Temple Tumble 2 specifically is a high volatility game, with an RTP of 94.80% and a theme of exploration and adventure.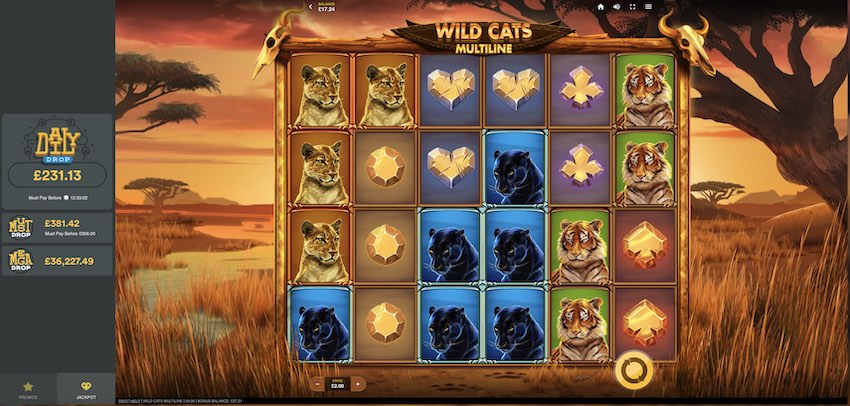 Top 10 Progressive Jackpot Slot Games
Where To Find The Best Progressive Jackpots
If you're looking to play some progressive jackpot slots, you'll first need to choose a casino. Our directory of the best online gambling sites will help identify the best option for you. But once you've settled on a casino, you'll then have to locate the games themselves.
Although every casino lobby has a unique layout, the progressive jackpots are usually situated under their own specific tab. If there isn't a dedicated section for such games, it's best to try the slots section. If you already know the specific slot you want to play, you can always type its name directly into the search bar. 
Not every casino will offer every progressive jackpot game, however. So we'd advise you to read the guides on our website first, so you know exactly what you're looking for and where to find it. If you want to play Dream Drops by Relax Gaming, for instance, our guide tells you exactly which casinos you need.
Should I Play Progressive Jackpots?
This is very much a personal decision. It all depends on the type of casino game you enjoy playing, your tolerance for risk and the size of your bankroll.
Here are the pros and cons of progressive jackpot slots.
Enormous, life-changing prizes.
Low odds of winning the biggest sums.
Often have more interesting gameplay mechanics than regular slots.
Not always allowed to use casino bonuses on these slots.
Wide range of engaging themes.
Lower than average RTP rates.
Conclusion 
It's easy to see the appeal of progressive jackpots. If you're a fan of casino slots, it makes sense to play those which offer the chance to change your life. Not to mention the selection of colourful themes and engaging bonus games these slots tend to offer.
If you're ready to shoot for the biggest prizes, be sure to check out our recommended casinos. These safe and secure slot sites offer a wide range of the latest progressive jackpot titles for you to enjoy. Not to mention some extremely generous welcome offers, including free spins on selected titles.