Play Bison Battle At These Slot Sites
About This Slot
Push Gaming stake their claim to a regular stomping ground for slots providers in their latest video slot release, Bison Battle. There is certainly no shortage of American prairie-themed games like this one on the market right now. For comparison, slot studios like Pragmatic Play have produced a number of quality slots recently mixing native American imagery and wildlife – check out Buffalo King and Bronco Spirit both of which bring some good high-risk gameplay and are well worth a spin if that is your thing. For their part, Push of course are no strangers to high risk slots action with big potential having built a following by producing games like Fat Carrot, Wild Swarm and Tiki Tumble. Indeed, their reputation for compelling, potentially very rewarding slots is well-deserved.
And Bison Battle does not disappoint!
It's got everything we expect from this studio, mixing high production values and great entertainment. On loading up the artwork is outstanding, transporting players to a dusty canyon landscape. The reel set itself sits in a latticed wooden frame with native American articles including arrows, tomahawks, spears and feathers catching the eye. But what is more exciting still is that with the various bonus rounds the backdrop changes, bringing mountains, green valleys and icy peaks to the screen to depict winter and summer in the wilderness.
It's a kind of immersive format that sets the scene for a really entertaining experience that you can find at most of the slot sites in our listings.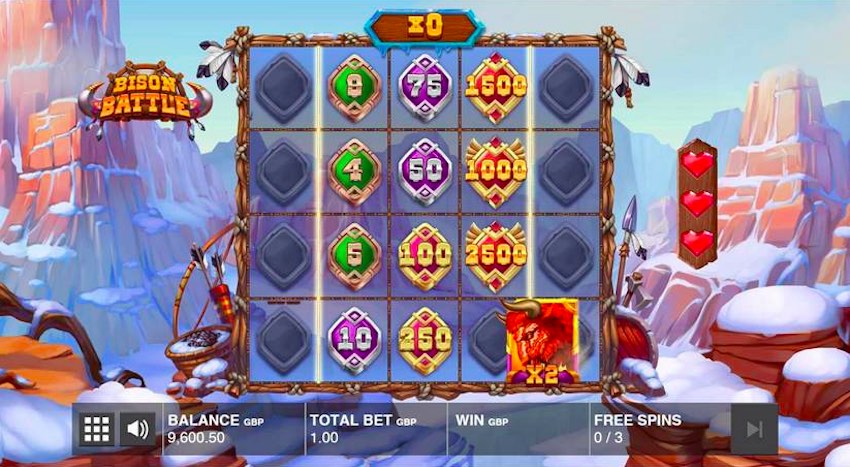 RTP, Variance and Top Payout
As we know, the Bison is a highly volatile beast and so it is in this game. The various features we describe have the potential to trigger some really exciting win sequences, but like any high-risk game, Bison Battle can also throw up some very frustrating sessions, giving some massive ups and downs in payouts.
The RTP is set at 96.4%, which is slightly over average for the industry. This can be raised further to 96.58% (Green Valley) or 96.69% (Ice Park) by buying into either of the bonus features (outside the UK only) while the 10p minimum bet offers an entry point for those who are more risk averse but still want a crack at bringing down the beast.
The very luckiest players might be able to uncover the 50,000x stake top payout, though you'll need to hit plenty of high value Multipliers and instant win coins during the special features to trigger this. And note that the odds are well over 1,000,000 to 1 to hit that jackpot!
Symbols and Graphics
The symbols in Bison Battle include these North American animals: the bison, eagle, bear, cougar and wolves, along with card suits to award the lower payouts. There are 4 rows of symbols and you will need to land at leat 3 matching symbols running from left to right starting from reel 1 to enjoy a payout. The animals can award from 10x to 50x stake for 5 of a kind, while the card suits can award 2x stake for 5 matches.
The golden bison is the Wild symbol and this can substitute for all the other symbols in the game to boost your potential wins. The red, green and blue bison are Scatters and can trigger the special features, including the exciting Bison Clash.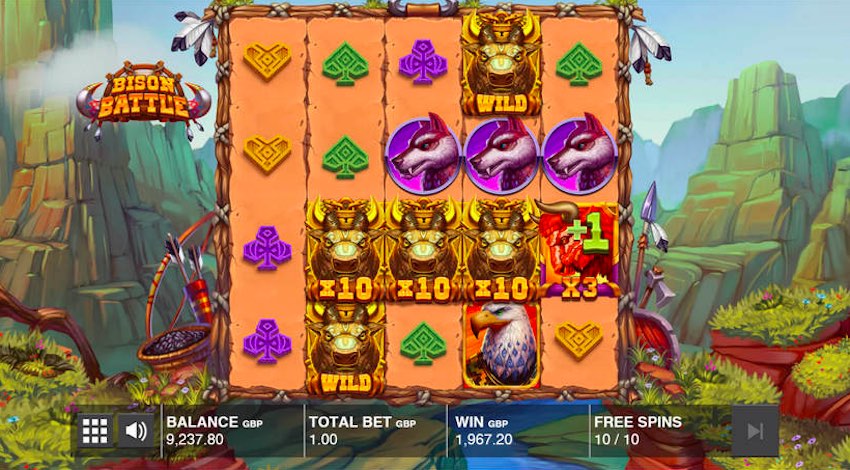 What We Like
Beautiful North American wildlife art
Superb Bison Clash Feature
Sticky Wilds with Multpliers
Free Spins with Multipliers
Huge 50,000x stake top payout
Gameplay and Features
The gameplay in Bison Battle will take some getting used to, but once you've played 20 or 30 spins you'll have a good feel for it. Really its all about landing the colored bison and mixing up instant win coins and multipliers.
Here is how it works.
Bison Clash
When Red Bison symbols land on reel 1 and 5 in the same row, the Bison Clash feature is triggered. This awards an instant cash prize along with a Multiplier. Landing a red bison on reel 1 can trigger an instant prize of 5x, 10x, 25x, 50x, 100x, 250x, 500x, 1,000x, or 2,500x stake, while a red bison on reel 5 delivers a multiplier of up to 10x stake.
If a red bison lands on reel 1 or 5 without one on the same row on the other end of the reels set then it moves to the left or the right one reel with each spin until it falls off the end.
Green Valley Feature
Landing a green bison on reel 1 and a red bison on reel 5 both on the same row will trigger the Green Valley Feature.
You will receive 8 Free Spins with Sticky Wilds appearing on reels 2, 3 and 4. The red bison can award Multipliers up to 10x along with an extra Free Spin when he lands. In a really neat touch, if the red bison lands on a reel with sticky wilds, he charges across the screen, adding Multipliers to each of them!
In Bonus Buy mode the Green Valley Feature can raise the RTP up to 96.58%.
Ice Park Feature
Landing a blue bison on reel 1 and a red bison on reel 5 both on the same row will trigger the Ice Park Feature.
This will trigger 3 Free Spins with coin symbols on reels 2, 3 and 4. The bison with Multipliers can land on reels 1 and 5. Coin symbols lock when the land and re-set the spins count, whilst Bisons will reset the Free Spin counter AND charge down their row, applying their multiplier to all coin values they come into contact with.
In Bonus Buy mode the Ice Park Feature can increase the RTP of the game to 96.69%.
Our Verdict
Bison Battle by Push Gaming is a superbly-built, fast-paced slot with really strong features and a theme that makes great use of North American wildlife and some atmospheric landscape.
In particular, amongst the features we really enjoyed watching the bison charging across the screen to apply multipliers to the symbols it comes into contact with. But of course, the most exciting features is the Bison Clash for its potential to drive up massive wins – if you are going to get anywhere near that 50,000x top payout it will be through a might combo of instant win and multipliers – the 2,500x coin will be one to be coveted!  The usual word of caution though – Bison Battle is massively volatile slot, so is it of course is best suited to those with the balance to absorb a long lean spell while waiting for decent payouts.
In summary, due for release in January 2022, this is a New Year treat for fans of wildlife themes and high volatility spinning.
Useful Resources

9.0
Awesome!
A compelling mix of great artwork, two slick features and the potential for multipliers and fixed win coins to deliver epic wins!