Play Money Mariachi Infinity Reels At These Slot Sites
About This Slot
The Mexican Day of the Dead provides fine inspiration for slots developers over the years. Fans of Thunderkick's glorious Esqueleto Explosivo 1 and 2 will know how the glorious sounds, colors and narratives of these unique celebrations of passing to the other side can be utilised to create stunning graphics and soundtracks as well as weave some magic into the gameplay of any video slot. So, it's with excitement that we load up ReelPlay's latest Infinity Reels games, a format that is starting to gain traction after a stuttering start.
If you've played one of these games before then you may be getting used to features like the 888x Infinity Bonus if you can land 12 reels, and the progressive multipliers that come with every win. And just like others in the series, Money Mariachi Infinity Reels theoretically allows a player to add an infinite number of reels to the gaming grid during a win sequence, improving the paytable with each go. In this case ReelPlay have added a number of extra features to forge a compelling and fun game, a smooth and intriguing slot with attractive visuals and a strong soundtrack.
Money Mariachi Infinity Reels is expected to land at UK slot sites in mid-January 2022. A great way to start the new year!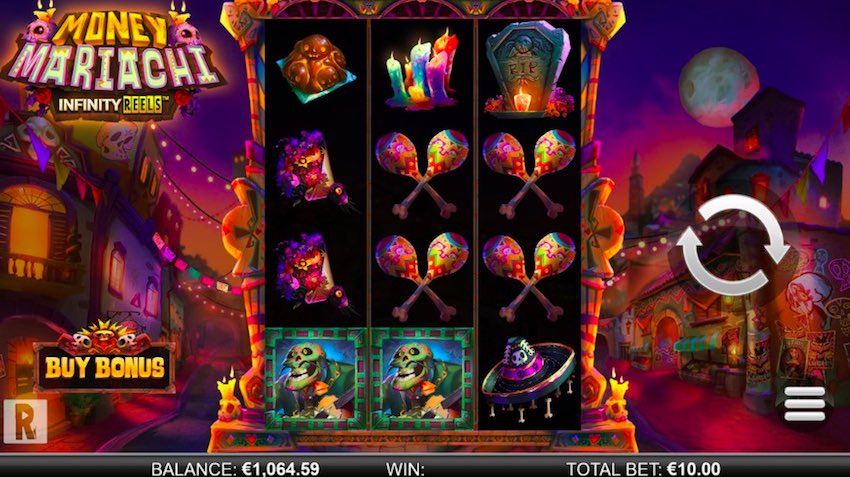 RTP, Variance and Top Payout
In terms of maths, as you would expect from a game with an expanding reels format, this is not going to give you low-grade casual slots play. Instead, it's a high variance roller coast ride, built for risk takers looking for their next thrill ride. And that, combined with a 20p minimum bet means that those with low budgets looking for an easy time should steer clear.
The RTP is set at 96.19% which is bang on average for most slots these days, so nothing to complain about. And the top payout of 50,000x stake is available for players who manage to activate higher numbers of reels along with the Progressive Multipliers, which are added automatically with each extra reel. Remember of course that hitting a 50,000x win is extremely unlikely. Wins in the 1,000x to 10,000x range are more realistic, and even then only on a very luck streak.
The hit rate is advertised as 26.25% which gives you a win roughly every 1 in 4 spins on average.
Symbols and Graphics
Money Mariachi is a good-looking game for sure. The backdrop of a festival at night is illuminated with glorious purples, reds and oranges, and on the reels the icons are super-cool.
The money symbols include the lower paying ones, which are the fluorescent objects, hats, maracas, gravestones and candles. The higher payouts come from the ghoulish characters. You will also find guitars as the Wild Symbols and shrines as the Scatter symbols, which can activate the Level Up Respins feature. You need 5 matching symbols or more to form a winning combination, running from left to right.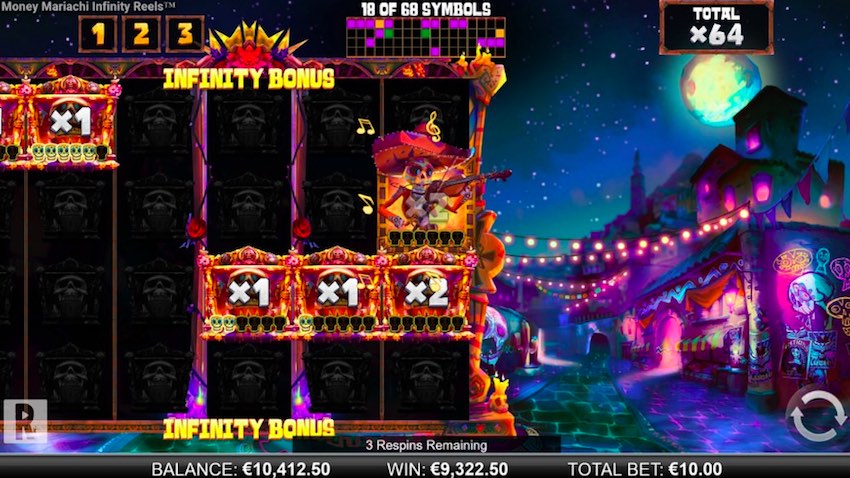 What We Like
Colourful Day of the Dead theme
Infinity Reels and Infinity Bonus
Wild Symbols
Lots of Level-Up win enhancements
Glorious artwork and icons
What We Don't Like
Extreme volatility could be too risky

Gameplay and Features
Alongside the standard Infinity Reels are the Level-Up Respins which deliver enhanced wins when they are in play. Here is how it all works.
Infinity Reels
Money Mariachi Infinity Reels uses the infinity Reels mechanic, which means that although the game starts with only 3 reels and 4 rows of symbols, it can expand potentially forever. This potential to reach an infinite number of reels means there is also the potential to reach an infinite number of paylines. The expansion happens whenever you land a win that involves the rightmost reel. Now, another is added to the grid, whilst at the same time, your win Multiplier increases by 1x. Once you get a payout, the grid returns to the default 3×4 size.
Infinity Bonus
If you manage to create a grid with 12 reels, you will receive an Infinity Bonus of 888x stake. This can occur at any time, whether in the main game or bonus round.
Level Up Respins
Landing 3 or more shrine Scatters will trigger 3 Respins with the shrine symbols held in place on the reels. The shrine Scatters have a value of 1x to 10x stake, while hitting more shrines will trigger another 3 Respins. Filling an entire reel with Scatters will add another reel to the grid. On every Respin, the shrine, booster or charmer symbols will gain a skull. When they have collected 6 skulls, they Level Up and increase the prize to 1x – 10x stake.
When the shrine Levels Up it can turn into one of these symbols:
Grower – Levels Up on each spin with 1x – 10x stake reward. Growers can get hearts from the Charmer symbols, which Level Up the Grower each spin.
Freezer – freezes the Respins for 2 Respins then turns into a shrine symbol
Booster – boosts all adjacent shrines by 1x to 10x each time it Levels Up
Charmer – reduces the number of skulls needed to Level Up by 1 and adds a heart symbol to Grower symbols on every Level Up.
Our Verdict
Money Mariachi Infinity Reels is another Day of the Dead slot but with an impressive array of visuals and features that at least makes it a match for games like Esqueleto Explosivo. The fluorescent symbols, fun soundtrack and mysterious design create a wild atmosphere, and in terms of look and feel, ReelPlay really deliver in style with this one.
Regarding maths models and wins, the best action happens with the Level Up feature which whilst complex, certainly keeps the gameplay interesting as well as boosting your wins significantly. Meanwhile, the Infinity Reels feature is always attractive, although we should note that it's rare to manage to string that many reels together and the Infinity Bonus of 888x whilst tempting will be a rarity itself. Hence the large prize! Nevertheless, even if you only manage to add a few extra reels, the Progressive Multipliers here can make a good difference to your payouts.
And for those with their eyes on the jackpot, hitting the 50,000x top payout is more than a million to one outside shot and would take an incredibly long time (and huge balance) to achieve. So be realistic when you load this one up.
Overall, this is certainly a risky play but is one we recommended for fans of Day of the Dead celebrations who enjoy some high volatility spinning along with their glowing visuals and ghoulish imagery.
Useful Resources
ReelPlay Website With Game Profiles