Play Book of Slingo At These Slot Sites
About This Slot
The growth of real play Slingo in the UK in recent years has been accelerated by some canny game formats developed by brand custodians, Gaming Realms and their in-house studio, Slingo Originals. Partnering up with NetEnt to produce Slingo Starburst and Scientific Games for Slingo Rainbow Riches has helped grow the profile of the bingo-slots hybrid in the UK, attracting more fans of traditional online slots. And the journey continues with this clever version of Slingo that ties in with the popular Book of … series.
Most regular slots players will be familiar with games like Book of Ra from Novomatic, Book of Dead by Play n Go, and the more recent Book of Shadows by maverick developers, No Limit City. The standard story is an ancient Egyptian theme and a simple slot where in the free spins round one symbol is chosen as the expander. Whenever it lands, it expands to fill the whole reel and sticks in place. This can produce big, big wins when the expander symbols is high in the paytable.  Typically, Book of … games are high variance and offer big potential.
In this instance, Slingo Originals have added the slot on as a bonus round for those who score 8 or more Slingos, or a feature triggered by landing 3 scatters in the main Slingo game. It's much like Slingo Lobstermania and Slingo Starburst in that respect. You can find a Slingo Site to play at right now or keep reading to learn more about how to play this game and what you can win.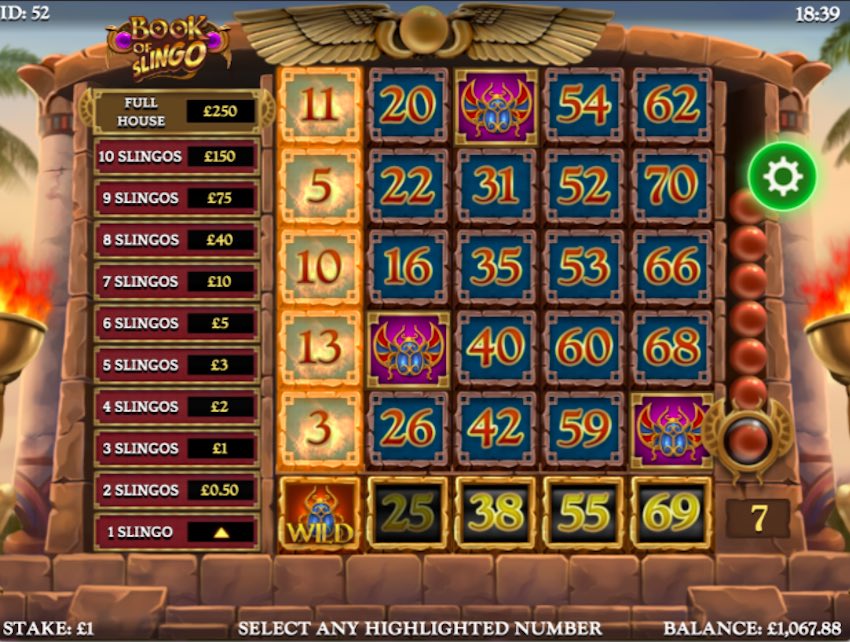 RTP, Variance and Top Payout
We said that games like Book of Dead are typically high variance but in this instance Slingo Originals have toned down the volatility to a medium range. Some slots fans may find that a little disappointing, but it is generally more in keeping with other Slingo games we have reviewed. The RTP is 95%, again a little lower than most slots but more in line with Slingo.  And the top win is thought to be around 500x.
Symbols and Graphics
In the Slingo games itself, played out on a 5×5 grid, the reel set underneath will display numbers and several special symbol that can help you to complete Slingo lines. Here is how they work:
Wilds – when one lands you can mark off ANY number in the line on the grid vertically adjacent to it.
Super Wilds – when these land you can mark off ANY number ANYWHERE on the grid.
Scatters – look out for these as three on one Slingo spin will get you automatic entry into the Book of 5×3 slot.
Free Spins – one of these dropping adds an extra spin to your total. The game starts with 10 spins.
If you manage to unlock the Book of Slingo slot then you will be presented with a standard 5×3 reel game. There are the usual selection of card symbols from 10 to Ace as well as the premium value Egyptian symbols including Egyptian Gods and an Eye of Horus. Before your spins start, one of the symbols will be chosen as the expander. The higher the value of that symbol, the better your chances of scoring big wins, as we are about to find out!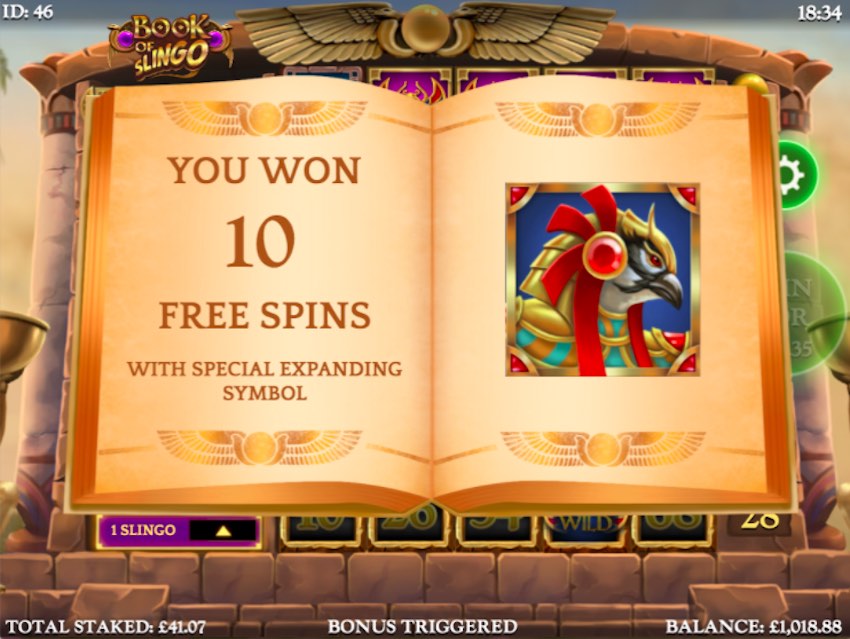 What We Like
Classic Book of ... slot game format
Chance to gamble to reach a Full House
High value expander symbols
Medium variance gives broad appeal
Excellent graphics and animations
What We Don't Like
Not many interesting features

Gameplay and Features
Base Game 
Let's start with the basics of Slingo. Almost all Slingo games work like this. When you load up the game you are presented with a 5×5 grid, in this case with an Egyptian design around the edges and the backdrop of a Temple and palm trees. Beneath the grid is a 1×5 reel which spins to reveal 5 random numbers. After each spin you can cross off numbers on the grid that match those on the reels. You get 10 spins in total.
The objective is to complete lines of crossed off numbers vertically, horizontally or diagonally. This is called a Slingo. For each one completed, one extra step on the prize ladder to the left of the grid is earned. The objective is to complete all 12 possible Slingos – a Full House for the maximum prize.
In Book of Slingo there are no prizes for 1 Slingo, but for 2 or more you receive the following:
2 Slingos – 0.5x
3 Slingos – 1x
4 Slingos – 2x
5 Slingos – 3x
6 Slingos – 5x
7 Slingos – 10x
8 Slingos – 40x or bonus play on Book of Slingo Slot
9 Slingos – 75x or bonus play on Book of Slingo Slot
10 Slingos – 150x or bonus play on Book of Slingo Slot
12 Slingos: Full House – 250x or bonus play on Book of Slingo Slot
Note: For the bonus plays on the slot, a symbol is pre-determined as the expander. The more Slingos you have, the better the value of the expander symbol. For a Full House your free spins will come with the highest value symbol being the expander.
Spin Gamble for More Slingos
The Spin Gamble is a feature of most Slingo games. When you have used up your 10 spins on the Slingo game, if you haven't yet reached the Full House – and most times you won't – then you can choose to buy more spins to keep playing. This feature has caused some consternation amongst Slingo players as the cost of buying spins is very high. That is because with less numbers left on the grid, your odds of completing all 12 Slingos are better.
So, weigh up the situation and choose carefully. Sometimes extra spins are just too expensive to be worth the risk. But of course, the choice is yours!
The Book of Slingo Slot Game Bonus
So, there are two ways to enter the slot game. Either by landing 3 or more scatters on the reel beneath the Slingo grid, or by climbing to 8 or more Slingos on the prize ladder. What you get depends on the event that triggered the slot.
For 3 scatters you get 10 spins with a random expander symbol. For 4 scatters you get 10 spins with a premium expander symbol. And with 5 scatters you get 10 spins with the highest paying expander symbol.
For 8 or more Slingos you get 10 spins each time and once again your expander symbol depends on the trigger. For 8 slingos it's the Horus, for 9 it's the Sebek, for 10 it's the Anubis, and for 12 it's the Eye of Horus (most valuable).
The Book of Slot also comes with the chance to re-trigger the free spins an unlimited number of times by landing 3 or more scatters on the reels. 3 scatters gets you 10 extra spins, 4 gets you 15 extra spins, and 5 gets you 20 extra spins.
Our Verdict
Slingo Originals have done a fantastic job of mixing their game with some classic slots, in particular with their recent Lobstermania Slingo. In this instance, the gameplay is good and the slot has been well built and designed but it all feels a bit too formulaic for our tastes, with the slot just tacked onto the end of your Slingo round without much imagination going into the bonus round possibilities. However, for anyone who enjoys games like Book of Dead and others in the series, the chance to enjoy the slots classic free spins round in a different setting will be intriguing. Some may be a little disappointed at the lower variance than usual but keep in mind this is built for Slingo players rather than high risk slots fanatics.
In summary, a fun, if a little generic addition to the growing catalogue of Slingo games to be enjoyed by bingo and slots fans alike. Good luck and have fun spinning!
Useful Resources
Slingo Originals Game Profile Page