Play Elysian Jackpots At These Slot Sites
About This Slot
Arriving in our casinos in February 2023, Elysian Jackpots is the debut slot in Yggdrasil Gaming's new Fastpot5 series featuring FIVE progressive prizes. It has a pleasant vibe and bucks the current trend of high-risk action. Indeed, you can easily drift away in this game which also runs at a rare low variance pace. No drama … at least until you hit the top progressive jackpot seeded at £15,000.
Elysian Jackpots Test Highlights – Free Spins Round
Theme and Artwork
If you are tired of helter skelter high variance slots with all action or horror themes, then Elysian Jackpots is a good place to take refuge.
Elysium is where heroes were taken in the afterlife in Ancient Greek mythology. And Yggdrasil have done a great job of invoking that place – it's all gentle music, mountaintop mists, lush green vegetation and great stone pillars and staircases. Its epic, but on in a laid back way, and one that will be nice for a few spin in a quiet moment rather than one of those intense sessions trying to unlock the big wins in the latest volatility monster.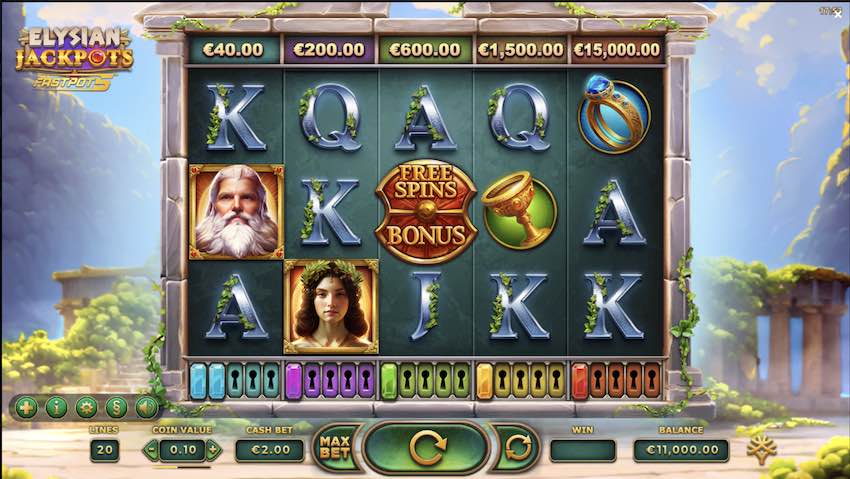 RTP, Variance and Top Payout
Elysian Jackpots has 4 RTP settings – 96%, 94%, 90.5% or 84%. It is at the discretion of your casino operator which level you play at. We recommend that you check the game information screen after loading up the game to verify what setting the game is on. Most UK slot sites will run at 94%.
NOTE: In this game, 3.8% of every £1 wagered goes into the jackpot pool so the RTP will feel lower than it is.
This is a low variance slot so you can expect a regular flow of small wins and feature triggers, making it a suitable choice for casual slots fans, not just high risk maniacs!
Top Payout
The top payout from normal play in Elysian Jackpots – 1,265x – is very small but it reflects the low variance of the game and the fact that there are progressive prizes to play for. So, making up for that shortfall are the five progressives which are seeded at €40, €200, €600, €1,500, or €15,000.
Symbols and Graphics
Elysian Jackpots is a standard 20 payline slot with 5 reels, 3 rows and 20 paylines active on every spin. Landing wins is easy enough too – they are triggered by landing three or more identical symbols across the reels from left to right.
Despite its low value top payout, Elysian Jackpot has some really good value in the payable. Even the lowest value cards – Jack, Queen, King and Ace – will you get you up to 10x for five on a line. But is the premiums that impress the most – a ring, goblet, queen and king. Five of these earn you wins of 37.5x, 50x, 100x or 200x.
Elsewhere your eyes should be peeled for the scatters which unlock the bonus game.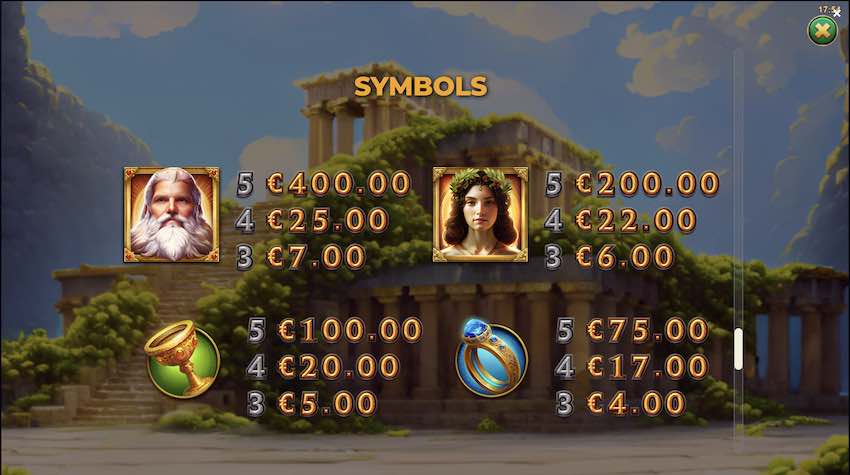 What We Like
Very relaxing soundtrack and design
Collecting keys keeps you engaged
£15k top jackpot seed
High value paytable symbols
Regular wins at low variance
What We Don't Like
Slow gameplay was repetitive

Gameplay and Features
Elysian Jackpots has a strong progressive element to its gameplay, not just in the jackpots themselves, but also in how they are unlocked by collecting keys throughout the base game and free spins rounds.
The overall goal is to collect FIVE gems of the same color. There is one color for each jackpot. But you can only collect gems by unlocking the free spins rounds where they drop on the reels.
To unlock the free spins round you either need to collect FIVE keys of the same color OR land 3 or more Shield Scatters. During free spins ALL wins get a 3x multiplier and the 5 jackpots you play for are as follows:
5 Blue keys – seeded at £40
5 Green keys– seeded at £200
5 Violet keys – seeded at £600
5 Red keys – seeded at £1,500
5 Orange keys – seeded at £15,000
Other ways you can win in Elysian Jackpots are the Pick n Click round unlocked by 2 scatters where you pick from 4 vases to reveal prizes of free spins or 1x to 4x the bet; Treasure Chest bonus unlocked by 3 scatters in which you pick from three chests to reveal a prize of up to 100x or one of the jackpot keys.
Our Verdict
On paper this looks like a great slot – fun gameplay where collecting keys and gems unlocks big jackpots and a warm, ethereal theme. However, in reality we found it all a bit boring. Maybe it's from playing too many high-risk slots from the likes of NLC or Hacksaw, but the gameplay just didn't excite. Low value wins in the 1x, 2x range were frequent and a few times over a 20-minute session we landed 2 scatters to trigger the pick me round. However, we only picked up an extra key or another low value win from that bonus.
After 15 minutes we did at least unlock the free spins round after collecting 5 red keys and then the five progressives were up for grabs. Of course, we didn't strike it lucky, but the 3x multiplier applied to every win during those 10 spins helped unlock an 12x total. You can see this in our highlights video at the top of the page.
In summary, this is not a game for high variance fanatics but rather low risk players looking for casual spins and the hope of triggering a nice progressive win.

6.0
Fair
A nice theme and gentle pace will appeal to casual slots players seeking out a nice progressive win!