Play Mad Cars At These Slot Sites
About This Slot
Mad Cars made us think of two things immediately on reading the game profile from slot producer, Push Gaming, and loading up the game: Max Max, the film franchise, and Money Train, Relax Gaming's now infamous and high innovative, high risk Western slot. The graphics, characters and setting all invoke the punk-ish stylings and anarchic narrative of George Miller and Byron Kennedy's 70s and 80s movies starring Mel Gibson. We're talking crazy looking guys and girls with punk haircuts, probably high on gasoline, racing through the desert in search of resources screaming as they go. Meanwhile, the gameplay has more than a hint of Money Train about it, with a similar focus on multipliers that can be activated by a booster reel which causes 'Persistent' events in the bonus round (sound familiar?!).
But this is no copy-cat slot. Push, whose genius has created classics like Fat Rabbit, Wild Swarm and Jammin' Jars, have taken inspiration from their peers and given it their own unique twist. What you can be sure of is that this is a wild ride with a super-high variance and the potential to go super nova in the bonus round where progressive events can lead to combining multipliers and the chance of hitting that 25,000x top win.
We just ask that you pay close attention during this review, because Push have made things quite complex. We're not quite on the level of a No Limit City slot for feature-overload, but it you do need to concentrate to figure out how things work on the first few spins.
So let's buckle up for the ride. Official release date is August 10th 2022, after which point you'll find this game at any of the slot sites we list where Push Gaming titles are available.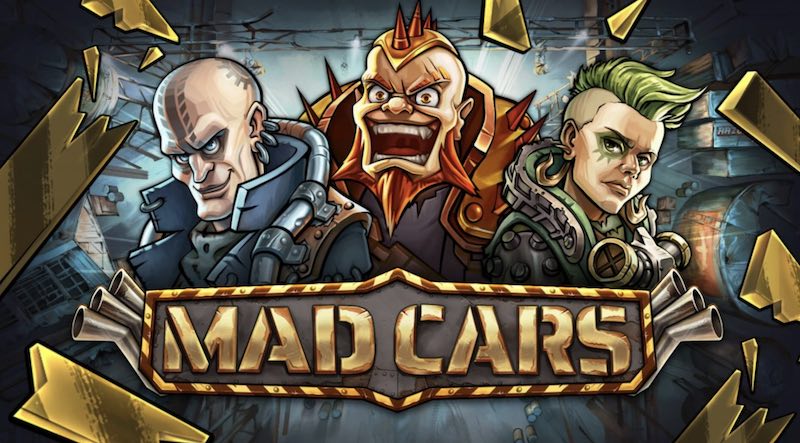 RTP, Variance and Top Payout
Variance for Mad Cars is high. The RTP has a default setting of 96.39% but Push Gaming slots have a variable RTP and depending on your location and operator, you may find the return set anywhere between 88.49% and 96.39%. We recommend you check in the settings of the game before you start spinning to be sure you are getting the best value.
Spins start at just 10p per play and you are looking to land at least three identical symbols on a payline from left to right. The top payout of 25,000x is possible in the bonus round as we shall explain.
Symbols and Graphics
The action in Mad Cars takes place in a run-down industrial site. There are 5 reels each with 6 rows which also form 5 racing tracks when the Instant Prize Cars are activated during the game. At this point, the night falls in an effective scene-change to accompany a bonus round. There is also intense industrial noise to accompany your spins. It's all very atmospheric!
The lowest paying symbols are split traffic cones, wrenches, steering wheels, and two green dice. The premiums are made up of some crazy racers with maniacal grins, in greens, blues, purples and reds. Your bet will be multiplied by 20x to 100x if you get five on a line.
There are no wilds in this game, but scatters and instant car prizes with multipliers are central components of the gameplay as we explain next.
What We Like
Tense, crazy atmosphere and graphics
Huge win potential and multiplier combos
Super high variance for risk takers
Persistent payer and collector combos
Guaranteed FIVE cars in bonus round
What We Don't Like
Very like Money Train 2
Too risky for some players
Not for traditionalists!

Gameplay and Features
Mad Cars plays like a normal slot game to start, with 50 paylines to score wins across. But things get interesting when Instant Prize Cars land on the bottom row triggering races to the top of the reels to unlock multipliers. Alongside this is a free spins round where you are guaranteed to get FIVE of these prize cars with re-triggers available. It takes a while to get used to the format, but once you do, it's great fun. Here's how it all works:
Instant Prize Cars – these land on the bottom row always. They carry a multiplier of 1 to 100. To unlock that multiplier, the car must move to the top of the reels and over the finish line. More than one can land at once, creating a kind of race. When one reaches the top of the screen, the others all drop off.
Boost Reel – this extra row sits above the grid and displays a modifier on each of its five reels. When an Instant Prize Car sits on the reel beneath, the boost reel modifier is activated and the car responds. There are FOUR modifiers:
Multiplier – multiplies the value of the card by 2x to 100x.
Gas – moves the car between 1 and 6 moves forward.
Multplier AND Gas – multipliers the value AND gives it GAS.
Survivor – a car with a survivor modifier will NOT drop off the reels if another reaches the top first.
Scatter Cars – like Instant Prize Cars, Scatter Cars can also land on the bottom row at any time. And like Instant Cars, they too race to the top of the screen. The difference is, when they reach the top, they trigger a fixed 10x multiplier AND the Mad Bonus round.
Mad Bonus Feature – This is your free spins round. You get 7 free spins to start. But the whole reel experience is now enhanced as follows:
You are GUARANTEED to start with FIVE Instant Prize Cars, one per reel.
Each time a Prize Car makes it to the top, you get a new one appear at the bottom AND an extra spin is given.
The Boost Reel is given some adjustments and new modifiers are added, and the Survivor is taken away.
LINE UP – when one Instant Prize Car is awarded a line up, all other cars are brought level on the same row.
PERSISTENT PAYER – cars with Persistent Payers will always give their values to ALL other cars after every spin in the round.
PERSISTENT COLLECTOR – cars with Persistent Collectors will always take values from ALL other cars after every spin in the round.
PERSISTENT PAYER AND COLLECTOR – these cars are gold dust!!! After every spin, this car gives its value to all other cars on the track, then collects the values from all others!!
Mad Race Feature – this one randomly triggers after the last spin in the Mad Bonus round. If it does, all the cars race to the top and their prizes are collected.
Our Verdict
That is pretty intense stuff we are sure you will agree! Complex at first, but once you get into the rhythm of this game its quite easy to understand. You are just looking to get those cars with their multiplier over the line at all points in the game, helped by the Booster reel modifiers. There are some serious win opportunities, even in the base game where a 100x Prize Car coupled with a 100x modifier multiplier can take your cars value up to an astronomical 10,000x!!
Of course, if you have played the original Money Train games and the sequels you will be familiar with the format of this slot. But don't be put off by those similarities, there is enough originality here to make Mad Cars stand out from Relax Gaming's popular slots. The atmosphere is terrific, the car racing angle is innovative, the graphics and animations are top class and despite its high volatility model, our experience showed that there is enough action to keep things interesting even when you are kept out of the bonus round for long periods.
There will be frustrations too of course – the cars often don't reach the finish line and instead you're left looking at what might have been as a 100x multiplier bites the dust! But hey, that's all part of the high-risk gaming we love.
When you're ready to race, check out some of our best recommendations on our new slot sites page. Good luck!

9.0
Awesome!
A beautifully-rendered and ingenious slot game that transcends its influences to stand as a high risk classic!