Play Yum Yum Powerways At These Slot Sites
About This Slot
In search of inspiration this summer Pragmatic Play seem to have been on a beach and festival tip, now following their thrilling Chilli Heat Megaways™ slot with another foodie and sunshine themed game that is built for the high risk fanatics out there.  And just like Chilli Heat utliised the Megaways™ license but gave the traditional game format an innovative twist with extra Locked-In Respins, in Yum Yum the creative team have once again been hard at work to produce something new to the slots world with their Powerways mechanic.
The format of this game is such that a 4×4 grid and 4 independent reels, one above, one below and one on either side, can create up to 16,384 paylines per spin. That on its own is enough to make you go cross-eyed, but we'll soon find that a combination of free spins, multipliers and guaranteed wilds also give this game the chance of some adrenaline-pumping gameplay.
Before we break al that down though, a word on the theme. Yum Yum Powerways is set against the backdrop of a beach at sunset – it could be anywhere, there are no clues to location – but the foreground is taken up by a food van in which the reel set sits. It has a laid-back vibe as you would expect but it comes with a health warning – anyone considering a diet right now should not be loading up this game as there is more junk food on those reels than is right for anyone!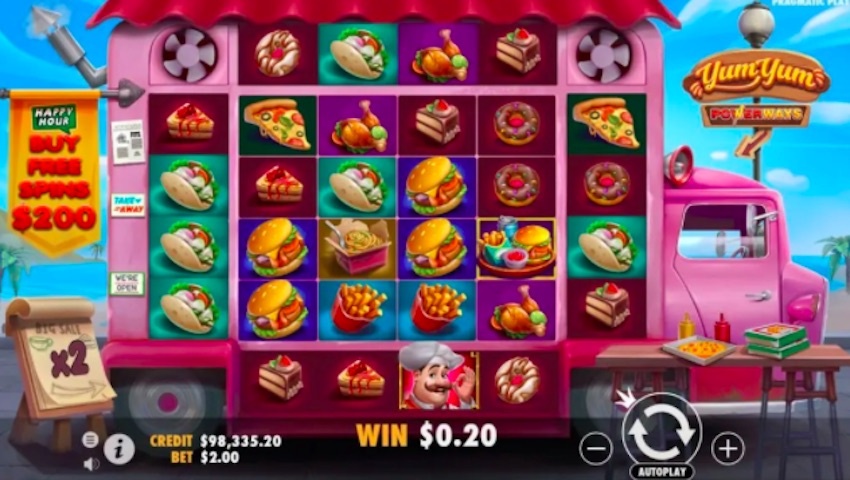 RTP, Variance and Top Payout
Once again Pragmatic Play have built a slot that is designed for high risk slots players. The volatility rating by their own standards is set to a 5/5 so we're expecting this slot to be all about the free spins round, multipliers and wilds. You can expect a few small wins in the base game but really the win distribution here will not be kind until you hit that short lucky streak where everything falls into place. Keep this in mind!
The RTP of Yum Yum Powerways is set to an average 96.43% – nothing there to be concerned about. The top payout meanwhile is 5,000x. Now, like Chilli Heat, some may be a little underwhelmed by this figure. And it is true that it doesn't compare with some of the more aggressive paytables of new Megaways™ and xNudge games right now. We'll leave that to you to decide.
Symbols and Graphics
Onto the paytable and let's just take a quick look at the reel set up before we pull up the symbols. At first glance it can seem a bit confusing but it's actually pretty straight forward. You have a 4×4 grid in the middle of the screen, with one reel on each side. Wins are scored by hitting four or more matching symbols from left to right, right to left, bottom to top or top to bottom. That creates a total of 16,384 paylines that are active at any one time. Note that wins only trigger when the line starts from one of the outer reels.
It will seem a little confusing at first because you're not used to seeing horizontal paylines like this. But your eyes will soon get with the program.
On the reels themselves Pragmatic Play's designers have really gone to town on the food imagery here! There are no card suits or card numbers in play, only snacks. The low value ones are the sweets – doughnuts, cakes and chocolates. The premiums are the mains – burgers, pizzas, drumsticks, tacos and chips. What is notable is that even the highest value icons here are not worth much – 1.5x for six of one of the best value ones. Later on we will see that this is offset by the sizable multipliers that come into play when the Cascading Wins kick in.
Wilds are also important in this game – they appear during the base game to sub in to create wins but are bigger in the free spins round where they are guaranteed on every free spin, appearing in the middle 4×4 zone.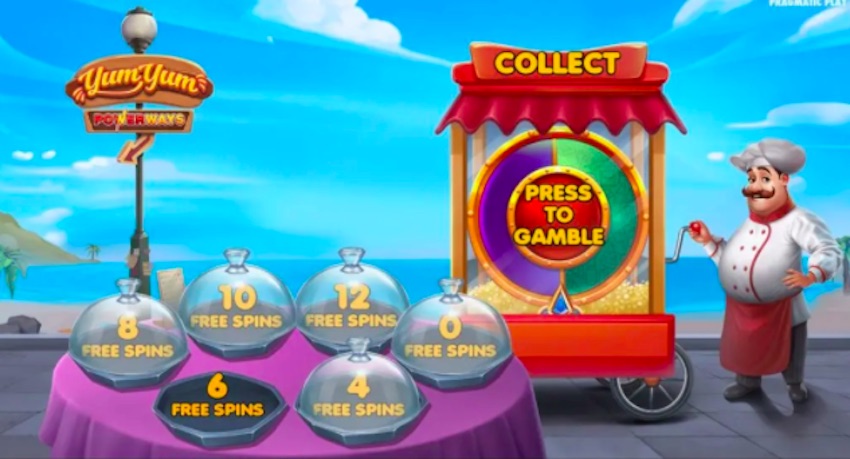 What We Like
Innovative slots engine with 8 reels
3x progressive multipliers
Guaranteed wilds in free spins round
Cascading wins format
Lots of tasty snacks
What We Don't Like
Low top payout value
Low symbol values

Gameplay and Features
Whilst the Powerplay set up is a little confusing at first, the features are not and really the gameplay here is straight forward enough. It uses a variation on Cascading Wins with progressive multipliers to drive the biggest win moments and in that sense this is very much a typical high variance slot.
Cascading Wins
In this instance, Cascading Wins are available in both the base game and free spins rounds. The mechanic is simple and will be familiar to anyone who has played anything from Gonzo's Quest to Bonanza. Winining icons drop out when a win line is created and new icons come in to replace them. This can lead to further wins and if it does the process repeats. And so on until no more wins are created.
At the same time a Win Multiplier is ticking up by 1x for each win in the sequence. At the end of the cascade, the win is upgraded by the multiplier value and paid out. Then the multiplier resets and the game starts up again.
Free Spins
The free spins round is triggered by landing 3, 4, 5 or 6 scatters anywhere on the reels. That gets you 6, 8, 10 or 12 free plays. The good news is that during the bonus round and ONE additional scatter to land will boost your free spins by an extra 2. There is also a gamble feature that lets you gamble your free spins for more (or lose them all). You can max out this way but bear in mind that if you lose your gamble, your back to square one and the base game.
How does Yum Yum up the potential in the free spins round? Easy … the progressive multiplier now starts at 3x and with every win in a sequence increases by a further 3x. That's quite an enhancement and a generous add on that off sets the low value of symbols described earlier.
Finally, a further treat is that for EVERY free spin you will get an extra Wild in the 4×4 middle grid, giving you a little extra chance of completing win lines.
Our Verdict
Yum Yum Powerways is an interesting slot and one that blends some creative magic with traditional and well-worn gameplay, albeit with some added spice in the form of 3x multipliers. The first site of this game will make your head spin a little but don't let that put you off. Once you get over the fact that lines are appearing up and down, not just one side to the other, your eyes start to settle a little and the game becomes clearer.
Perhaps that is why Pragmatic chose not to over-pack this slot with features. If we were trying to follow a multitude of symbol stacks, roaming icons and mystery symbols, we'd all just bail out before 5 spins were up! Instead, your concentration is on landing enough scatters to unlock the bonus round where more interesting payouts on offer. That brings us on to that 3x progressive multiplier. This is unusually high, but that is until you consider the low values of the symbols. 1.5x for 6 premiums is lower than we've ever seen so the value of the multipliers is somewhat offset. So, take it for what it is – a little take here and a little give there – which is fine, as long as you know where you stand and what this slot can deliver – that is 5,000x at max!
In summary then, a fun and innovative slot mechanic with a slightly underwhelming pay model.
Useful Resources