Play The GOAT At These Slot Sites
About This Slot
The arguments over who is the G.O.A.T. (Greatest Of All Time) in any given sport will rage on forever. Ali, Marciano, Tyson, Foreman, Fury … boxing fanatics can argue that one out. Federer, Nadal or Djokovic … tennis has its own dilemma. Of course, it's impossible to say for sure who is the G.O.A.T. – you can rain down stats like a boxers punches but a lot comes down to personal choice and perception. One thing we can say for sure though, this is the first video slot review we've ever written about a game themed around the G.O.A.T. concept!
And what a weird one it is too.
Rather than taking the sporting aspects of the theme, instead Blueprint have decided to use a cartoon, beefed-up goat instead! Our protagonist lives in a cabin located in a forest. The background of the slot is a snowy scene with the goat's home complete with letter G on the roof.
Blueprint are known for their Megaways™-format games and there is just a hint of that in this one, albeit with 4,096 paylines instead of 117,649. Like BTG's classic format there are six reels (though each with 4 fixed rows in this case rather than the random expanders you get in MWs) plus one extra 4×1 reel above the middle reels of the main set. This extra one comes into play when xWins and xWild icons land as we will explain. It's all feature-packed and a lot of fun with a blockbuster 50,000x top win potential and playable at most slot sites from January 2022.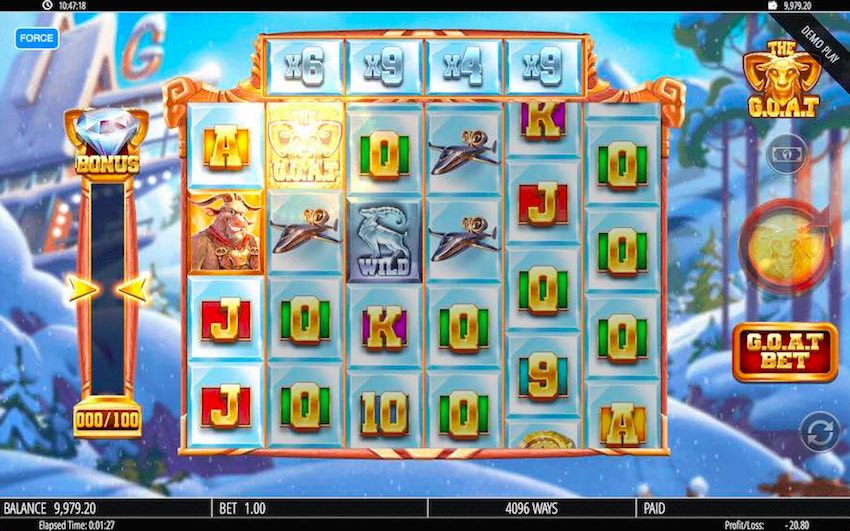 RTP, Variance and Top Payout
In terms of maths, The G.O.A.T. runs along the same lines as most Blueprint games. One stat this is a little underwhelming however is the RTP, set at 94.79% – well below the 96% we normally expect. Volatility is medium-high, making this game a risky one to take on, but with a 10p minimum bet you can manage your bankroll effectively to get a good session out of it.
There is plenty of potential for things to turn epic with so many features in play – stacked wilds and progressive multipliers can produce some special moments in the free spins round. This is where you might start looking at payouts above the 10,000x mark. The top win potential is 50,000x but remember that the odds of achieve that will be extremely long.
Symbols and Graphics
The symbols in The GOAT slot include icons of wealth, which are the sports car, gold watch and private jet, along with the flamboyant goat himself – the top-paying symbol. These premium symbols can award from 1 to 10x stake for 6 of a kind, while the high cards award the lowest payouts from 0.4x to 0.8x stake for 6 matches.
The Wild GOAT symbol substitutes for all the other symbols to create more potential winning combinations. There are also special bonus symbols to trigger the Free Spins round.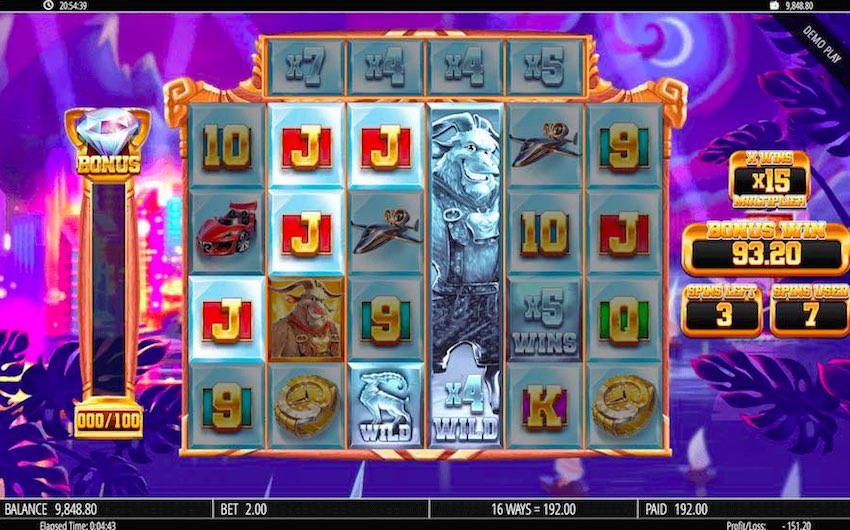 What We Like
Quirk and fun theme with goat character
TWO free spins rounds
4,096 win ways on six reels
Stacked Wilds with mulitpliers
Gamified free spins model
What We Don't Like
It's not the GOAT of the slot world!

Gameplay and Features
The G.O.A.T. is a straight-forward slot game. Everything that is good is triggered by the frontman, The Goat symbol, which is responsible not just for setting up the modifiers in the base game, but also building a collection of diamonds that will eventually trigger the free spins round.
Here is a quick-fire list of features to be ready for:
The G.O.A.T. icon lands on reels 2 to 5 at any time bringing up any of THREE modifiers.
X-Wilds are expanders that come with multipliers – these are a big opportunity to score wins with paylines that intersect your stack of wilds.
X-Wins activate a multiplier to be applied to your win on the triggering spin.
Diamonds will be added to the collection Meter at the side of the reel set.
100 Diamonds earns you 10 FREE SPINS with one of the TWO configurations.
X Wild FREE SPINS – during this configuration look out for the GOLDEN X Wild, not only does it expand, but it also STICKS for the duration. You also get an extra spin. Silver X Wilds expand but do not stick.
X Wins FREE SPINS – In this configuration, Gold xWin symbols apply to the current win AND add themselves to a progressive global multiplier for the duration of the round. Golden xWins also award an extra free spin when they drop.
From that short list you can see that this game is really about Wild Expanders and Win Multipliers, both of which can be enhanced in the free spins rounds where they become sticky for the round.
But that's not all – whilst collecting 100 diamonds is the standard route to unlocking the two free spins rounds, you will be given the chance to gamble your way straight there after collecting 50, 60, 70, 80 or 90 of them. It's a straight-forward all or nothing gamble at that point – either you go through or your diamond balance is zeroed and your back to the base game.
Our Verdict
The G.O.A.T. is a fun and very quirky slot that takes the acronym G.O.A.T. away from the sporting connotation and turns it into a literal goat – although one that is rather cooler than your average farm animal – his obvious wealth and mountain log cabin home for starters. And once you've got your head around this unusual theme then you'll discover a game that has plenty of tricks up its sleeve. Gamification is becoming more common place as you'll find out if you read our Complete Guide to Online Slots, and Blueprint have integrated it well here – the task of building that bank of 100 diamonds to unlock the free spins round is both fun and compelling. And the gamble feature that is part of the Free Spins round and allows you to potentially trigger the Free Spins more often, adds a touch of extra excitement and risk to the gameplay that we haven't seen before.
The main question here is which of the two free spins rounds has greater potential? Well, in our time spent testing this slot we preferred the xWins Free Spins simply because a progressive global multiplier has so much potential – if you get on a good run and land a few Gold xWin symbols, not only will you add to your cache of spins but you will also start building up a high value multiplier for the full round.
Indeed, for those chasing down those big wins – and no doubt this is a slot that can deliver them – the stacked, sticky wilds and progressive multipliers suggest a game that will eventually deliver some spectacular results. As always with high risk slots though, we sound a word of caution – it will take time and money to unlock the riches held by The G.O.A.T. so tread carefully.
.
Useful Resources

8.5
Excellent
Perhaps not the G.O.A.T. of the slots world but it will have its 15 minutes of fame thanks to some innovative features and a quirky theme.