Def Leppard Hysteria Slot Review
Slot Provider: Play n Go
RTP: 96.27% | Variance: Medium | Maximum Win: 10,000x
Play at Casumo Casino
About Def Leppard Hysteria
Reviewed by: Mark Wadie
Published Date: 2nd March 2022
How We Review Slot Games
We test and rate all slot games across 5 criteria, assigning a score out of 10 for each and an overall score that is an average of the 5. To build an accurate assessment of each game we gather information from the supplier and play in real play or demo mode.
Find out more
.
Def Leppard Hysteria is another in Play n Go's rock n roll series, this time licensing the name of 80s long-haired rockers, Def Leppard and their 1987 best-selling album, Hysteria to create one of their classic Cluster Pays slots. The game features hits from the album playing in the background and, just as Big Time Gaming weave the names of songs into their features, so too have Play n Go here – so you get Pour Some Sugar on Me Free Spins and a Fire It Up Wild feature.
This slot, available at online slots sites in the UK plays on a 5 reel and 7 row grid. As well as Cascading Wins it also features a Fire Me Up feature where collecting special symbols unlocks up to 6 extra wilds. The free spins round comes with progressive multiplier wilds of up to 7x.
The maximum win in Def Leppard Hysteria is 10,000x and spins start at 10p.
Def Leppard Hysteria Game Information
RTP: 96.27% | 94.27% | 91.27% | 87.28% | 84.28%
Variance: Medium
Maximum Win: 10,000x
Progressive Jackpot: No
Reels: 5
Rows: 7
Paylines: Cluster Pays
Minimum Stake: £0.10
Theme: Music
Features: Wilds, Multiplier Wilds, Cascading Wins, Free Spins, Symbol Meters
Def Leppard Hysteria Review Scores
Gameplay and Features

9

Maximum Win

9

Theme and Design

10

Paytable

9

RTP and Variance

8
What Our Reviewer Says ...
"Simple gameplay and a more balanced maths model than many Play n Go slots are offset by an epic hard rock soundtrack. Thrills all the way!"
Def Leppard Hysteria Pros and Cons
What We Liked
Super-cool stage set backdrop
Epic soundtrack from top 80s album
Multiplier Wilds up to 7x
Symbol meters and extra wilds
Medium variance has broad appeal
What We Didn't like
Less features than many grid slots
No sign of the band members!
There are many rock n roll slots out there, and the format doesn't really change much. I don't mind that. NetEnt's Guns n Roses and Motorhead nailed it a few years back and Def Leppard continues that tradition with the grid set against an epic stage setting backdrop that will be familiar to anyone who has seen this band live – they love their wide-angled stage sets, huge speaker stacks, blistering light shows and dry ice. For whatever reason, band members Joe Elliot and pals do not appear anywhere in the game, which is a little disappointing, but the tunes and light show still create a great atmosphere.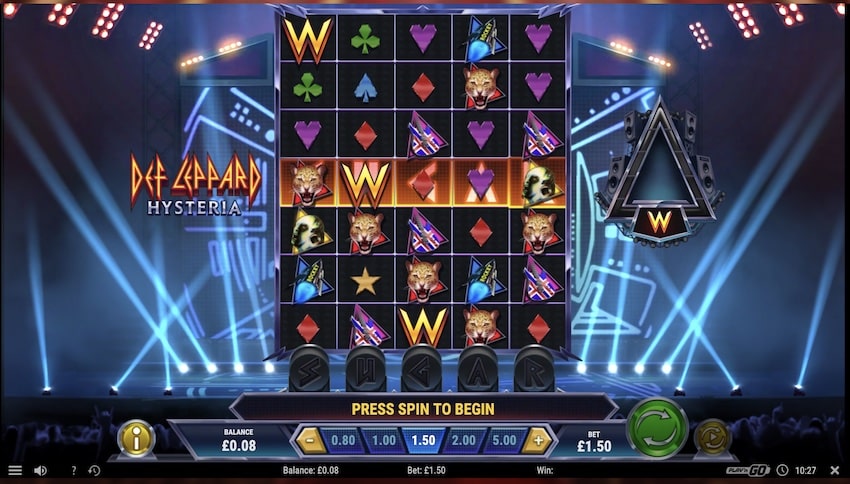 In short, you can't really go wrong with these games if the soundtrack is right and with Def Leppard's crowd-pleasing back catalogue the sounds and visuals here are a sure-fire hit.
What is RTP?
RTP (Return to Player) refers to the amount a game will pay out in cash prizes expressed as a percentage of all the money wagered on that game. For example, a 96% RTP means a game will pay out £96 for every £100 wagered. This is an average number and will vary from one session to the next. 
Read more here
.
What is Variance?
Variance refers to how far a game will deviate from its RTP over time. High variance games deviate a lot and produce uneven win distributions and unexpected windfalls. Low variance games provide a more stable and even distribution of wins.
Read more here
.
Def Leppard Hysteria has five available RTP settings – 96.27%, 94.27%, 91.27%, 87.28% and 84.28%. To give yourself the best chance of a positive return on your wagering you should play Def Leppard slot at a site that offers the game at the maximum RTP. We checked the RTP at four popular slot sites. This is what we found:
None of these sites are running the game at the optimum RTP in the UK which is not unusual. I would recommend playing at Casumo or Barz Casino where the 94.2% is still OK.
This is a medium variance game so the win distribution is relatively even, certainly compared to other rock n roll slots from Play n Go like Kiss Reels of Rock for example which is much more volatile.
If you like high risk games be sure to check out our list of the best high variance slots.
What Is Maximum Win?
Maximum win refers to the maximum amount a player can win from one spin. It is expressed as a multiple of the stake. For example, where the maximum win is 100,000x, from a £1 stake, the maximum win would be £100,000.
The top payout on Def Leppard Hysteria is 10,000x which gives you a £10,000 win for a £1 bet. This is good for a medium variance slot but not one of the highest paying Play n Go slots. Games like Kiss Reels of Rock (50,000x) and The Last Sundown (36,000x) offer a much higher potential.
If you want games with big maximum wins, check out our list of the highest paying slots of all time.
Explore Games With Similar RTP, Variance and Maximum Win
Like the numbers? Here are some more games you might want to try.
Def Leppard Hysteria is a Cluster Pays slot that plays out on a 5 reel by 7 row grid.
That means there are NO paylines. Instead, you just need to land 5 or more matching symbols in adjacent positions on the grid so that they form 'Clusters'. Cluster of 15 or more matching symbols offer the highest prizes.
One thing I really like about this game is the paytable. It kicks out some really nice prizes at the top end from the premium symbols which are the rocket, guitar, cheetah and mask. These are valued at from 0.5x for 5 rockets up to 1,000x for 15 or more masks.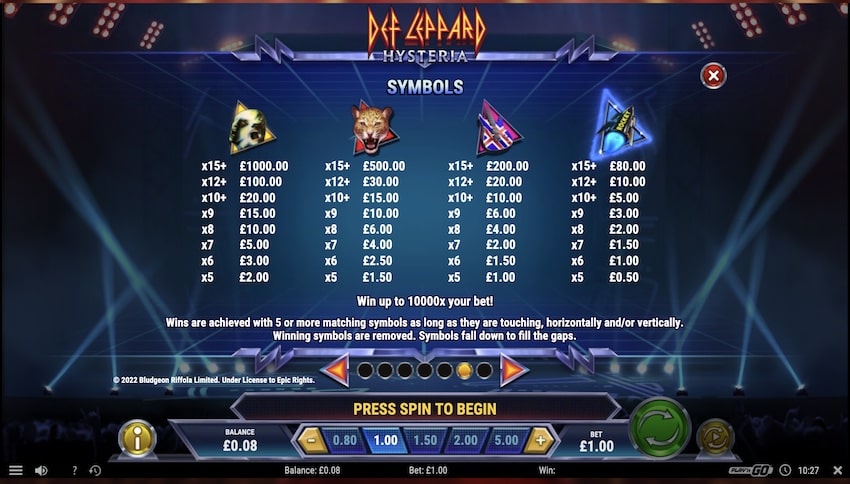 Of course, we need to keep in mind that the odds of landing 15 or more matching symbols are very low. But still, a 1,000x payout shows good potential.
At the low end of the scale, the symbols are the clubs, spades, hearts, diamonds and the star. These are valued at from 0.1x for 5 clubs up to 30x for 15 or more stars.
There are also Wilds represented by a big letter 'W' in the game which are a big part of Hysteria. They can sub in for any other symbol to form a winning cluster and they also come with multipliers in the free spins round as we will see in a moment.
For me, Def Leppard Hysteria has been built for mass market appeal. Its mid-range variance and the simple Wild-based features mean this game will have a broad appeal. It is certainly easier to understand than your average Nolimit City game for example and if you have played any other Cluster Pays slots then you will get the hand of it in no time.
Cascading Wins
Central to the gameplay is the Cascading Wins mechanic – after every win, symbols in a cluster are removed from the grid to be replaced with new ones that drop down from above. The whole grid shuffles round to accommodate the new symbols which might create more clusters. If so, the process repeats. And so on, until no more wins appear!
Break It Up – Consolation on Non-Winning Spins
This next big I love – because Play n Go have added a dash of good will to the game. So that,
even non-winning drops might be rewarded because with the Break It Up feature, when no clusters form, between 3 and 6 wilds are added at random to the grid.
It's a generous idea though I should add that in testing it definitely doesn't happen ALL the time!!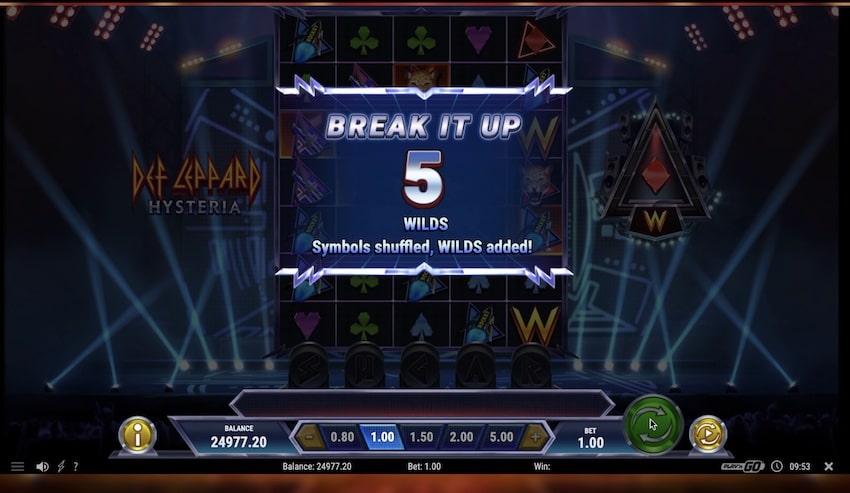 Fire Me Up – Collect Symbols To Earn Extra Wilds
Then, there is a 'meter' feature, a bit like you find in the 'Toonz series. This is called Fire Me Up. One symbol is picked on every spin and when wins that include that symbol occur, the meter to the side of the grid is filled. Now … when this happens FOUR times, the meter is full and 3 to 6 wilds are added to the grid.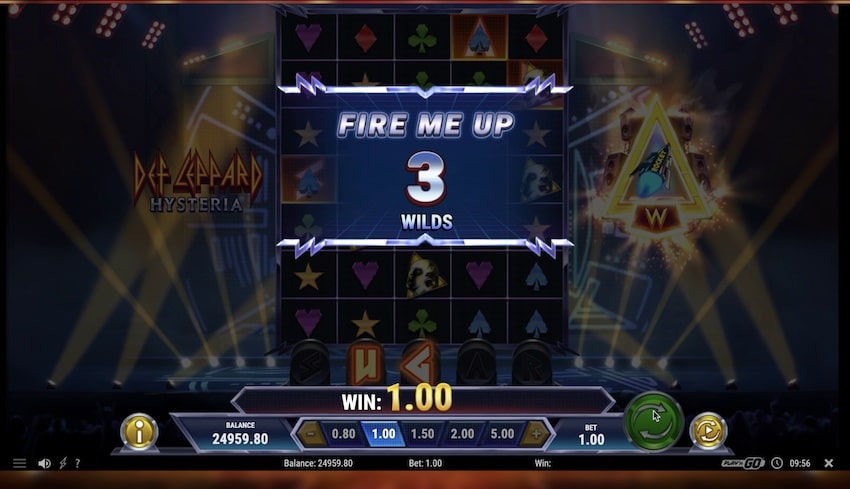 Pour Some Sugar on Me Free Spins With Multiplier Wilds
In the style of Big Time Gaming, Play n Go have named their bonus round after a famous Def Leppard song – Pour Some Sugar On Me. It's an excellent way to weave gameplay and theme together.
I really like the activation mechanism here too. First, spotlight positions exist on each spin which spell out the word S-U-G-A-R. To trigger the round you will need to cover every letter from the word over the course of a spin and subsequent Cascades.
That gets you ONE free spin.
The meter is active again, but this time you get Progressive Multiplier Wilds AND … as these Multiplier Wilds drop down a row on the grid with each cascade, the multiplier increases by 1x, up to 7x maximum.
Why do I like this so much? Because there is plenty of room to build big wins where 2, 3 or more multiplier wilds combine in one cluster. That's where you are going to build towards your 10,000x max win. You'll see this in action in the 200 test spins below, though the overall win was just 61.1x in my case.
For me, Def Leppard Hysteria is a super slot that delivers on all levels. The only caveat to this high scoring review is that you need to be a fan of the band, or at least enjoy their music, to get on with this game. Because it plays throughout, and if it's not your thing, it will drive you mad! Personally, I can take or leave it and it's the gameplay that I loved. It just feels like a slot that's been built to both entertain as well as deliver potentially big wins. And if you tick both those boxes you are onto a winner.
The main drivers in the base game are Cascades and those two features, both of which will drop regularly – more than every 10 spins in my experience. That means it's very rare for there to be a quite moment. And the free spins round itself has been carefully built to offer the chance to see some thrilling moments when multiple wild multipliers are dropping down the grid triggering wins with each cascade. It won't happen often, but when it does it will be the highlight of an exceptionally fun Play n Go slot.
Boom or Bust? 200 Spins On Def Leppard Hysteria
To give you an accurate and honest assessment of the games we review our writers play 200 spins. Whilst this is a useful tool to help us review games and to give an example of what might happen when you play, keep in mind that 200 spins is only a very small sample and cannot be used to accurately predict what might happen over another 200 spins. The outcome of all slots play is always random.
I played 200 spins on Def Leppard Hysteria for at Casumo Casino to test the game and this is what happened.
Stake Size: £1
Start balance: £25,000
End balance: £25,061.60
Biggest Win: 61.1x
Free Spins rounds: 1
Session Time: 22 minutes and 40 seconds
Def Leppard Hysteria provided 200 spins of pure entertainment and was great value for money. Due to is mid-range variance there was NEVER a dull moment. Both the Break It Up bonus and the Fire Me Up bonus triggered 8 times each with a best win of 15.7x on the Fire Me Up bonus. Close to the end of the session, I finally cracked the free spins which brought up 5 multiplier wilds, 2 of which dropped all the way down to the bottom row to bring up 7x multipliers. The total win was 61.1x. Ok, not huge, but still showing what can happen when that feature kicks in. You can see some of the action in this screenshot.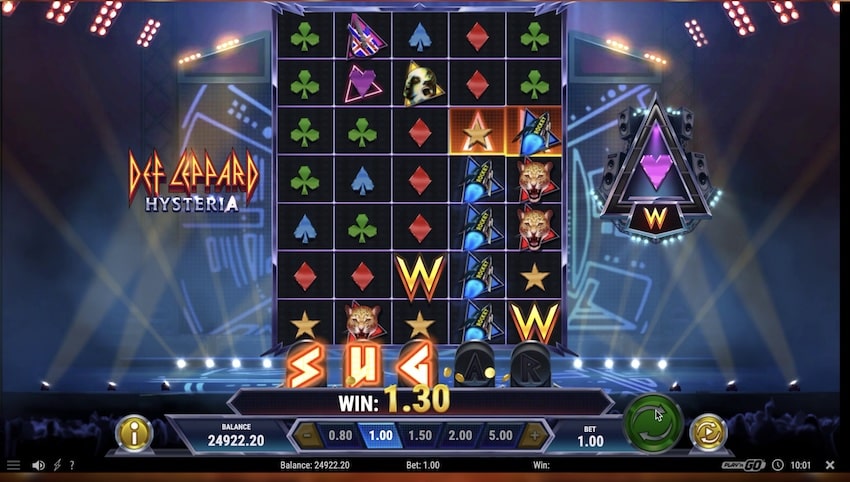 Overall, I finished with a positive RTP and came away feeling that this is a really fun game that doesn't hold back with regular payouts and still offers really good potential at 10,000x.
Compare Def Leppard Hysteria With Similar Slots Picked By Us
Here are more games like Def Leppard Hysteria compared on configuration and features. Click through to read a review of each one.
| Slot Game | Provider | Theme | Min. Stake | Max. RTP | Variance | Paylines | Top Payout | Jackpot |
| --- | --- | --- | --- | --- | --- | --- | --- | --- |
| | Play n Go | Music | £0.10 | 96.2% | Medium | Cluster Pays | 3,000x | No |
| | Play n Go | Music | £0.10 | 96.2% | High | Up to 4,096 | 50,000x | No |
| | Play n Go | Fishing | £0.20 | 96.21% | High | 12 | 5,000x | No |
| | Play n Go | Ancient Greece | £0.10 | 96.2% | Medium | 30 | 3,000x | No |
| | Play n Go | Irish | £0.12 | 96.29% | Medium-High | 12 + | 5,000x | No |
| | Play n Go | Animals | £0.10 | 96.2% | Medium | Up To 248,832 | 3,000x | No |
| | Play n Go | Nature | £0.20 | 96.2% | High | Up to 40 | 15,000x | No |
| | Play n Go | Dinosaurs | £0.10 | 96.2% | Medium | 4,096 | 30,000x | No |
Useful Tips When Playing Def Leppard Hysteria
Remember, online slots are games of chance, there is NO strategy that can improve your odds of winning. However, reading our review and following these tips will help you get the most out of your time playing this slot game.
1. Enjoy The Ride
The best advice we can give when playing this slot is … enjoy the ride! It's a cracking slice of entertainment and really fun to play with so much going. So have fun and you'll be rewarded with plenty of feature triggers and hopefully payouts too.
2. Keep Watching The S-U-G-A-R Lights
At the foot of the reels you will see the lights displaying S-U-G-A-R as each letter is collected. Keep your eyes on this as its the fun part – when all 5 light up, you are into the spins round with progressive wild multipliers.
3. Look Out For The Fire Me Up Symbols
The other important thing to look out for is the symbol displayed to the right of the reels which shows the current Fire Me Up feature symbol. Scan the grid for FOUR of these because that triggers Fire Me Up wilds.
4. Play At A Recommended UK Slot Site
Always play at one of the recommended slot sites on this page. These are fully licensed and offer generous bonuses that you can use to play Def Leppard Hysteria. Pick one that suits your deposit level.
Who Made Def Leppard Hysteria?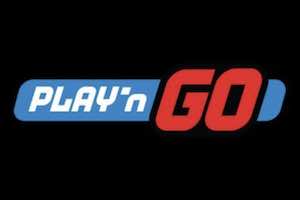 Name: Play n Go
Established: 1997
UK License: Remote 021725-R-304911-020
Total Games: 200 +
Known For: Grid slots, high variance slots, huge range of themes, styles and maths models
Popular Slots: Book of Dead, Reactoonz 1 and 2, Troll Hunters 2, Rise of Olympus
Find More Play n Go
Like The Sound of Def Leppard Hysteria? Here are 4 more games chosen for you...
Allslotsites.com - Trusted and Independent Online Slot Reviews
Allslotsites.com has been publishing online slot reviews since 2018. It's fair to say we know a thing or two about what makes a good game – that magic mix of theme, style, gameplay and payout potential. For each slot we review we take you on the full journey through its narrative and design, reel configuration, key numbers including RTP and max win, volatility level, gameplay, and finally an expert verdict. You can also check our comparison tables to see how each slot matches up against others handpicked by our reviewers and check our tips on hitting that winning streak.
We are not paid by the developers whose games we cover. We are independent and our views of each game are honest. That is why you can trust us!
Learn, explore and find your next slots adventure with us!!